Yesterday was very eventful day for us as we had covered lots of places near Karwar viz. Gokarna Beach, Mirjan Fort, You can click on the link if you want to read about from the beginning.

Anyway today is a new day, As decided by us earlier in our journey, that we shall be using all kinds of transportation to explore the places that we wanted to see. Life me kuch alag hona mangta Man…Normal toh har koi karta hai. Well so we decided that we will take train to go to Murudeshwar Temple because yesterday we were exploring the coastal Karnataka on car.
We left early from host's place to catch Madgoan-Mangalore Passenger which was expected to reach at 5.58 am at Karwar Station to go to Murudeshwar Station. It was raining so the climate was all the more very pleasant. The train was little late so we spent some time clicking pictures at the platform, finally the train arrived and soon we boarded the train. My daughter and my host's daughter both went to sleep but I couldn't, I am a sucker for a window seat so naturally I am all eyes capturing all the beauty that the nature has to offer on the retina of my eyes. My wife and myself we enjoyed the greenery outside. 
It was 8 am when we arrived at the Murudeshwar station. Getting out of the station we took an auto which dropped us at the temple. Actually the distance from the Murudeshwar station to the temple is hardly 2.5 kms, The climate was so good that for once I wanted to walk it to the temple but with three pretty ladies with me, I didn't dare to propose this walking option (bolenge ghummane laye ho ya padyatra per)and enjoyed the auto journey which passed through some beautiful  lush green coconut trees farms. In hardly 5 minutes we were at the gates of Murudeswar temple.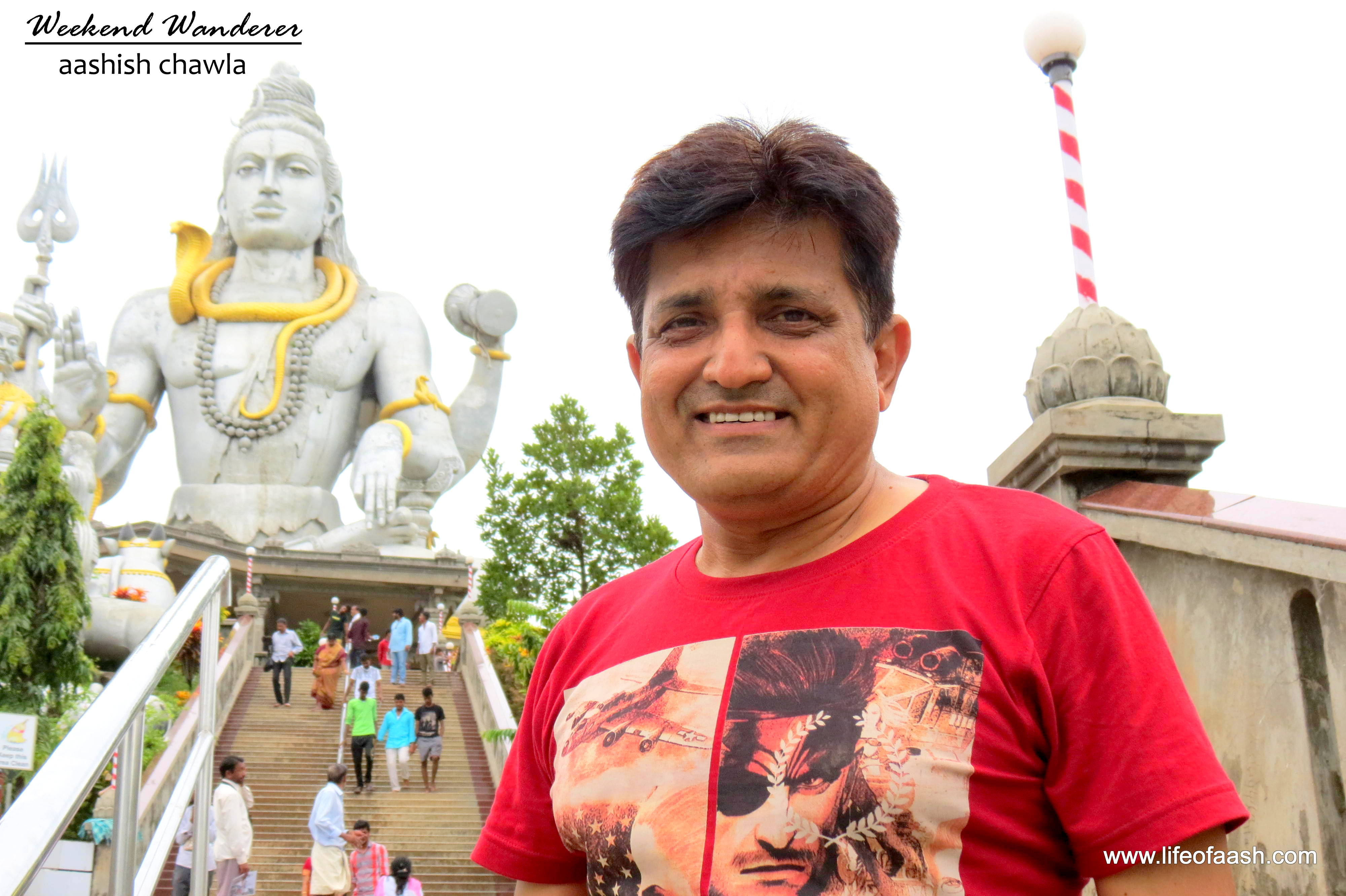 Who could imagine that in a small rustic town lies an amazing temple, You may ask "Whats so special about it ? "
Well to start with. Here I go
1. Lord  Shiva Statue is world's 2nd Tallest statue : 
A gigantic  statue of Lord Shiva, visible from great distances, is present in the temple complex. It is the second highest statue of Lord Shiva in the world. The Tallest Lord shiva statue is in Nepal known as the Kailashnath Mahadev Statue. This statue is 123 feet in height and took about two years to build. The statue was built by Shivamogga's Kashinath (You can see his name near the feet of the Statue) 
2.Rajagopura : An imposing Rajagopura at the entrance of the temple welcomes you. This 22 storied is world's tallest (249 feet) entrance of gopuram. This Gopuram was actually added later to this temple complex, to be more specific , it was inaugurated in the year 2008. Another interesting thing is that its the only Gopuram which is fitted with an elevator. Devotees can ride this elevator by paying Rs 10 for the ride to 22 floor. 
Traveler Tip: don't skip this elevator ride because the view from the top is mesmerising.
I am sharing few pictures which I clicked from the Top of Gopuram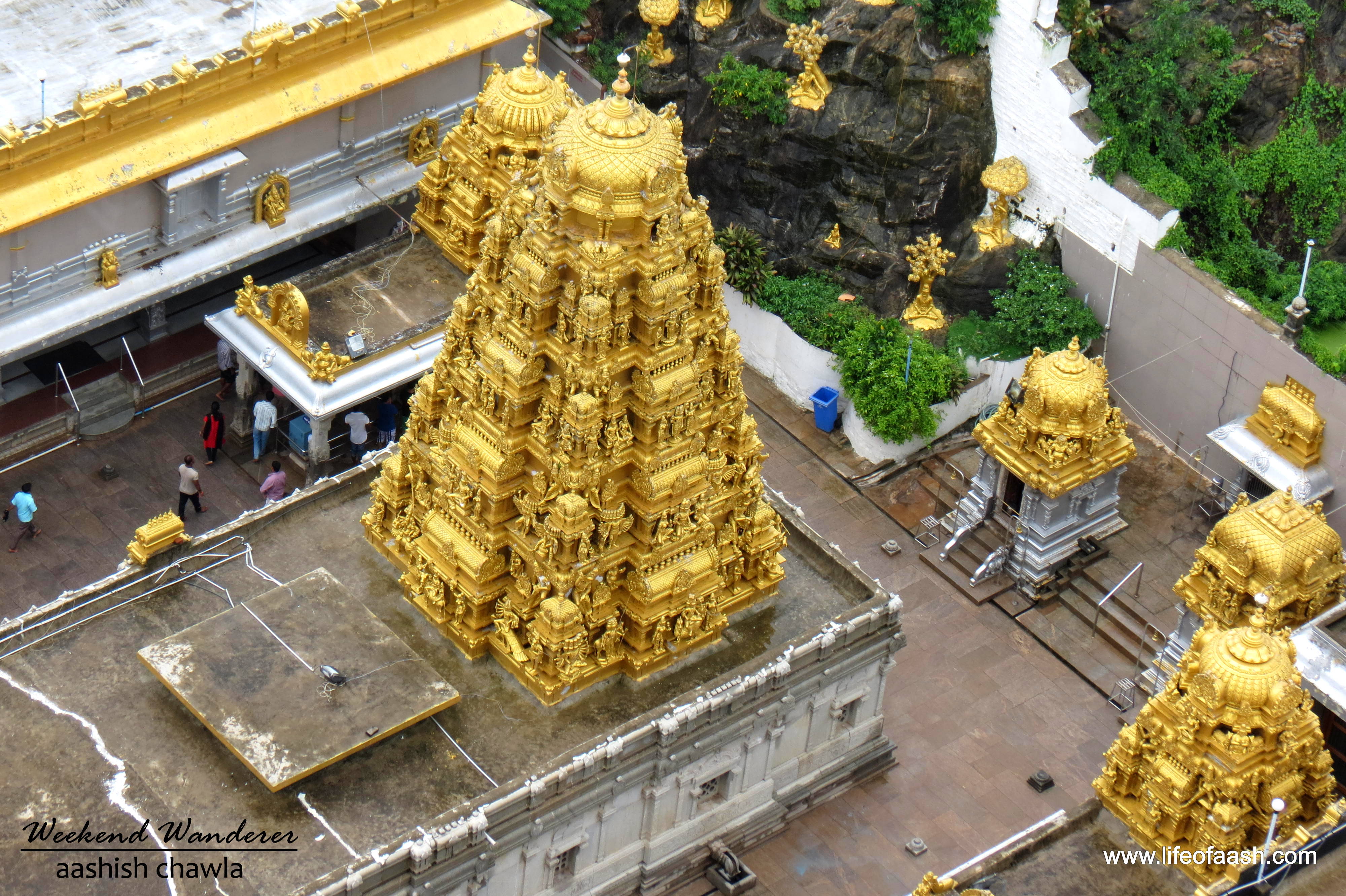 The legend of Murudeshwar goes back to the age of Ramayana. The ancient temple which stood for ages was in dilapidated condition. The locals tried rebuilding the sanctum sanctorum earlier, but it did not last long. Then the businessman and philanthropist Mr. R.N. Shetty, who hails from Murudeshwar,  started renovation work in 1977 with a team of craftsmen and artisans. So the credit of beautiful, modern Murudeshwar goes to Mr. R N Shetty and his team. 
I was very happy that I finally made it to this town and was actually standing in front of this temple.
Standing next to the sea this temple looks very beautiful.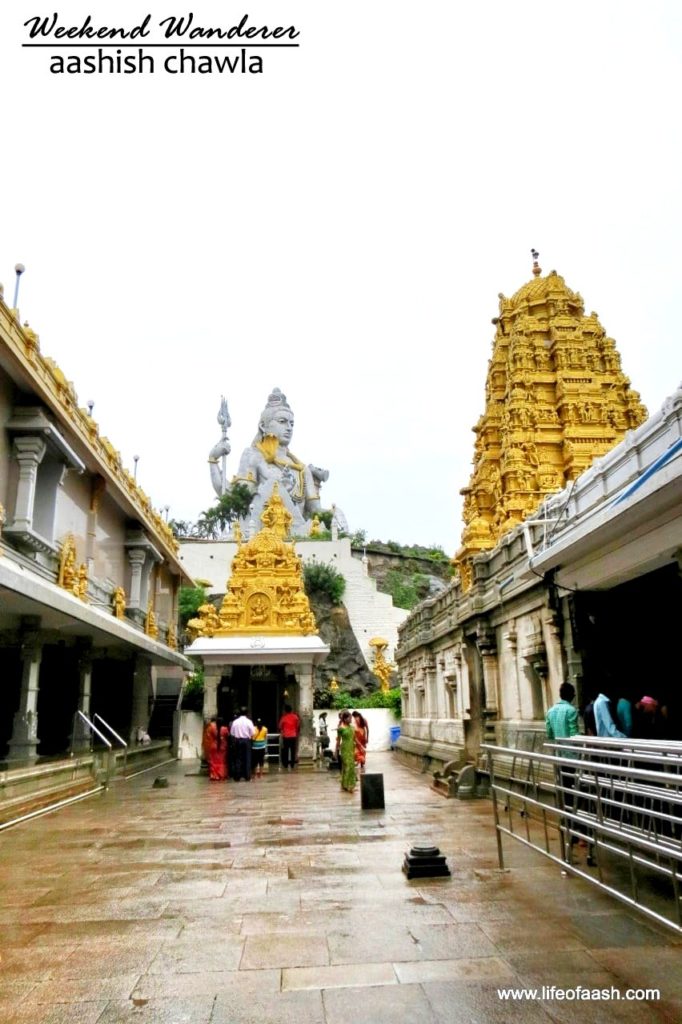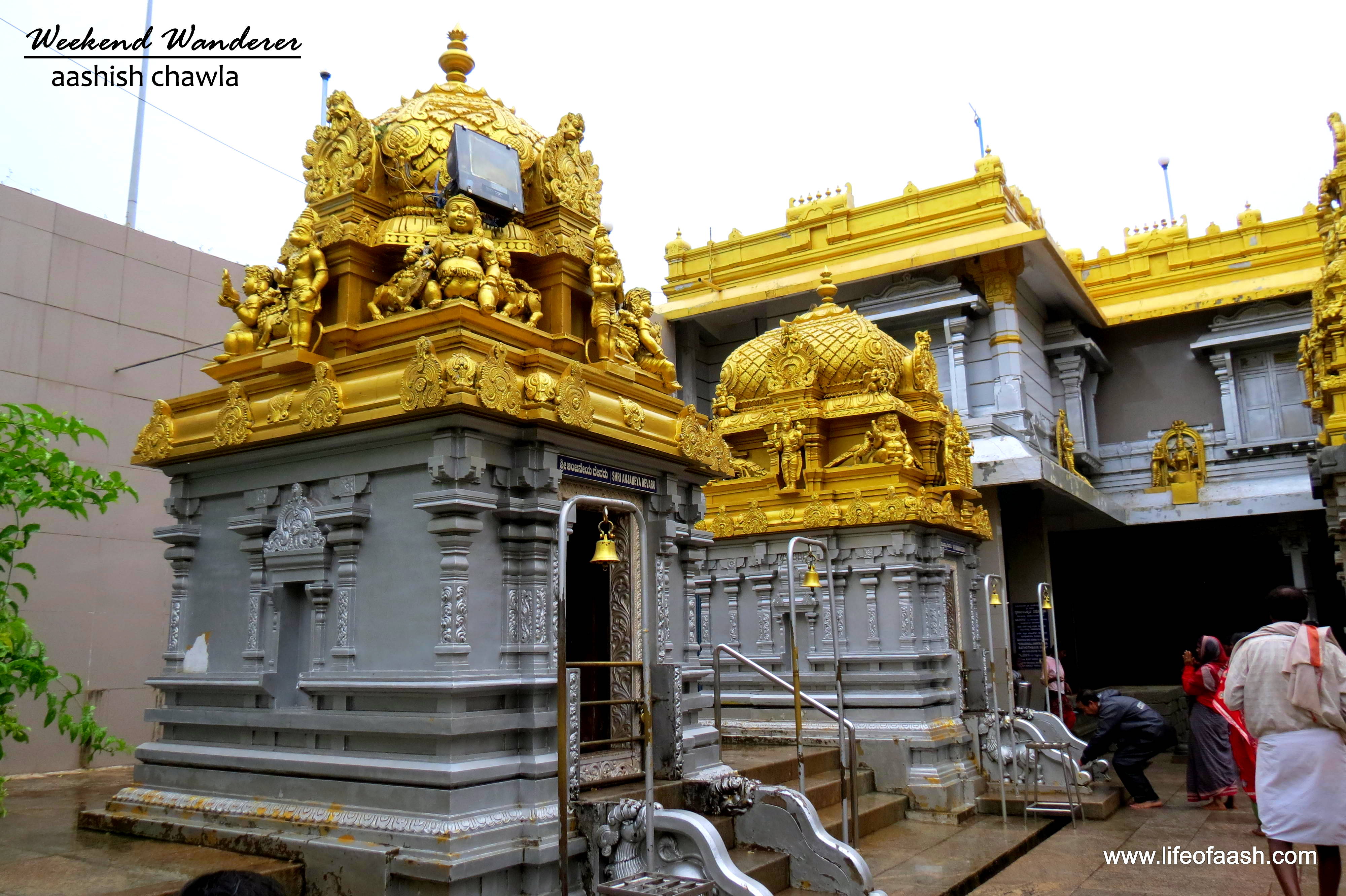 We entered the temple complex, which was very clean and there were many small temples within the complex. The trademark golden vimanas are the highlights of most of temples in south. However where ever in the temple you are standing the towering Shiv Statue draws your non stop attention to it.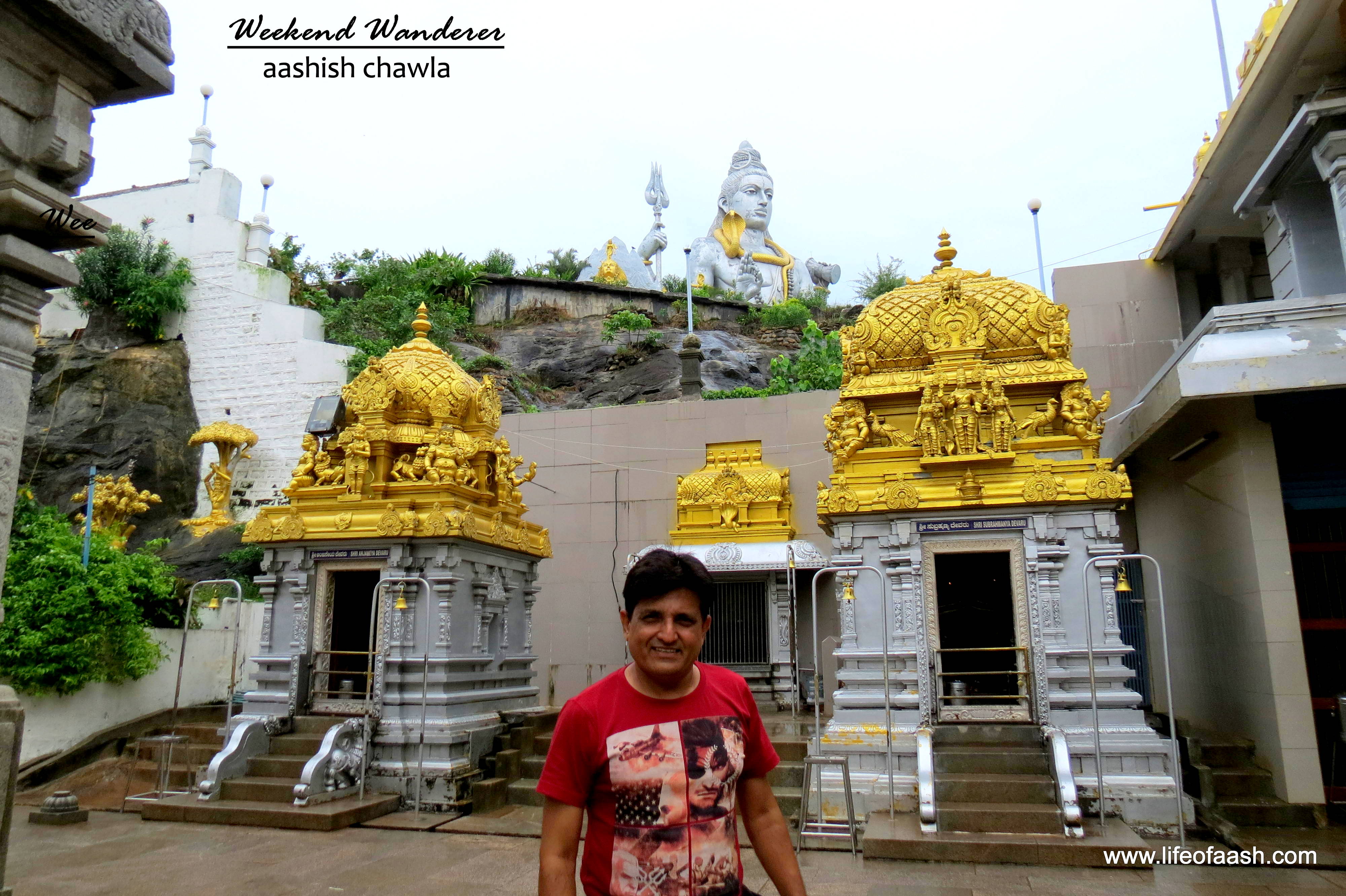 As far as I was concerned I simply couldn't have enough of it and ended up clicking tons of pictures of the Lord Shiva Statue.
As we were exploring the temple various statues which were interspersed across the temple kept attracting me, one of the most prominent was the sculpture of lord Ganesh receiving the Atmalinga from Ravana in the form of a young boy.
Indian mythology is full of back stories so naturally there has to be a story about this incident. Here I go spinning new tales for you.
It was actually believed that in one attains immortality and invincibility by worshipping a divine Lingam called the Atma-Linga. Ravana Prayed hard to Shiva and asked for the Atma linga in the boon. Lord Shiva agrees to give him the boon with the condition that it should never be placed on the ground. If the AtmaLinga was ever placed on the ground, all the powers would return to Lord Shiva again. Having obtained his boon, Ravana started back on his journey to Lanka.Sage Narada, who came to know of this incident, realized that with the AtmaLinga, Ravana may obtain immortality and create havoc on the earth. He approached Lord Ganesha and requested him to prevent the AtmaLinga from reaching Lanka. Lord Ganesha knew that Ravana was a very devoted person who used to offer prayers (sandhya vandana) in the evening every day without fail. He decided to make use of this fact and came up with a plan to dislodge the AtmaLinga from Ravana.As Ravana was nearing Gokarna, Lord Vishnu blotted out the sun to give the appearance of dusk. Ravana now had to perform his evening rituals but was worried because with the AtmaLinga in his hands, he would not be able to do his rituals. At this time, Lord Ganesha in the disguise of a Brahmin boy accosted him. Ravana requested him to hold the AtmaLinga until he performed his rituals, and asked him not to place it on the ground. Ganesh struck a deal with him saying that he would call Ravana thrice, and if Ravana did not return within that time, he would place the AtmaLinga on the ground.As can be imagined, before Ravana could return on completing his rituals, Ganesha called him thrice and had already placed the AtmaLinga on the ground. Vishnu then removed the illusion of dusk and it was daylight again. Ravana, realizing that he had been tricked, tried to uproot and destroy the Linga . Due to the force exerted by Ravana, some pieces were scattered. One such piece from the head of the linga is said to have fallen in present day Surathkal .The famous Sadashiva temple is said to be built around that piece of linga. Then he decided to destroy the covering of the AtmaLinga, and threw the case covering it to a place called Sajjeshwara, 23 miles away. Then he threw the lid of the case to a place called Guneshwara (now Gunavanthe) and Dhareshwara, 10–12 miles away. Finally, he threw the cloth covering the AtmaLinga to a place called Mrideshwara in Kanduka-Giri (Kanduka Hill). Mrideshwara has been renamed to Murudeshwara. (Source www.esamskriti.com )
Thus the image that you see below represents Ravana handing over the Atma Linga to Ganesha for safe keeping without placing it on the ground."
Walking towards the back of the temple I saw a lovely golden chariot, where Lord Krishna the charioteer is giving Gita Gyan to Arjun , and few other interesting artifacts. the picture of which I am sharing below.
Behind the tall Shiva statue there is a vast Arabian sea so we sat there enjoying the cool breeze and the sea. With heavy heart we had to bid good bye to this lovely temple.
Dost abhi picture khatam nahi hui hai…..jaate jaate ek chota sa kissa suna deta hu.
We had our lunch and decided to go and search for the bus which will take us back to Karwar. I went about the bus stand inquiring as to which bus will go to Karwar. One of the bus conductor ushered me into the bus. As I was sitting in the bus I asked the conducter whether the bus is going to Karwar, but it seems he didn't understand and replied one hour, So I kept quite, cursing myself that now  we will be waiting for  one hour, Language is a huge problem when you are in south and I was getting the taste of it today. Surprisingly the bus started in 10 minutes and I was elated , thank god now we will reach soon. Our bus kept going on and on and people kept boarding and unboarding. I asked my co traveller how far is Karwar , he replied ONE HOUR, However after 15 minutes went by I was feeling uncomfortable, because I could see that our bus has left the highway. I called out to the bus conducter and asked when, he replied ONE HOUR. and then came a point when my ONE hour came to end, The bus conducter told me my stop has come, I said I want to go to Karwar, HE pointed out and said ONE HOUR…. I was aghast ! when I realised ONE HOUR was supposed to be HONNAVAR. (Readers roll your tongue, put on your south Indian accent and say Honnavar and it will sound like ONE HOUR.
Boss aisi kahani hi har safar ko yaadgar bana deti hai.
The struggle that I went through after this, hopping from one bus to another  to finally reach back to Karwar was an achievement for me, especially if you may not have forgotten that there were 3 ladies with me
This was the concluding part of my journey to coastal Karnataka. ( In case if you had missed reading it from the beginning please click the link here)
If you like my blog Please do join my site and Yes your comments are very special for me so do comm
ent on the blog. 
Thanks for reading my blog. See you soon on next journey.
Total Page Visits: 3775 - Today Page Visits: 3