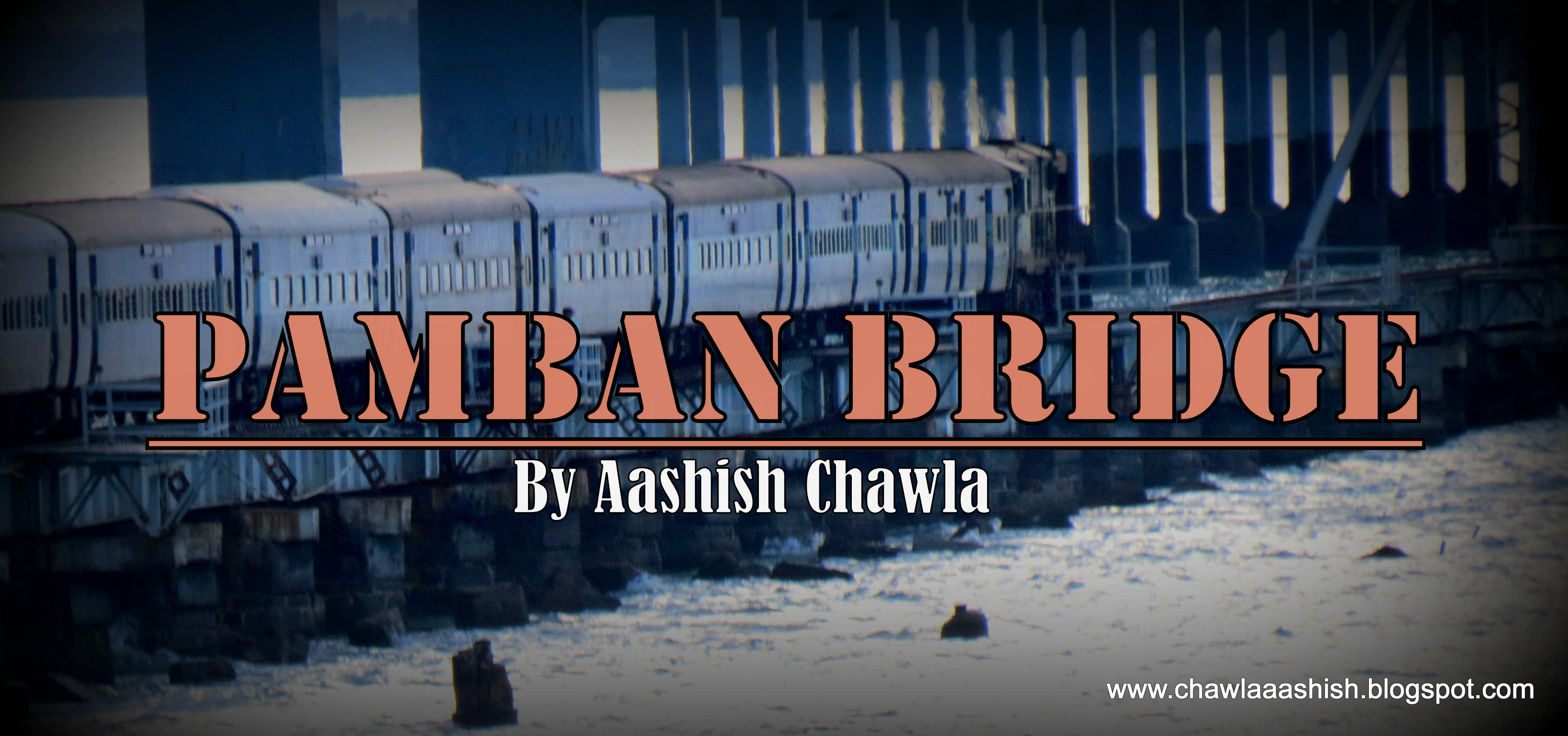 In my last blogs we visited Meenakshi Temple, Rameshwaram temple and Dr Abdul Kalam Memorial  we were now rushing in our auto to catch the setting sun view of Pamban Bridge.
To Read about our journey from the beginning click here 
People called me crazy when I told them that visiting Pamban bridge is one of the most awaited moment in my life. You must be wondering Why Pamban Bridge?
Arre yaar Maine bahut saal pehle kahi pad liya tha… Pamban bridge one of the most dangerous bridge, Bas Dil ke memory chip me record ho gaya and I knew that someday I have to be there. 
Its a view to die for
World over you have some fantastic bridges then be it be in San Francisco, London or Sydney but for me my home grown Pamban bridge was right at the top. Ab yeh Dil ki baat hai Dil hi Jane.
There were two ways for me to experience the Pamban bridge , one I could watch it from outside and other by travelling on it.

Hum hum hai
Isliye gum kuch kam hai .

Yes I managed to do it in both the ways.
My dream fulfilled- Ek photo kuch aisa
Annai Indira Gandhi road bridge which is parallel to the Pamban bridge was inaugurated by former Indian Prime Minister Rajiv Gandhi on 2 Oct ,1988 is also an engineering marvel.


Annai Indira Gandhi road bridge in the background
It offers fantastic view of the Pamban Railway Bridge. Lots of tourist stopover here to click pictures especially of the train passing over the railway bridge.
Tourist clicking the pictures of the train from the road bridge
Pagalpan toh itna hai ki Mumbai se trains ke time note kar ke gaya tha , as to when the trains shall be departing Rameshwaram station, so that I am there at the road bridge to capture the view on my camera.
Scene soaked in the evening golden tranquility
We were little late to catch the glimpses of the passing train because I got carried away at Dr Kalam memorial that I overspent my time there. Still huffing and puffing our auto reached the flyover bridge and there I could see the beauty of the train with some lovely overcast golden sky. The whole atmosphere was soaked in the golden tranquility.
Is it a rusty and rickety bridge or an engineering marvel
The bridge stood there shining bright. Boss yeh dekne wale ki nazar ka Kamaal Hota hai warna to a commoner the bridge may look a rusty and rickety object. Kahte hai na...the beauty lies in the eyes of the beholder. Sorry yaaro Mai toh emotional ho Gaya.
Sach me yeah most dangerous bridge lagta hai… kabhi bi gaya 
Ek Kahani ( One Tale )
Emotional se yaad aaya, there is this story narrated to us by our auto guy. That there was an operator who worked on this bridge, his job was to lift the bridge section so as to allow the ships to pass and then to bring the bridge down, just like draw bridge of olden times to let the train pass over it. However on one fateful day as he was bringing the bridge down, the train was arriving very close to the bridge, and if he was not able to level the bridge there could be a great accident, unfortunately at that particular time his 5 year  old small son arrived with the lunch  for him. Seeing his father in trouble the small child rushed towards his father and started to rotate the pulley.
Pulley section of the bridge
However in this commotion the child's hands got sucked into the gears and crushed it and the young chap was crying out in pain and died. For a second I was sad and almost hated the bridge. My daughter too was almost in tears, her eyes were red , I held her and said these things happen but then at the same time I felt operating the gear of this bridge cannot be done alone , keeping in mind the size of the bridge. Jaise meri aadat hai, I immediately googled to check out the facts and thankfully realised that it's fake story . One needs at least 12 people to operate the bridge. Being an avid traveller I have heard so many stories from the local people or guide and over the period of time I have realised that we got to take these tales with a pinch of salt, Kyo ki aap ko man mukt karne ke liye yeh kahaniya aadhi haqeeqat to aadha fasana hoti hi.

Thank God my love for the bridge didn't get diminished.
Some amazing views on the road bridge
Now see a picture taken from the train, Bola tha na jo sochte hai woh karte zaroor hai ..hazoor



This was from the train.
Now some facts about this bridge.

1.Pamban bridge was India's first sea bridge, and was the longest sea bridge in India until the opening of the Bandra-Worli Sea Link in 2010.

2.This bridge was built on 24 Feb  1914 which means this bridge is more than 100 year old !
3.This is one of the most dangerous bridge, imagine now more than 100 years old and over that this bridge is located in the world's second most corrosive environment after Florida, making its maintenance a challenging job. The location is also a cyclone-prone high wind velocity zone.
4. The railway bridge is located 12.5 metres (41 ft) above sea level and is 6,776 ft (2,065 m) long.
5. The bridge consists of 143 piers and has a double-leaf badcule section with a Scherzer rolling type lift span that can be raised to let ships pass. Each half of the lifting span weighs 415 tonnes.
Bridge in opening position
(Pic source internet)
In this technical world this bridge still uses manual means using levers to lift the two leaves of the bridge .

click here to see the opening up of the bridge
I had read in a newspaper reporting that Indian Railways is trying to bring the bridge in the UNESCO world heritage list. So till then fingers crossed.

We bid goodbye to the Pamban bridge and returned back to our hotel.

How to reach:

Air:    Nearest airport is Madurai Airport. 
Rail:   Rameshwaram Station is the nearest station and it is well      connected with most rail routes across India.
Road : Regular buses ply from Madurai to Rameshwaram, enroute  to Rameshwaram you can get down on the Pamban road                   bridge. Autos and private vehicles are easily available from             Rameshwaram to reach here
Tomorrow morning we shall be catching the train from Rameshwaram station to Thanjavur, which has some glorious temples to boast about.
Keep reading and be there with me tomorrow too, to experience the new adventure awaiting us.
please click here to read our journey from the beginning.
Total Page Visits: 2450 - Today Page Visits: 7