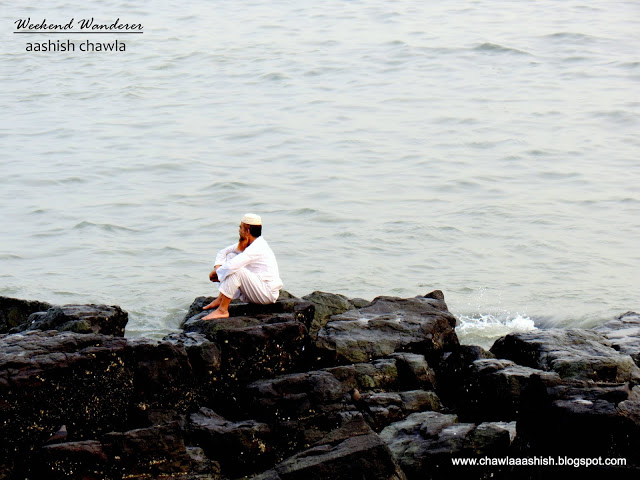 Its now over 50 years that I have been staying in Mumbai. The financial capital of  India but yet within this financial capital there are some real gems of historical delight, architectural elegance and so many other facets that this city hides in its womb. Through this Mumbai Darshan Series, I intend to uncover some famous and some lesser explored places and structures of Mumbai.This is my humble contribution to my city hope you guys like it.




My first place of visit would be Haji Ali Dargah. Millions of mumbaikar pass along this famous Mosque but not many may have actually visited it. In my entire life span of more than 50 years I had visited it once only!


In  the hustle and bustle of the Mumbai city the Haji Ali Dargah is a mosque/Dargah located on an islet off the coast of Worli in the southern part of Mumbai. The Dargah contains the tomb of Sayed Peer Haji Ali Shah Bukhari.




The Haji Ali Dargah was constructed in 1431. in memory of a wealthy Muslim merchant, Sayyed Peer Haji Ali Shah Bukhari, who gave up all his worldly possessions before making a pilgrimage to Mecca. Hailing from Bukhara, in present-day Uzbekistan, Bukhari travelled around the world in the early to mid 15th century, and eventually settled in present-day Mumbai.

Story behind this Dargah:

Stories excites me to no end and I was sure that there would legend or tale or Rivayat as they say about this Haji Ali Dargah. It is learnt from "Rivayat" (Legends) that Pir Haji Ali Shah Bukhari (R.A.) was sitting at some lonely place in his hometown and was busy in his prayers when a lady passed-by from there crying and screaming. When the Saint 
 enquired about her crying, she pointed to an empty vessel 
in her hand and said that she had dropped some oil. And if she goes home without the oil her husband would beat her. She was crying in need of help. The Saint asked her to be calm and went with her to the place where the oil had been dropped. He then took the vessel from the wailing lady and pushed the earth with his thumb. The oil came out like a fountain and the vessel was full. The Saint gave her the vessel with oil and she went away happily.





However, after that, the Saint was troubled by dreams of having wounded the earth by striking it in this manner. Full of remorse and grief from that day he became very serious and was not keeping well. Then with the permission of his mother he traveled to India with his brother and finally reached the shores of Mumbai – near Worli or at some
place opposite the present tomb. His brother went back to 
their native place. Pir Haji Ali Shah Bukhari sent a letter 
with him to their mother informing her that he was
keeping good health and that he had decided to reside at 
that place permanently for the spread of Islam and that 
she should forgive him.
Till his death he was praying and giving knowledge about Islam to the people and devotees regularly visiting him. Before his death he has advised his followers that they should not bury Him at any proper place or graveyard and should drop his shroud ('kafan') in the ocean such that it should be buried by the people where it is found.
His wish was obeyed by his followers. That is why the Dargah Sharief is built at the very site where his shroud came to rest in the middle of the sea where it was perched  on a small mound of rocks rising above the sea. The Tomb and Dargah Sharief were built in the years to come.( Source : www.hajialidargah.in ). 
As the mosque is located around 500 metres away from the mainland one has to walk down the narrow pathway from the mahalaxmi side to the mosque. This causeway is around one Few metres long. Hence the accessibility to the mosque is very dependent on the tides because the causeway is not bound with any railings, thus during the high tide time the causeway get submerged in the sea water and the way becomes inaccessible to the devotees. 

Walking down this causeway is one of the highlight of visiting this mosque and as you walk you see local made decorative pieces and souvenirs  



Vendors selling souvenirs 

Let us now enter the mosque and see what hidden delights are in store for us. after walking on the causeway we reach the entrance of the mosque which has this huge entrance gate with marble steps.




As I entered the premises I was stuck with awe with the angelic beauty of the white marble mosque standing in front of me, upon inquiring I was told that this mosque was renovated with the first and second grade of white marble which was transported from from Makrana, Rajasthan. The same place from where the marble for Taj Mahal was brought. 




The Dargah Complex consists of :

Main Dargah Building housing the tomb of Pir Haji AliShah Bukhari
On the left side as we enter the complex is a ground plus 2 floor Sanatorium blocks. 
Sanatorium blocks.
Then there is a Qawal Khana.
A prayer hall for men and women.
Minaret
Let me take you to the main building which houses the tomb of the saint.
As soon as you enter you feel the spiritual presence with a huge chandelier gleaming in golden light and the glittering silver walls around me. I stood there for few minutes, paying my respect to the saint, with the sounds of prayers from Qawal Khana.
Glittering Golden lights
As you come out from the shrine and move towards your left  side you see a large prayer hall or Namaz hall for gents. I was told that on the other side of this hall there is a prayer hall for women folk.
Prayer Hall next to the Tomb
The prayer hall looked so peaceful, the red carpet and the marble arches with beautiful designs embed on the pillars.
Beautiful designs on the marble arches
The windows in this hall looks very beautiful because of zali type carving and they too adds to the ambiance and spiritual atmosphere.
Zali Type windows
Coming out of the prayer hall the strong sea breeze hit you with a pleasure beyond expression. I turn around only to see a beautiful dargah with an equally impressive minaret.
Beautiful Marble Dargah
 White marble inviting you to touch it,feel it and yet you are apprehensive and think 
"kahi mere haat lagane se yeh maila toh hai ho jayega"  
So serene and pure this white marble appears. 
Imposing Minaret
Talking of white marble, As I had mentioned earlier in this blog, I was told that the marble used here is actually Makrana Marble, the same type which was used for constructing Taj Mahal. So in other words you can say Mumbai has its own Taj Mahal. ( I know Taj Mahal is way more beautiful then most of the monuments put together) Lekin Mumbai ki collar tight karne ke liye as they say "Kehne me kya harz hai."
After spending some time admiring the beauty of the Dargah one can spend some time on the black rocks behind the Dargah. The view from there of Mumbai skyline is mesmersing and the lashing waves are music to the ears.
For me Haji Ali hold the place of pride as Mumbai's Taj Mahal, where more than 100000 visitors visit every week.It was now time to bid adieu and look out for another new destination.

You make like this Champaner Series

How to reach:

Rail: Mumbai Central and Mahalaxmi Railway station is the nearest railway station, One needs to get out on the west side of the station and take local taxi or City Bus.The distance from Mumbai central station is approx 3.3kms and from Mahalaxmi station its 2,2 kms.

Road:Many BEST buses ply from different points of the city to Haji Ali daily. you can click on this link to search for the bus information BEST buses route network.

Air: Haji ali is 18,2 kms from the Domestic airport and 18.4kms from International Airport Mumbai.Its almost an hour drive if you are taking a cab.


Total Page Visits: 1329 - Today Page Visits: 2