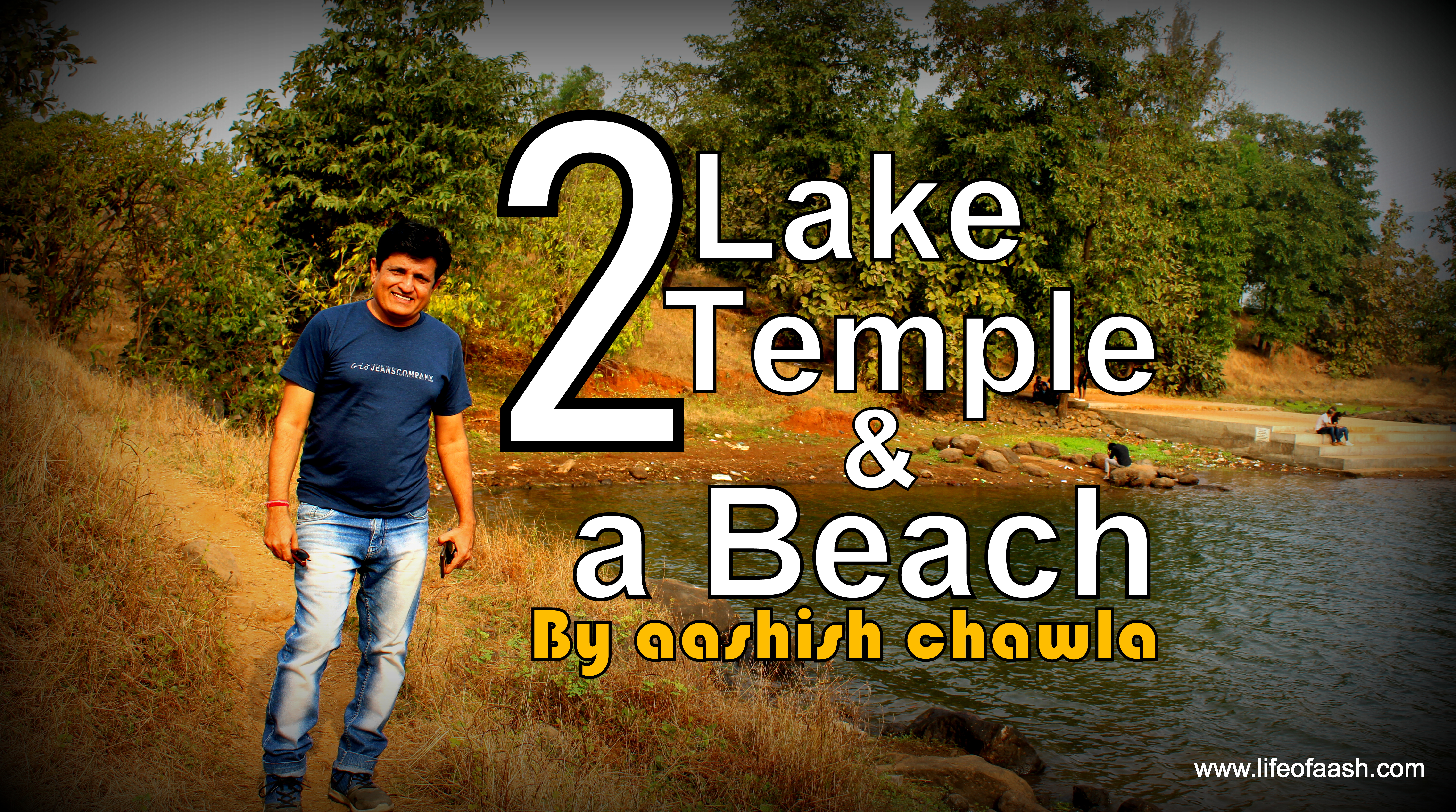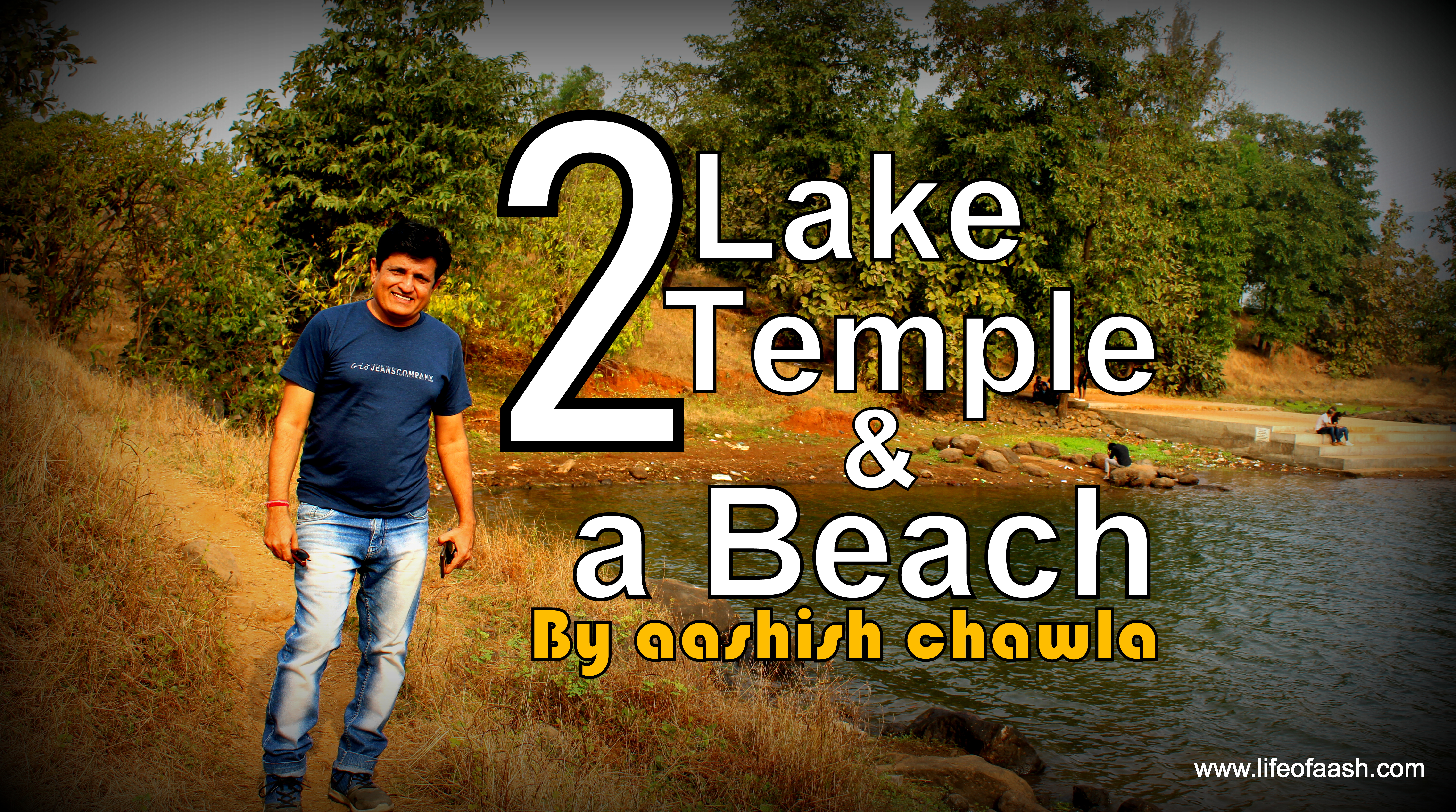 In our first part we took you to Vandri Lake and Sinchan Lake so Two lakes done , Click on the link if you had missed the earlier part of our journey.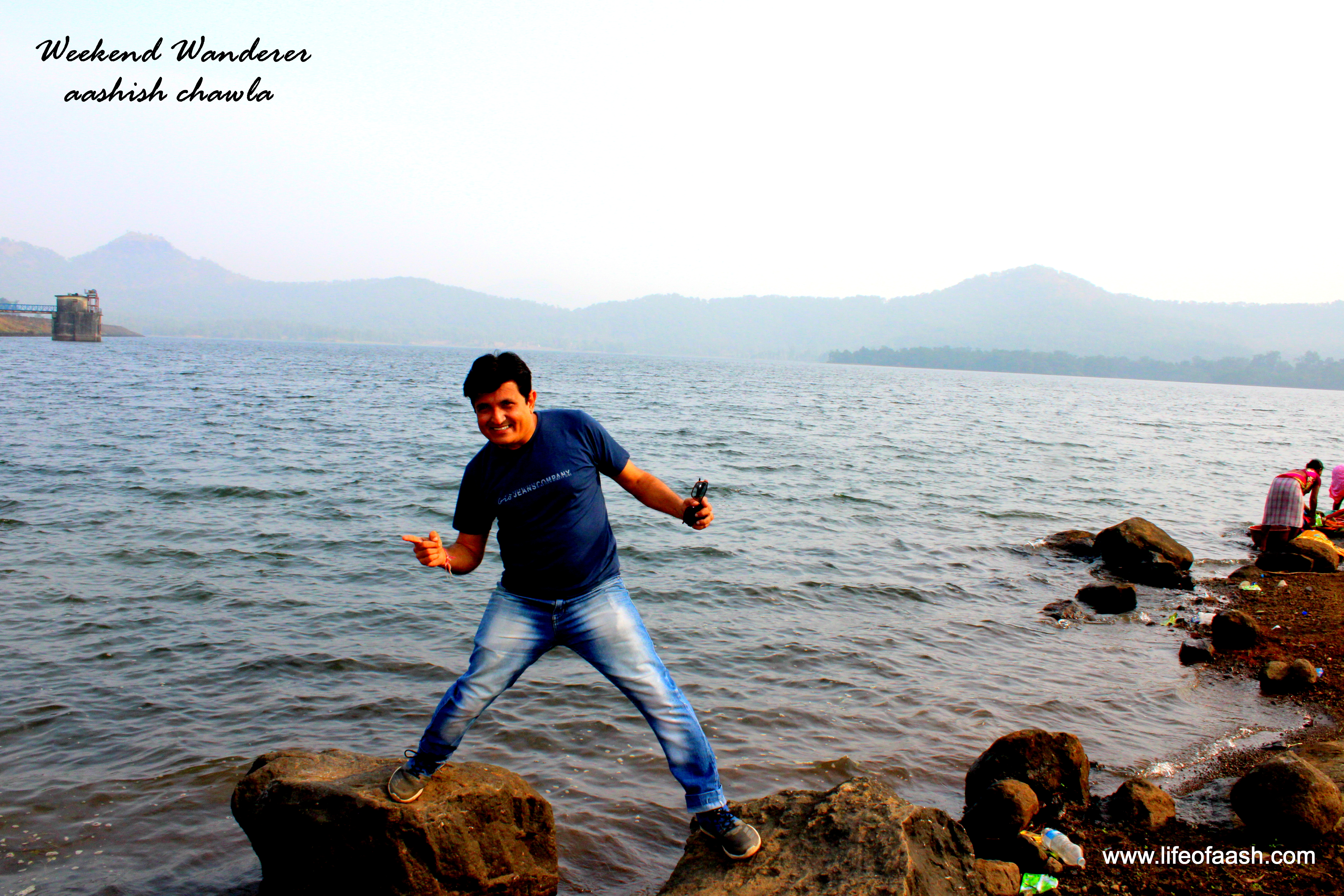 We had just left the Sinchan lake and were weaving our way out from the narrow village road to come to the main road. It was already 1 pm and we were all very hungry and as we were driving through the villages all eyes were fixed on a lookout mode…yes we were dying to see some hotel where we can grab our lunch.Fortunately we soon came across a hotel which looked good so we stopped there for lunch. We had a scrumptious lunch of Paneer Chilly, Chicken Tikka Masala, Fried Rice, Jeera Rice, Roti and my favorite Dal Fry.
After this heavy duty lunch everyone was feeling very lazy and sleepy so just to break that lazy mode we did a photo session.
and then soon were back in car for our next destination Bhavangad Fort.
Bhavangad Fort:
We kept following the sign boards on the road to reach the fort and at few places we asked the locals for direction. One or two times locals looked at us out of bewilderment as to why we want to visit that forsaken  place but were polite enough not to say that but then there was this auto driver who simply said अरर  साहेब तिकडे  काय ही नहीं आहे बगाया  सारखा  तुम्ही beach वर जा  (there is nothing to see there better go to the beach) But I am used to these kind of reactions from the locals because Its nuts like us who come again and again to enjoy the ruins and relive the history.
Finally we came across a board showing Bhavangad fort and we entered through the gate.We parked our car on the road and started a little walk as if you are entering a forest and we were soon at the entrance of the Bhavangad fort. We were apprehensive that we might actually not find anything on the fort. so with baited breathe we kept moving.
I had no expectation as to this fort because most of the forts in Maharashtra are in very bad state. As soon as we entered the complex there was a temple on our right however it was locked so we moved toward the entrance of fort. The debilitated conditions of the fort tells the tale of abuse and neglect.
History:
Bhavangad Fort was built in the year 1737 with the help of  2000 workers, It actually holds a very important place in the pages of history. It is believed to have played a prominent role in the capture of Bassein Fort, In 1526 Portuguese started to  build Vasai Fort and subsequent to that they further added chain of forts like Shirgoan Fort, Mahim fort, Kelve Fort so as to control this entire coastal area.
The Portuguese started to convert the locals so when the Peshwas got to know of this, they under the leadership of the great Chimaji Appa,  started a campaign against Portuguese in 1737 where warriors like Gangaji Naik, Shankaraji Phadke and Baji Rethekar fought  against the Portuguese.Since the Fort was built within a very small period of time hence the settings of the stones were done without using any lime or other material.
In present times the over grown tree roots are holding the walls of the fort and as we enter the fort  we see little stairs. As expected nothing was on the top,One can only see the  fort wall which is again in debilitated condition,Then there is a water tank and finally you see overgrown bushes everywhere within the fort. telling the tale of neglect of one of the famous fort in history.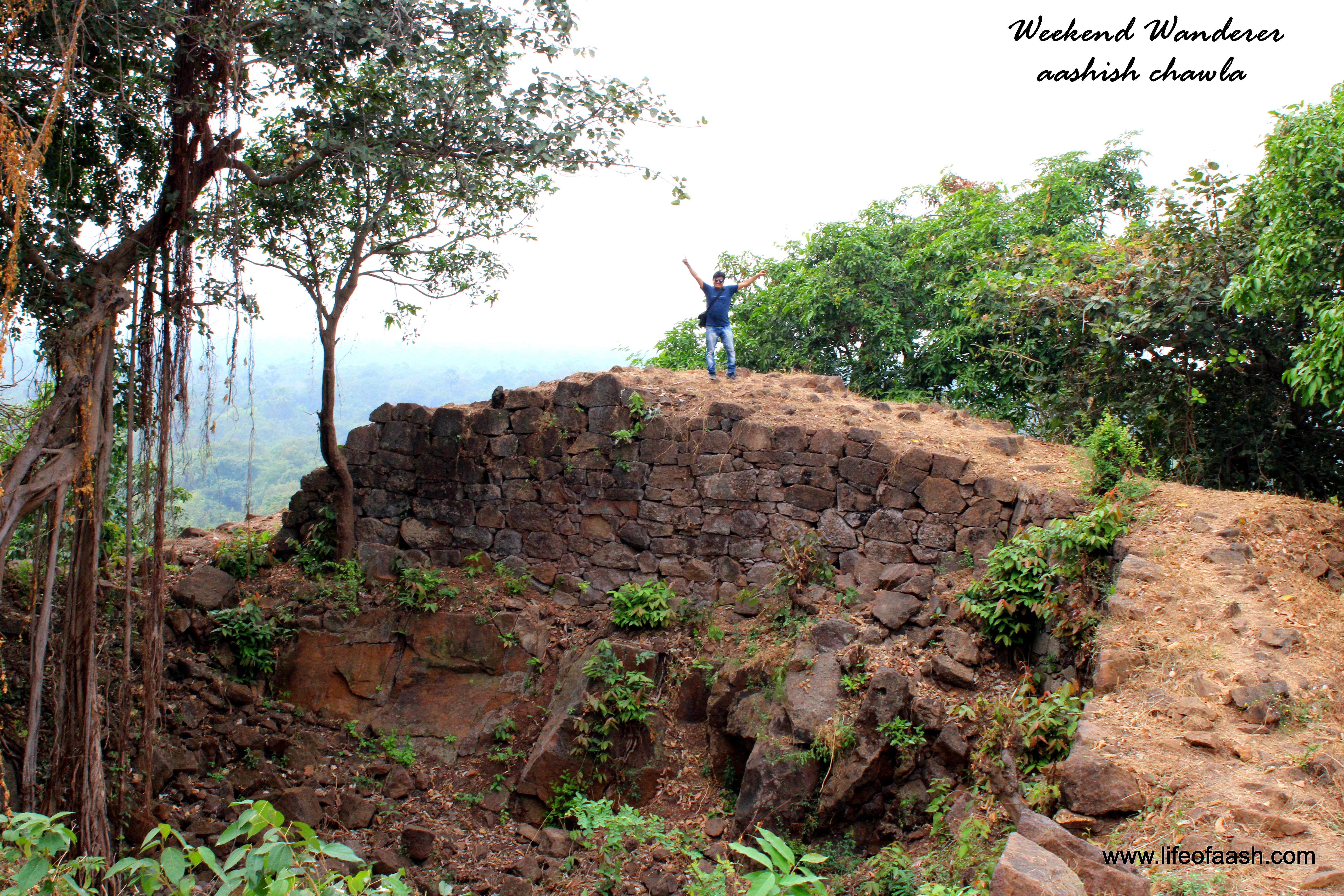 After taking few pictures we came out from the fort. Our next destination was the Ashapur Temple. Driving through the beautiful roads dotted with coconut trees, the drive was indeed a pleasure. The sun was coming down fast so we were in extreme hurry to reach our last destination for the day before the sun sets. But just then we saw a beautiful creek kind of thing and somehow we couldn't resist the temptation to take a U turn and check out this nondescript place and we actually took a U TURN!
We spent some time clicking pictures and doing some weird things like me jumping on the passing bullock cart and then to my delight Neha was all ready to click my nutty pictures, सच में यार दोस्त हो तोह ऐसा हो। .. पागलपंती के आसार देखते ही कैमरा निकल ले और फोटो लेने लगे.
Suddenly then somebody remembered that we were suppose to beat the setting sun and reach the Ashapur temple और एक हम थे जो यहाँ ब्यूटी कांटेस्ट में लगे थे पोज़ मार मार के So we all were back in our car and on course to Ashapur Temple (Hopefully!).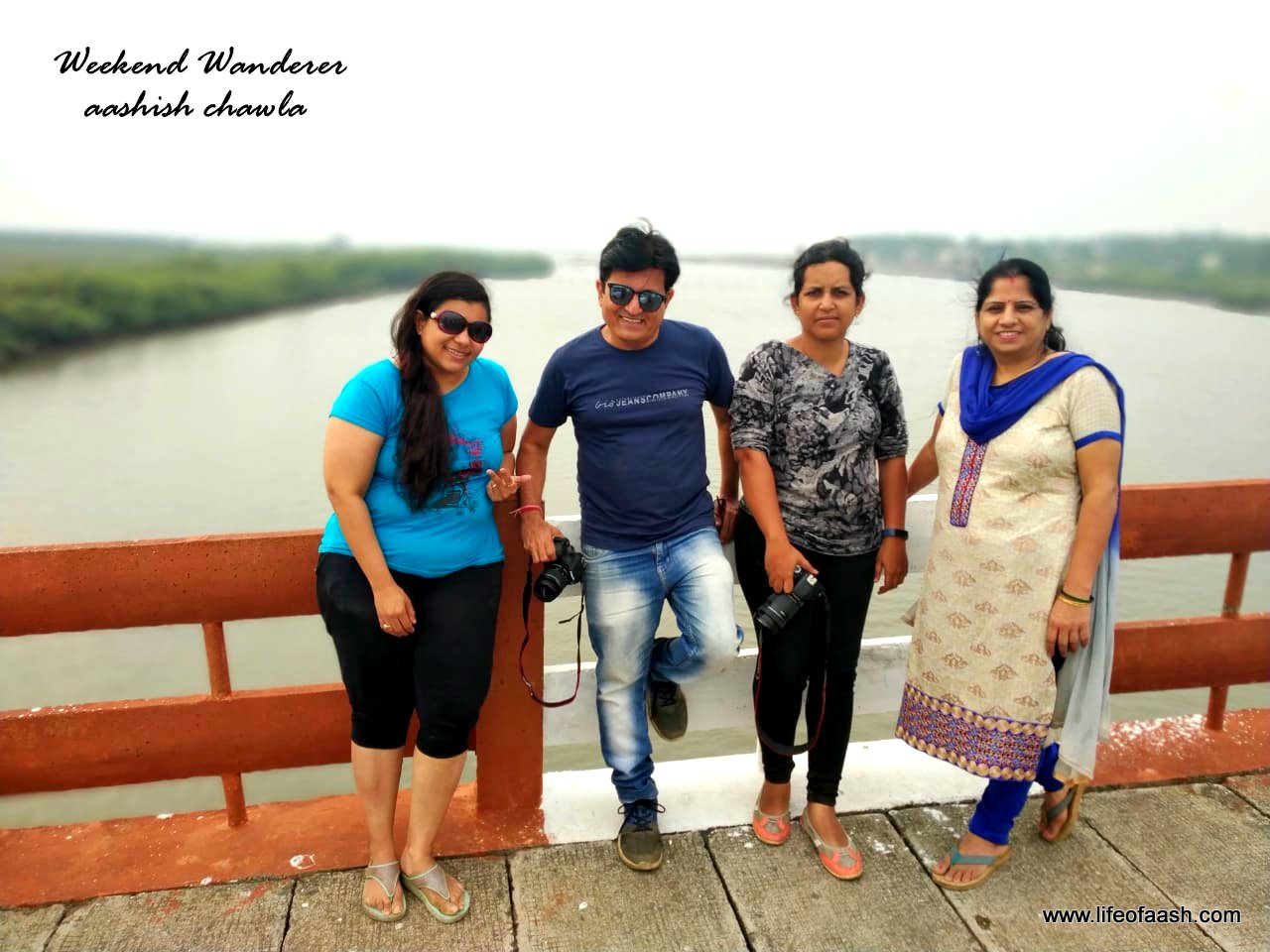 Ashapur Temple.
Driving through the narrow lanes of Edwan village we finally reached the Ashapur temple..This temple is some 100 metres away from the coast in earlier days it was possible to visit this temple during low tide however since last few years back a raised ramp has been made due to which one can reach the temple all the year round. Ashapur Mata is the main deity and the temple is situated in a cave, We paid our respect to the god and were all set to  move on to our next destination Sitladevi temple which lies next to Kelve Beach.
A drive of 15-20 minutes we were at Kelve beach. Being Sunday the area around the Kelve beach was very crowded. We had to spend another 15 minutes searching for the parking space. My small traveler tip would be to avoid going on weekends. The place is no more a offbeat destination, rather it has become beaten down destination giving competition to Juhu and Chowpathy beach of Mumbai.
Sitladevi Temple
We soon made our way to the Sitladevi temple. I had visited this temple earlier many times and found it to be a very quite and peaceful. However today this temple was also invaded by the weekend tourists. This temple has very beautiful pond ahead of it. Children and elders took turns to get clicked here. मैंने  भी एक अपनी फोटो  खिचवाने का  चांस मार लिया .
Our friend Manohar didnt come inside the temple with us…शायद  भगवान्  में नहीं मानता  होगा and like true punjabi I'll be saying सानू  की  (What have we got to do)
It was now time to hit the Kelve beach and soon we made our way through the crowd and mind you we had to pay 10 Rs per head to visit the beach. हद है यार , कौनसी  जन्नत बना के रखी है जो एंट्री फी ले रहे हो , टॉयलेट में पानी तक की व्यवस्ता नहीं थी  But anyways I was on a holiday today so I promised myself that I wont be breaking sweat over such measly issues.The moment I set my foot on the beach I was shocked to see entire Gujarat and Maharashtra on the beach. I then and there decided that I will never come here on the weekends.
Whatever be, I loved the way we spent our Sunday crowd at Kelve not withstanding. Isiliye toh kehte hai
कभी किसी को मुकम्मल जहाँ नहीं मिलता
कहीं ज़मीन तो कहीं आसमान नहीं मिलता
Stay tuned for the upcoming blog about my road trip to Satara.
Thank you for reading the blog and please do like comment and join our site if you like my blog.
Total Page Visits: 6097 - Today Page Visits: 6