1st Sept, 2019
To read from the beginning about our journey Click on this link
It was dark when we left our hotel in Amritsar, There were very few people out on the street and not a single auto was to be seen.We started to walk and little ahead I happen to see one auto guy napping in his auto, I shook the poor guy out of his deep slumber and he got up with a jerk as if he has seen a ghost. I smiled at him and asked him if he will go to Amritsar Station, He agreed but demanded Rs 150! fare, It was now my turn to have the expression of seeing a ghost ! I wanted to ask him Abbe Yaar ek din me hi Bungla banane ka vichar hai kya ! ( Imagine paying a bomb for just 2 kms ride). With no other auto around  I had no choice so I gave in and paid up.
Zipping through the empty streets of Amritsar we reached Amritsar station well on time, I rushed to the booking counter to purchase Passenger Ticket, fortunately there were hardly 4-5 people at the ticket counter. A grumpy lady wearing a bored expression was sitting at the counter. She looked sternly at me when I handed Rs 500 note, for a second I was worried that she will tell me to give lower denomination but thank God she blinked for a second and stoically printed the ticket and threw the balance and the ticket with flourish. I quickly picked up the change and moved on. Would you believe the train ticket for three of us cost only Rs 75! Aur auto wale ne 150 Rs loot liye
We were informed that our train will come on Platform no 1, so we started to move towards the platform No 1, but after waiting for 20 minutes and still no sign or announcement about our train had me all worried, so I inquired with the food stall guy as to why train is not there on the platform, he waved his hand towards his left and said "Sir woh toh udher lagti hai idhar nahi, Jaldi jao wahan gaddi ko lag kar kafi time ho gaya hai !. So the great rush began, My daughter and my wife with me leading the way was running like our life depended on it towards the waiting train cutting through the waiting people and finally reached the train and jumped into the train coach. Panting like some tired dog we now started to hunt for the empty place which we ultimately found. Soon our train left Amritsar station and we were now on our way to Pathankot.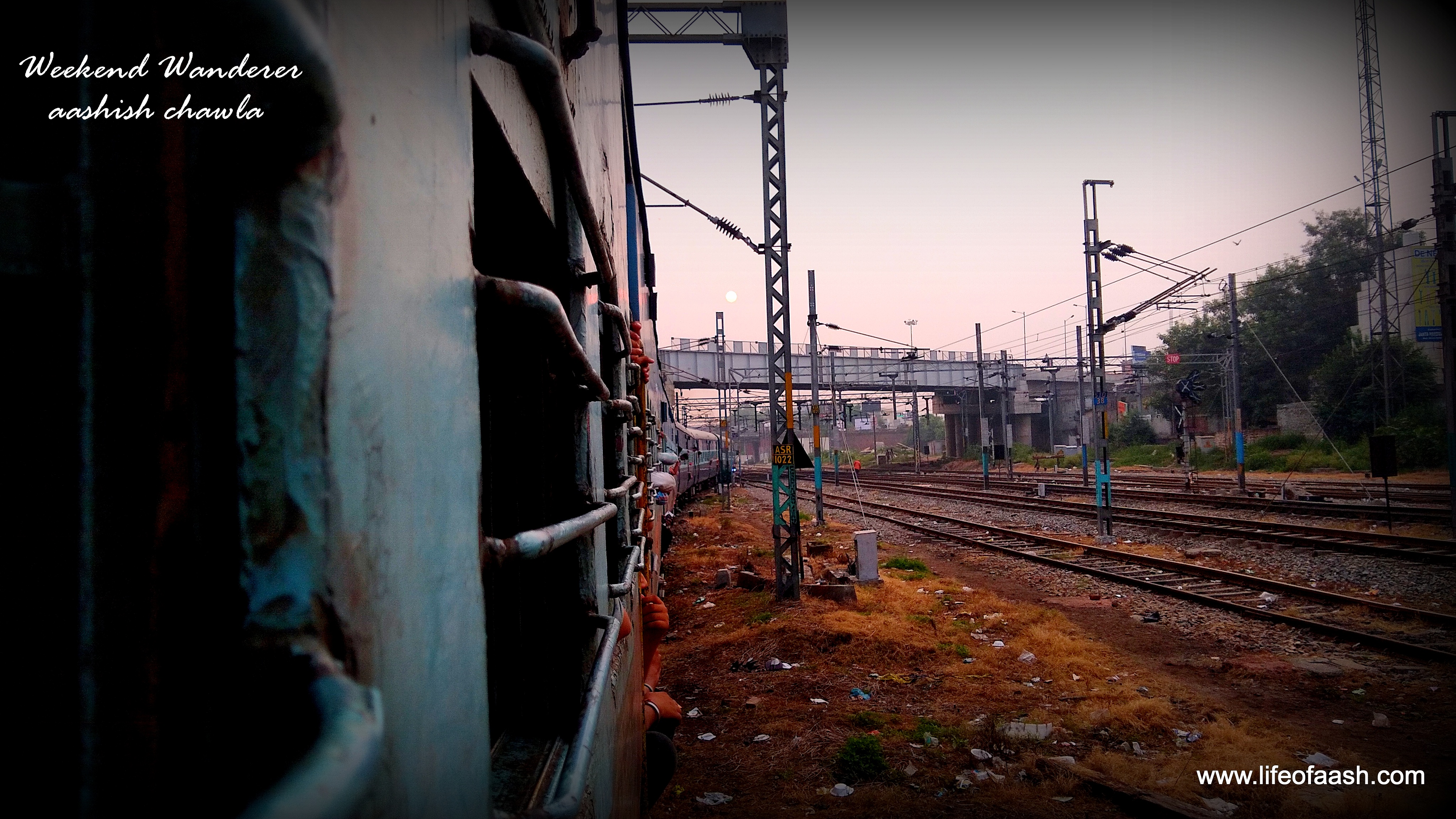 Travelling in early morning train is so exciting especially  the whiff of the fresh air, coolness of the morning with the sun just softly coming up. Wow its a sight to behold ! As our train was passenger train so there was constant stops at almost all the stations, people kept getting in and getting out, New passengers kept  joining me after few stops and for people like me every new co- passenger who sat next to me was a subject for new conversation, a new story.  I have this peculiar habit of chatting with anyone who sits next to me. Today was a wonderful day because  my co-passenger were quite a varied lot of a salesman , then an Engg. student and then an old man. Old man had many interesting stories to narrate and I kept listening to them with rapt attention that I almost forgot that it was 3 hours journey from Amritsar to Pathankot.
I am sharing a small clip of the tale which the Old Sardarji, one of my fellow passenger was narrating about some old lady in the forest who lived in a hut and kept food for the animals and how the truck drivers who pass by leave some bananas and other food for her.
 It was 10.00 am when out train reached Pathankot Railway Station. After getting down from the train we realised that there was no footover bridge to cross over to the road side so like other passengers we too jumped on the railway tracks and crossed over to the roadside. The interstate Bus terminal is hardly a 5 minutes walk from the railway station so we started to walk towards the Bus stand and soon we reached the Bus stand. Well my dear friends the plan for today was to go to Pathankot Bus State and catch a bus going to Chamba and if get time we will explore some part of Chamba in the evening.
I went to the Inquiry Counter and checked for the bus going to Chamba. I was informed that there is one bus leaving at 10.30 am. for Chamba.
We were very hungry because we had not eaten anything since morning except for few chips which I had purchased at the Pathankot station. One good thing was that there was a restaurant at the bus stand where the guy was making some yummy Aloo Parathas, I immediately ordered  Aloo parathas and curd. I took the parcel and went running to catch the bus.
We paid Rs 200 per person as bus fare to Chamba and we soon boarded the bus . It was only after buying the tickets we realised that seats are allocated by numbers and we cannot randomly sit on any seat. Anyways we managed to get two window seats. Baap beti ka kaam ho gaya , Ab dono window se photo le sakte hai.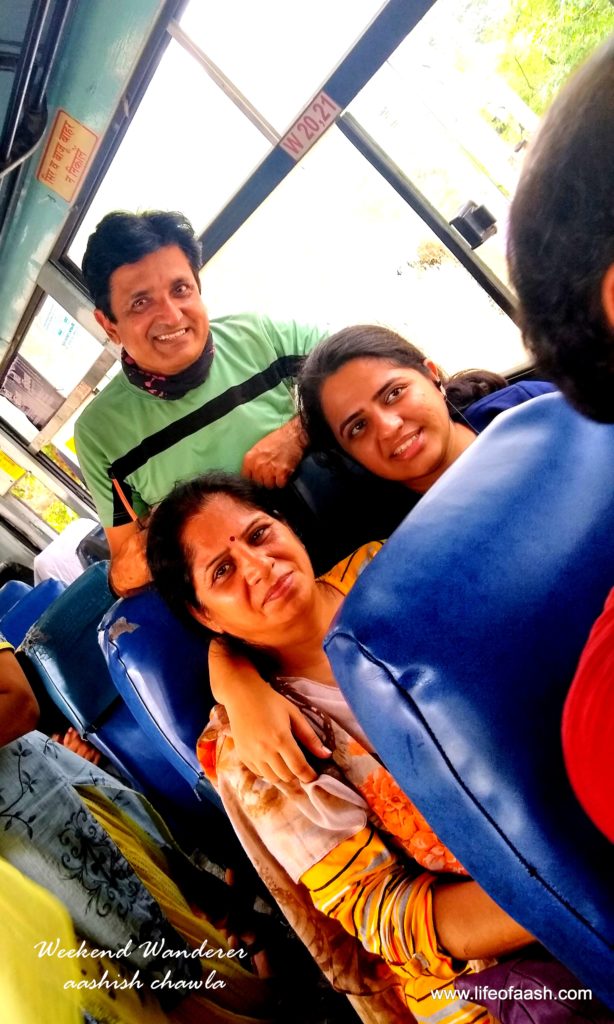 As far as our Aloo Parathas goes, we had them on a moving bus using all the skills of the worlds to balance parathas in one hand and curd in another. Well this is what I call travel fun, which you can only enjoy when you are ready for anything.
Slowly our bus started to move out of Pathankot, leaving behind the military Area and finally opening up to the roads in the mountains. My co-traveller was going to Manimahesh and soon I realised that many people sitting in our bus were pilgrims and were going to Manimahesh via Chamba.
At around 2 noon our bus stopped enroute at one place and the driver called everyone and said that passengers if they want can eat at Bhandara. Let me explain to you, in India especially in north when people are on pilgrimage locals offer free food. I too along with my family got down and enjoyed this simple meal offered in Bhandara. My dear friends this is the beauty of travelling in India by Public transport, when you mingle with locals, shed your in-habitations, your city luxury lifestyle and your attitude behind. I thanked the people who served us and we boarded back on the bus.
Dosto baat sirf langar per hi nahi rukti, Raste me locals pyar se aapko bus rok rok kar kuch na kuch kabhi bread sabzi, kabhi puri kabhi meetha pyar se dete rehte hi hai… Yeh mera India I love my India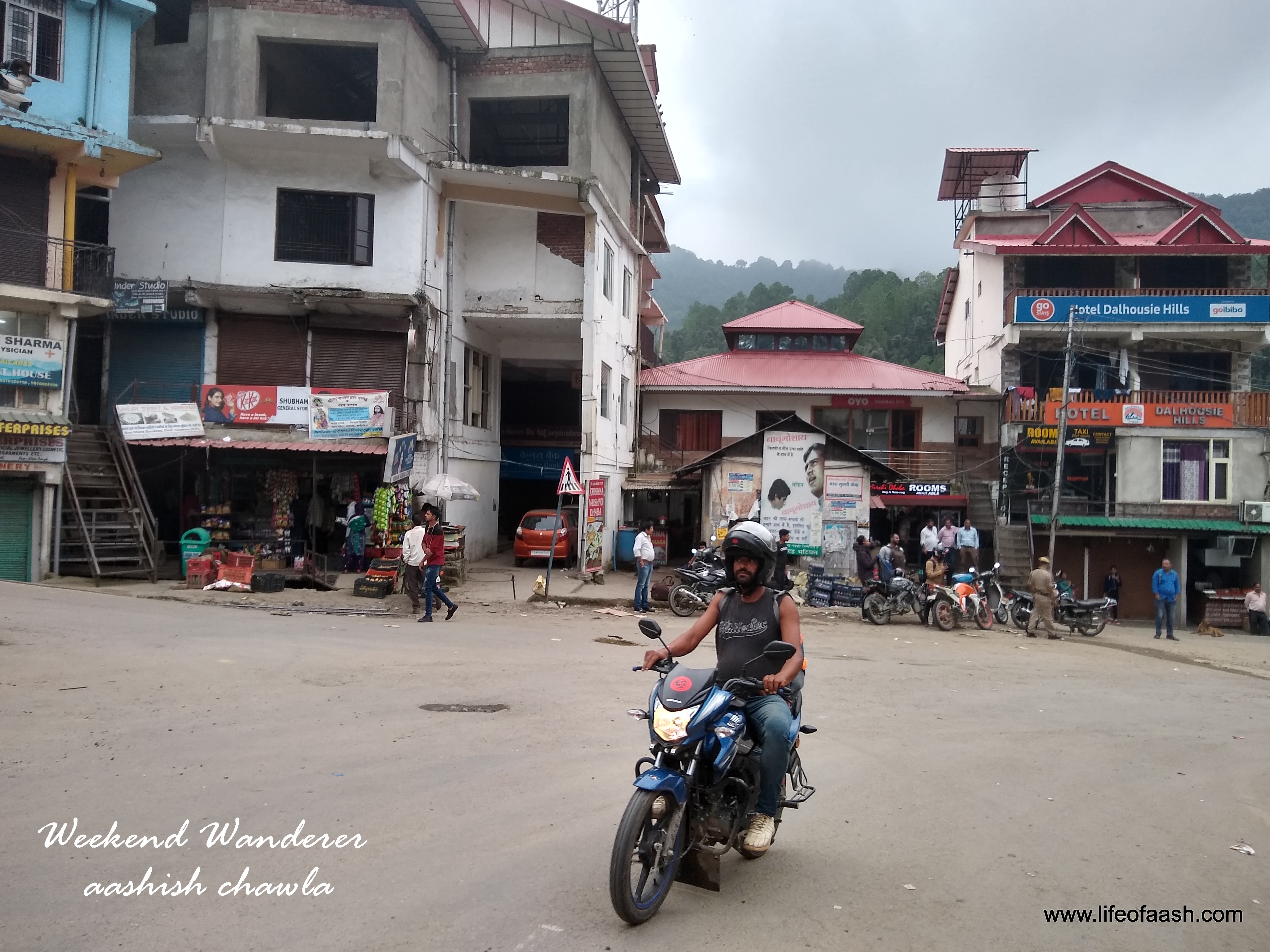 It was 3.30 in the afternoon when we reached Banikhet. There was chill in the atmosphere, a little bit of fog too, our bus had a small halt here, I took this opportunity to check out the shops here. Actually I was craving for a hot tea. Jab mausam me shardi jaisa ho toh bas ek garama garam chai mil jaye toh kya kehna, Just then I happened to see a small tea stall and next to that there was a farsan shop, I bought some Namak Pare and along with the steaming tea enjoyed it.
It must be 4.30 pm when we reached Chamba, Our bus crossed over Ravi river and crossing the bridge we were at Chamba Bus stand. As we were arriving Chamba the skies were overcast and as soon as we got down from the bus we were welcomed by the drizzling rains. The time was only 4.30 but let it looked like  pm. because the surrounding was very dark. Chamba Bus stand is few kms away from the main town and my Hotel was in the main town near Chougan Ground.For us the journey was far from over. I was informed by a local guy that in order to go to the chougan ground I will have to catch a local bus so from the bus stand itself we boarded the local bus.
Traveller Tip:Local Buses Ply every hour from Chamba New Bus stand to Chamba Old Bus stand near Chougan ground.
The bus takes a little longer route like 2kms odd . I was told that there is also a path from where we can walk and reach in 10-15  minutes from the New Bus depot to Chougan ground, but as we were carrying heavy bags and secondly it was raining too so we thought it better to wait for the bus which soon arrived and we boarded the same and in 10 minutes  and 10 Rs  per person we were at the old bus stand, From the bus stop we had to hardly walk for a 2 minute and we were near our Hotel. After checking into the hotel we sat at the balcony watching the beautiful chougan ground with amazing mountains in the backdrop.
At night we strolled out on the streets and been Sunday most of the shops were shut or may be in hill stations people call it a day soon. In the market area we saw a Dabba and the aroma that was coming from its kitchen was irresistible  so we decided to have our dinner there. Good north Indian food and rounded it off with a huge glass of lassi , we now decided to retire for the day and walked back to our hotel.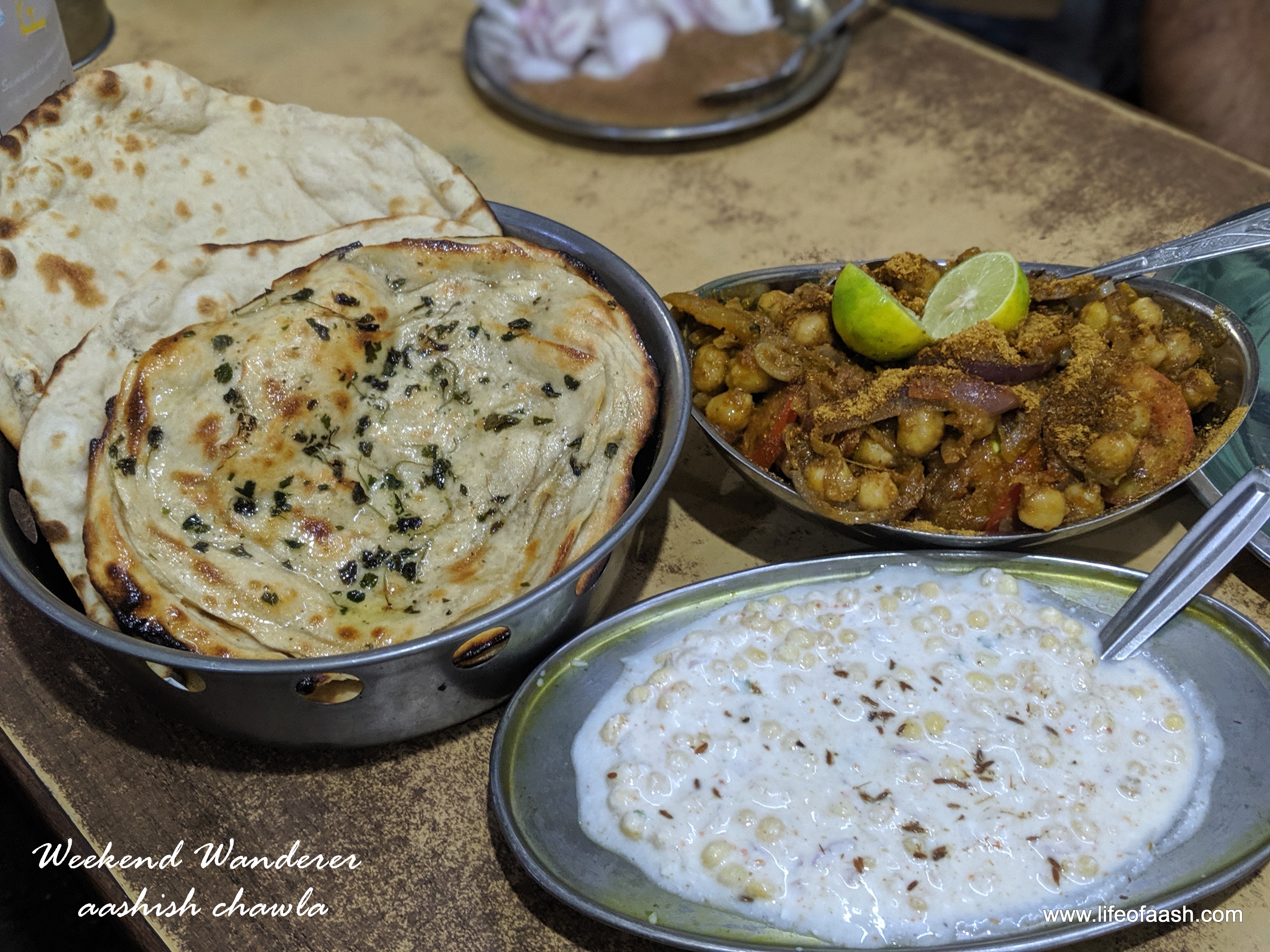 Tomorrow we shall be doing local sight seeing of Chamba wait for my next part 
To read from the beginning about our journey Click on this link
Total Page Visits: 3741 - Today Page Visits: 1