I was very excited because I was going on a long vacation of 9-10 days. Actually while planning for this trip I had laid out various options like going to Udaipur-Chittorgardh-Kumbalgadh-Kota or North East covering Arunachal Pradesh and Assam but then ruled out the Rajasthan option due to extreme heat and North East option was ruled out due to rains.  Finally I adopted the middle path of going to Amritsar-Chamba-Khajjiar-Dalhousie-Dharamshala-Jot Pass-Kangda-Baijnath-Bir. 
As I was travelling with my daughter and wife this time, so I didn't want any glitch, therefore I made all the hotel bookings online beforehand and thus started my journey to new destinations which I had never seen before. Isn't it exciting.
So my dear friends ! I am inviting you to be my virtual co-passenger and enjoy the journey with me, just as I am going to enjoy.
I have divided my trip blogs in parts covering one day at a time, after all you too need rest 
Sahi Bola na, Waise bhi kiske pass time hai lambi lambi kahaniya sunane ka ( After all who has time for long tales).
Day-1: 30th August, 2019
We had booked direct flight to Amritsar so that We can get an extra day for sightseeing of Amritsar. No doubt the air ticket cost made a big hole in my pocket, but then 34 hours of train journey at the start of the intended long trip can often kill the pleasure of travelling.
Pata chala safar suru hone se pehle hi sare Sher dhere
Our flight was at 1.15 pm today  but it was raining cats and dog yesterday night and I was  tossing and turning the whole night worrying whether my flight will take-off tomorrow, after all you guys know how Mumbai rains are, Upar se BMC hamari itna zabardast kaam karti hai, ki barish hoti nahi ki poori ki poori Mumbai doob jati hai. Luckily for us in the morning the lashing rains were reduced to just a drizzle. I was all ready with my bags at around 11 am because I didn't want any last moment hiccups, Mai toh travel ke liye itna desperate tha ki agar taxi , auto nahi milta toh me pedal hi airport jane ko ready tha, Thank God aisa kuch nahi karna pada , as after 15 minutes I could get a confirmation from Uber Taxi guy.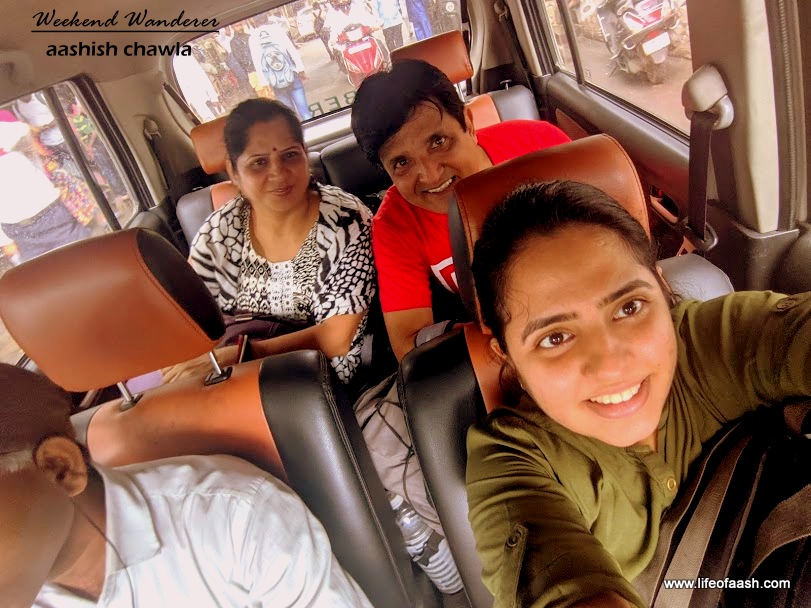 The real drama started now because after confirming that the cab will be at my doorstep in 10 minutes, this guy didn't turn up for almost 30 minutes !, I was in complete panic state because during the morning hours there is lots of traffic on the Western Express highway and over that the rains gathered pace all over again.
The minutes ticked by and I had that real worried looks on my face now. Finally the cab arrived and I gave the driver a piece of my mind as all my planning to leave early came to a nought and we were sitting at the edge of the seat wondering whether we will make it on time. Thankfully we made it in nick of time and boarded the flight.
The 2.30 hour flight journey was full of turbulence due to bad weather and we reached Amritsar at 4.30 pm instead of 3.45 pm.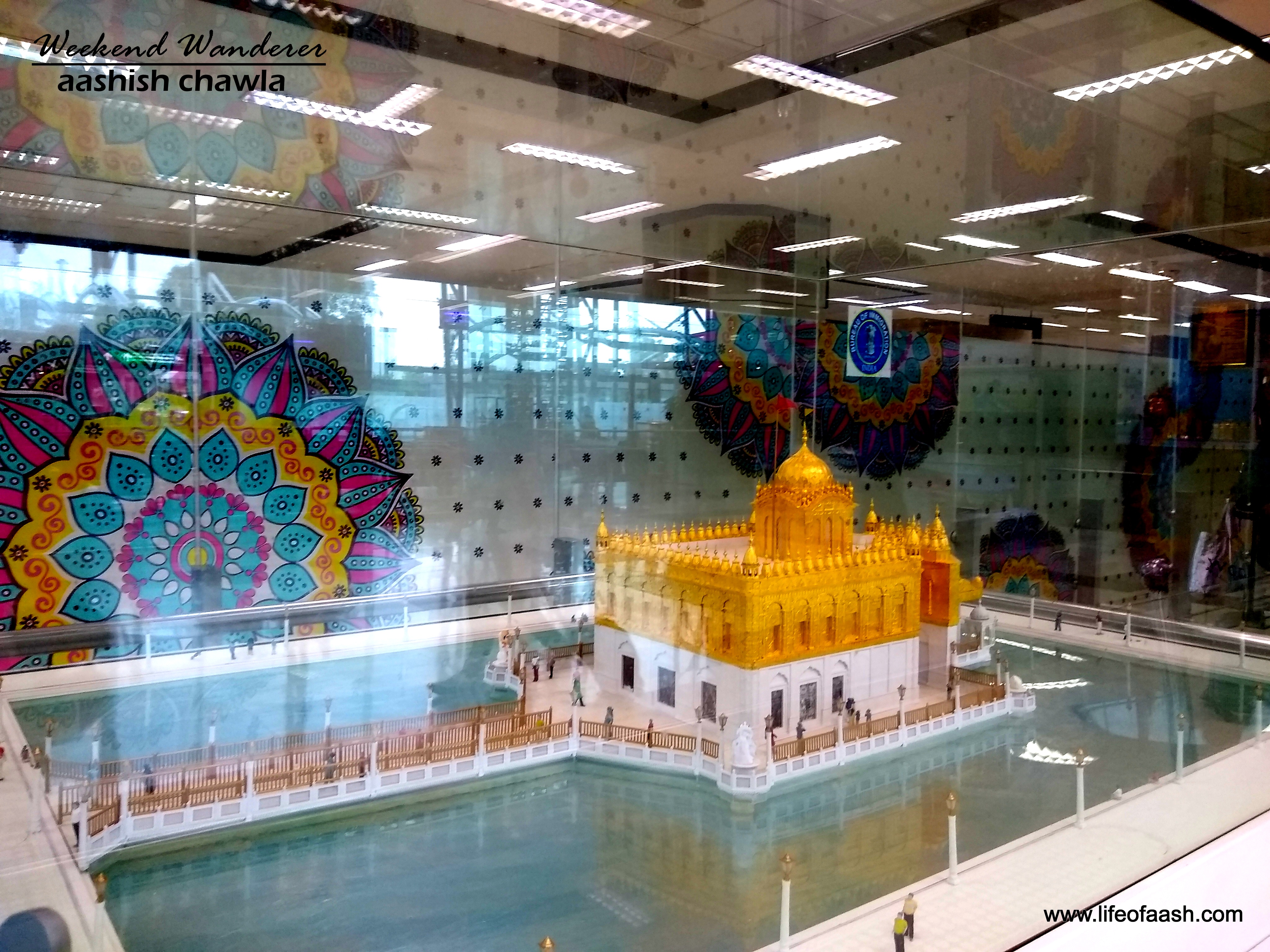 Till the time our baggage arrived we took out some time to click pictures at the airport.The Amritsar airport has a model of Golden Temple and the airport had this glittering golden wall which reminds you that you are in the city of Golden Temple.
                  Dil Golden Golden ho gaya ! 
    The gold plated wall at the airport makes an interesting display. 
Soon we were moving out of the airport, As soon as  I came out of the airport I felt a strange smell of Amritsar, If anyone of you have been to Amritsar please do let me know if you too felt the same or not. The smell actually reminded me about my relatives who came from Delhi to Mumbai and often tell me that Mumbai stinks of fish smell !At Amritsar again my luck with the Cab was at a nadir, This time too we booked our cab , and again the driver was not able to locate my location, But this time we cancelled our taxi immediately, for which hum ko 45 Rs ka cancellation charges ka Fatka pada. I am lucky that my wife, my daughter and myself we have this backpacker attitude, so  these things don't worry us much, Ab taxi nahi mili toh kuch aur dekh lenge we picked up our bags and started to move out of the airport area.
It was here when me and my daughter who were clicking pictures(Taxi mili nahi, uska koi tension nahi baap – beti ko, bas photo nikalne me lage pade hai – meri wife ka thought bubble
as when we were clicking the above picture) that an Ola Taxi guy saw us and inquired with us as to where we are headed to, I gave him the name of my hotel near Golden temple So he said He will take us there for 300 Rs. I said 250 Rs, which he finally agreed for after little resistance initially and soon we were on our way to Amritsar City.
Our this taxi journey from Airport to Amritsar city proved to be very interesting and entertaining. All thanks to our Cab driver Karan who typically like any Punjabi guy was full of energy and stories.He kept chatting about different stories of the city and places we should visit.
Click on the link to View the Video about our stories with Karan our Ola Driver
Finally he dropped us near the Partition Museum, because our hotel was at a walk-able distance from here. I thanked the driver for the wonderful time we had with him and though I had fixed my fare at 250 Rs but I paid him 300 Rs. He said "Sirji its ok , I'll take 250" but I said  in Punjabi "Yaara tu banda bada changa hai…Khush re te sab nu khush rakh, aiwaye hi…" (Buddy you are a very good man, Be happy and keep others happy just like this)
Wah Amritsar ! I am already loving you and the Amritsari people !
Anybody travelling to Amritsar would desperately try to be at Golden Temple first, Lekin humara safar ka style hi kuch alag hi hai, Hence Golden Temple was not on our agenda on the first day. Well I had a logical reason for doing this. Actually I wanted to enjoy light and sound program at  Qila Gobindgad Fort and as I was only for one and a half day in Amritsar.Hence it was not possible to cover Qila Gobindgad Fort tomorrow as at this time tomorrow we would be at Wagah/Attari Border.
It was 5.30 when we left from our hotel to Qila Gobindgad Fort. We hired an auto who charged us Rs 80/- ( I was informed by another auto guys that these auto guys get some 40 Rs if you buy entry ticket for the fort.).
In fading lights we entered the  Qila Gobindgad Fort. Most people miss out this place when they visit Amritsar. Its my humble request, please do visit it and go by 4 pm if you want to enjoy the light and sound show. I am sharing the link of  official website of Qila Gobindgad Fort.
You can click on the link to know the charges and time slots.
Because the lights were fading on the horizon my daughter and me were worried that we will miss out on clicking the photos of the place thus frantically we started to run and kept clicking the pictures thick and fast.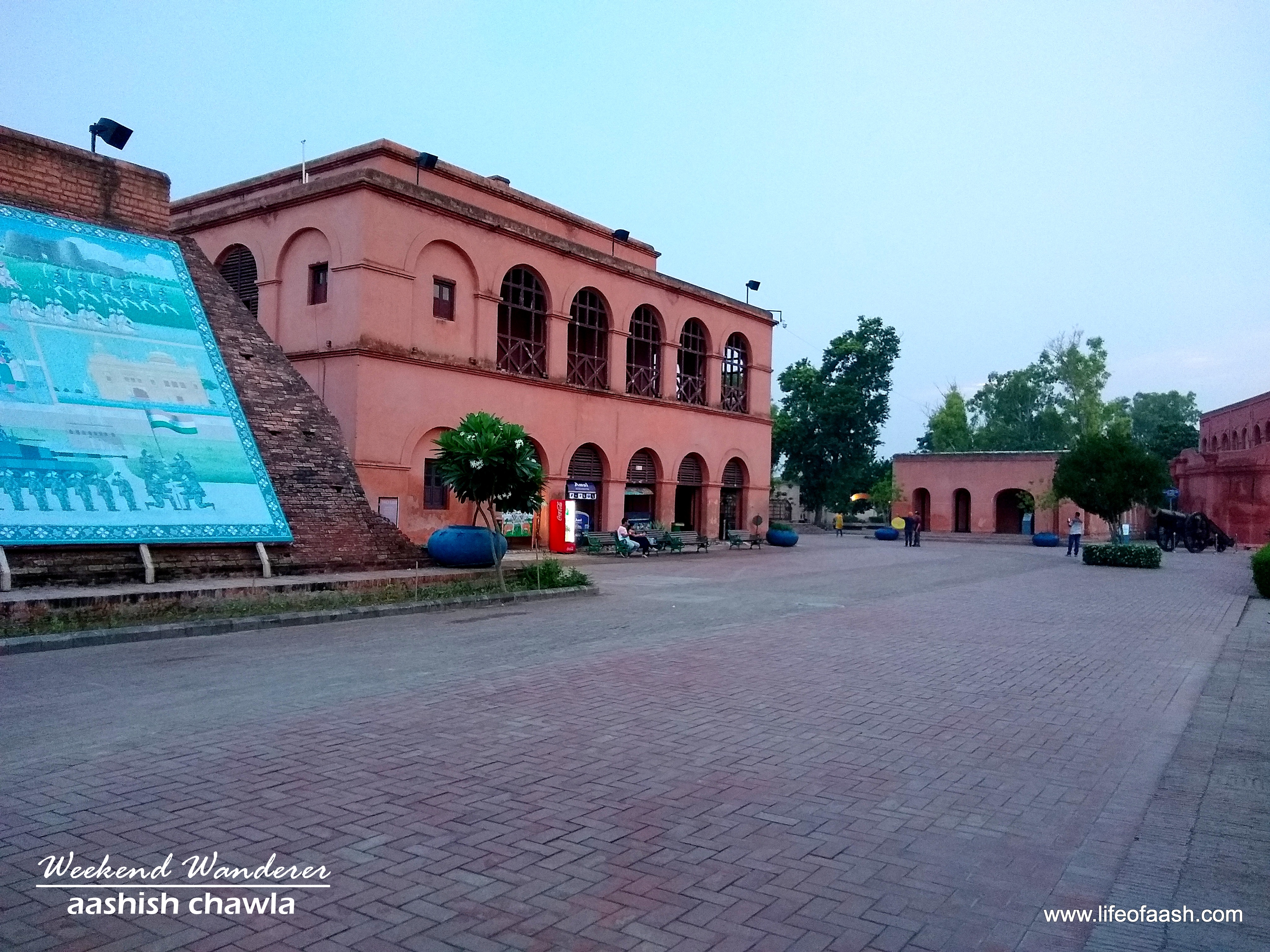 As the evening progressed the darkness started to shroud the fort and  slowly the fort wall metamorphosis from brick and concrete to colourful shining lights.
All around us we were surrounded by twinkling red, blue green lanterns and the whole fort was transformed into a performing stage.
The music started to play and then on the stage set up next to the lawn, we see array of male dancers performing Bhangra to the beats of peppy Punjabi music and then we see beautiful women folk perform Giddha the tradition Punjabi dance.
After these series of performance the Anchor called out the people to come and dance on the beats of the dhol, as no one came on stage from the audience  I sportingly went on the stage Ab apna toh yeh sochna hai, jab aaye ho toh full on enjoy karo, Shake a leg man! Who cares Nachna aaye ya na aaye nachna  chaiye  ( I believe one should enjoy completely when on a trip and dance without care whether you know to dance or not)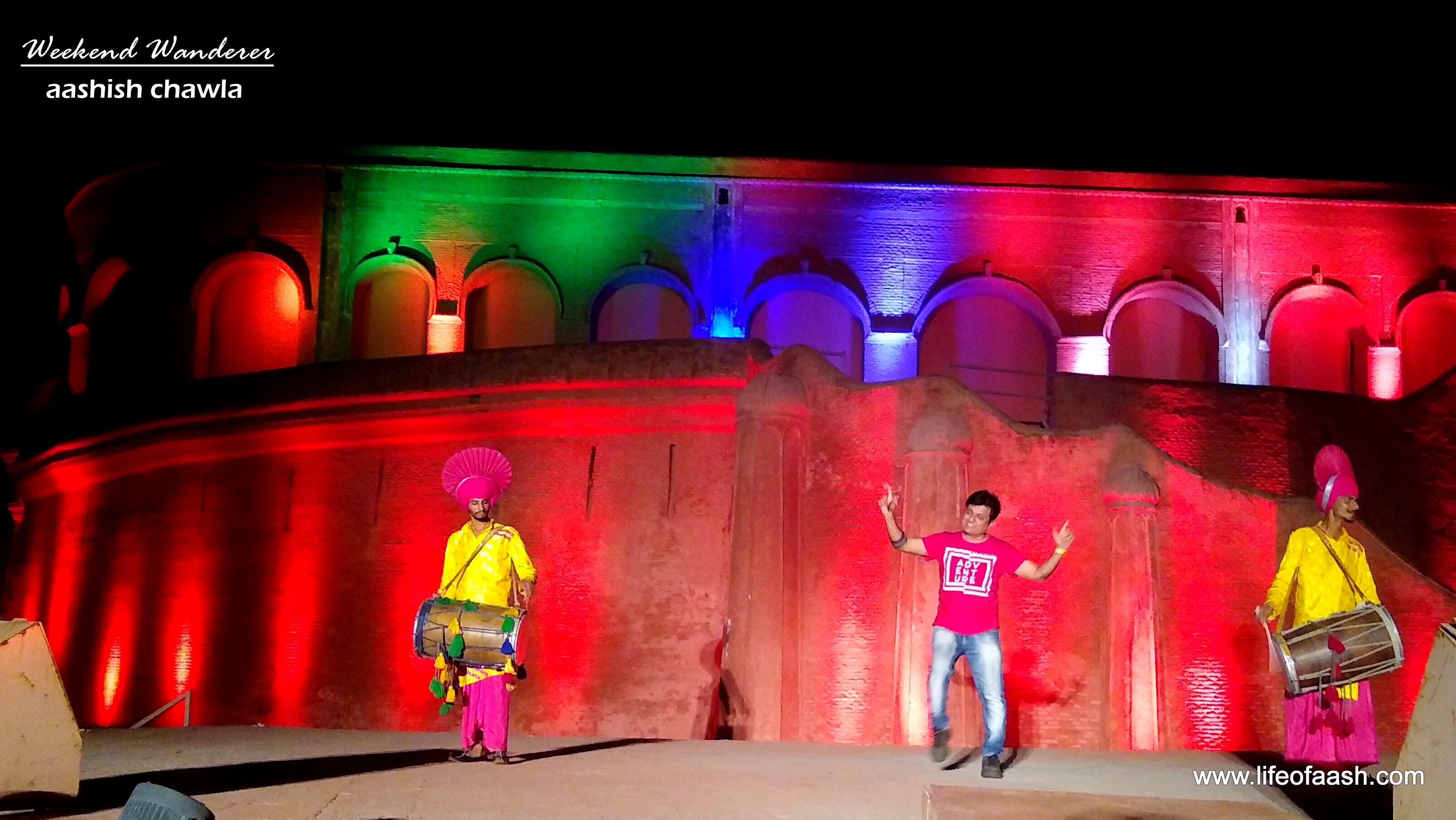 After this dance show there was display of martial skills with weapon by Nihang Sikh Warriors. It was really hair raising experience to watch this live.
Later in the evening , a well prepared light and sound was played out, although I have seen many light and sound shows across India but this laser show takes the cake. It was simply splendid and spectacular and I will recommend very highly that you must not miss this show. Video recording of the show is not allowed hence I was not able to record and share the same with you on my blog and give you a glimpse of the same.
It was 8.30 pm when we left the Gobindgad fort.
Our next stop was Durgiani Mata temple, which was at a little distance from the fort, so we walked for a while and in 10 minutes we were at the Temple.
Durgiani Mata Temple:
This temple was built in 1921 and though this is a Hindu temple but it resembles a lot with the Golden Temple. The temple is built in the middle of a sacred lake, which measures 160 meters (520 ft) x 130 meters (430 ft). Its dome and canopies are similar to that of the Golden temple of Sikh religion, also located in Amritsar. A bridge provides the approach to the temple. The dome of the temple is gilded. Marble is used extensively in the temple's features.The dome is illuminated with colourful lights. The temple is sometimes called Silver temple because of its large exquisitely designed silver doors. It has a rich collection of Hindu scriptures. The temple complex also has some historic subsidiary temples such as Seetla Mata and Bara Hanuman. ( Source Wikipedia).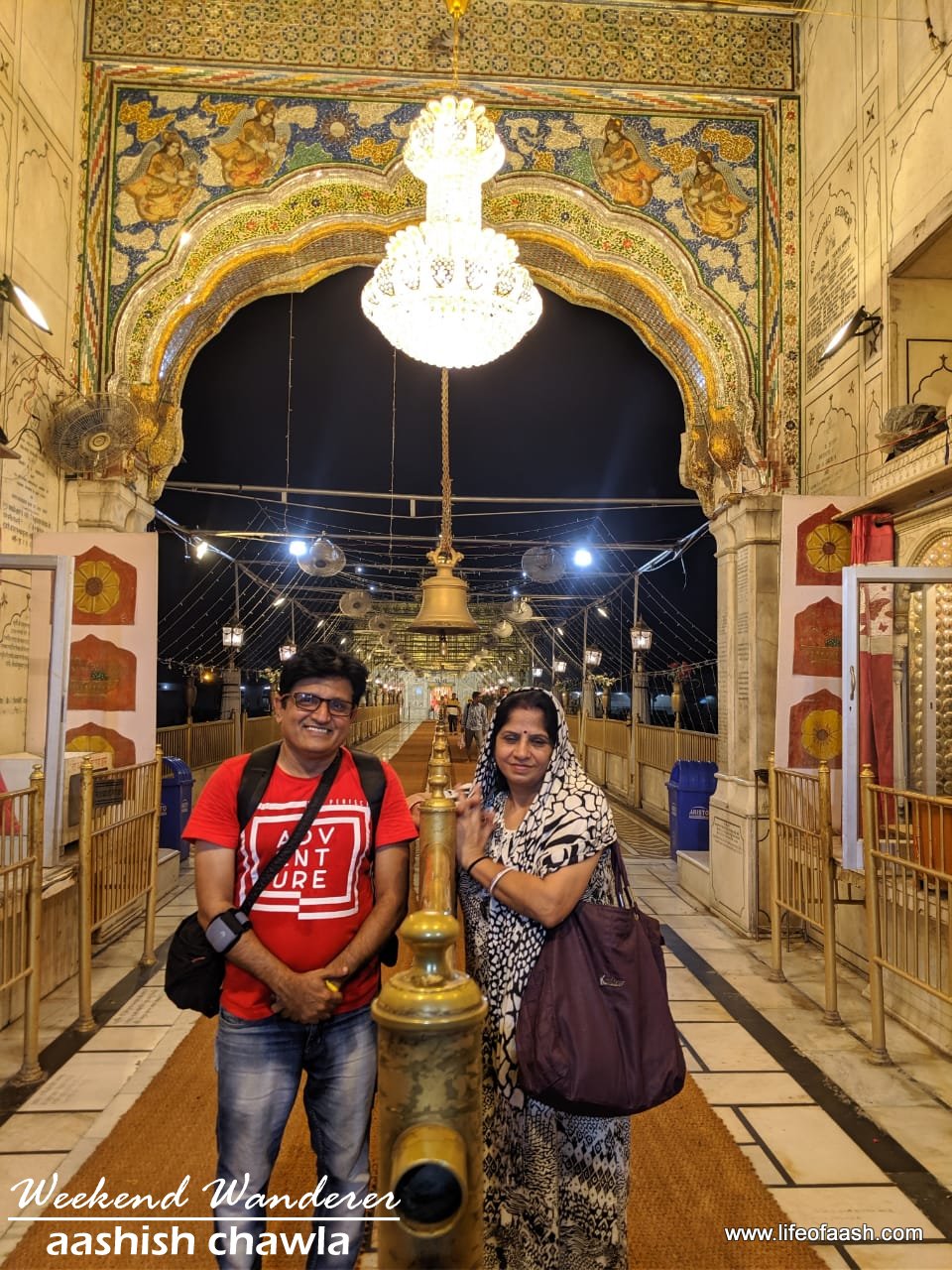 We paid our respect at the temple and came out of the temple and hired autoriksha back to our hotel.It was 9.30 pm when we reached our hotel. Although earlier we had thought of visiting the Golden Temple after dinner today but as we were dead tired so we called it a day and decided to visit the Golden Temple tomorrow.
        Stay tuned for Our day 2 Blog…coming soon
Traveler Tips:
Gobindgad Fort and Durgiani Mata temple is hardly a km away from Amritsar Railway station so it can be easily visited by simply walking out of the station.

Don't visit Gobindgad fort during mornings or afternoon as the light and sound plus the cultural shows are in the evenings.
Total Page Visits: 3618 - Today Page Visits: 3