Do you know what I love most about travelling ?
It's the charm of getting up early in the morning in a new town, You know nothing about the place and the excitement to go out and explore the unknown is no less than any intoxication. I don't need any drug to give me my high…I get my high when I see the rising sun in a new city,town or village and today I was going to explore Chamba which I have only heard about and which I checked out on google just few days back before coming here and yes in my childhood Woh ek film dekhi thi Mehbooba….Bas uska gaana hi mere ko kheech laya idhar as I was humming… Parbhat ke peeche , Chambe da goan.
I finished my coffee sitting in the balcony of my hotel and enjoying the beautiful Chowgan Ground nestled among the green mountains and spread like a green carpet . A perfect day I must say! With the sun making its presence felt , a drift of cool breeze was all inviting and I was raring to go and explore Chamba.
Coming out of our hotel we straight away went to the Chowgan ground which was just across the road from our hotel . In the Chowgan ground  We could see many Manimahesh Pilgrims lazing on the grass enjoying the sun. I stopped by to have a chat with them and it surprises me very much that people travel from far away places for Manimahesh Yatra. After chatting with quite a few random people we then moved on to the cafe just next to the ground on the valley side and ordered for Aloo Parathas for breakfast.
The steaming hot Aloo Parathas with curd was true heaven on this cool Monday morning. Monday morning sunte hi darr ke mare pasine aate hai jab mumbai me hota hu…How much I hate to work bata nahi sakta…But kya kare papi pet ka sawal hai… Once done with the breakfast we came out of the cafe and strolled on the edge of the garden overlooking the mountains and were in awe of the beauty that surrounded us.
The view from the viewing gallery next to chowgan ground were mesmerising The river flowing under the bridge was very inviting, Infact we had planned to spend few hours along the river…Lekin hamare armaano per pani phir gaya when we were informed that people are not allowed to sit near the rivers due to sudden rise in the level of river on account of release of water from the dams. (Incidentally I also saw few notice boards along the river regarding this warning) As I am a law abiding citizen so I didn't try any stunt.
We now decided to move on to the Bhuri Singh Museum which was very near the Chowgan ground , walking through the narrow lanes we tried to reach Bhuri Museum but locals informed us that it is closed on Mondays and unfortunately today was Monday. I was Kya Yaar nadi me bhi jane nahi mila ,now this museum too closed, Arre upar wale aisa kyo kar rahe ho But one must remember that the spirit of the wanderer should never get bogged down by such reversals. Jeevan chalne ka naam chalte raho subha sham, Toh bas hum nikal pade.Manzile aur bhi hai …Carawan aur bhi milenge
Although we couldn't visit the Bhuri Singh Museum ,I would like to give you brief info about the museum so next time when you are there do visit it aur haan mere ko photos bhej dena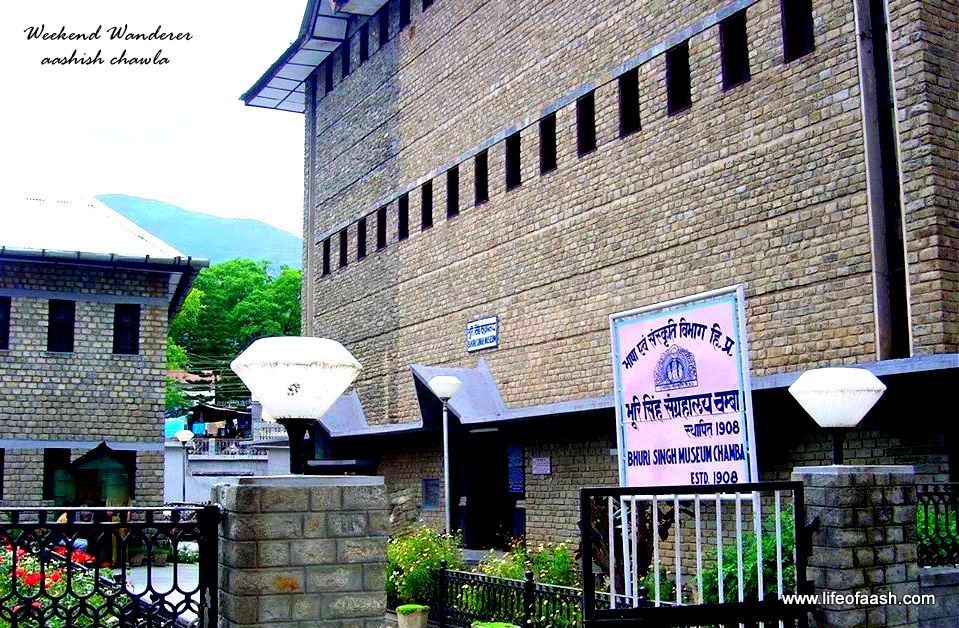 Bhuri Singh Museum:
Bhuri Singh Museum is situated in the heart of Chamba town. It was founded in 1908 to collect and preserve the scattered cultural heritage of Chamba State. Raja Bhuri Singh, the then ruler of erstwhile Chamba state, had gifted his inherited art collection and Dr. J. Ph. Vogel imparted his invaluable services for setting up this Museum. The art objects displayed in the Museum were related to art, craft and cultural history of the Chamba State and stand as an eloquent testimony to the life of past and have their value in the assessment of art and culture of this region. Museum possesses more than 8500 antiquities and art objects related to Art, Archaeology, Craft and Cultural Anthropology. Being a regional museum, more emphasis has been given to the Art, Cultural and History of Chamba region.this museum is a must visit place for you. It remains open on all weekdays from 10 AM to 5 PM, except Mondays.(source internet)
As the morning was overcast so I thought it would be better that we visit Chamunda Temple at Chamba in the morning itself. In order to reach this temple one has to climb stairs for about an hour or so, that was what the locals told me. The moment I said one hour, My wife and my daughter gave me such a dirty look which was screaming at me saying Soch na bhi nahi ki hum chal kar upar jayenge and I relented. We took a taxi who charged us 200 Rs one way and said Rs 300 for to and fro. I asked him Bhai kitni der hum logo ko mandir dekne ko doge..he said aadha ganta. I looked at my daughter and both of us smiled. We took taxi for one way only.Now I'll tell you the secret of the smile. Hum baap beti ko bhale aadhe gante me mandir dekh ke ho jaye per humko do ghante se kam nahi lagna tha photo lene ke liye. Our taxi drive  to Chamunda Temple lasted hardly 10 minutes, a cool drive of 3.5kms and we were at the gate of Chamunda Temple.
Chamunda Temple:
Talking about the temple it is perched on the hill and one can get beautiful view of Chamba town and Ravi river flowing ever so silently in the hills.
The temple had wooden carvings on its roof, pillars etc and there are lots of bells hanging on the inner and outer edge of the temple.
The main deity as the name suggest is of Goddess Durga in form of Chamunda devi. True to our style we spent more than 2 hours at the temple. We believe that one should enjoy and absorb the place as much as one can.
Its quite possible that I may not be able to see all the places but then who cares, I am not travelling to tick places I am travelling because I love to travel.
We now decided to visit Sui Mata Temple for which we started to descend till we came across the iron railing stairs, the climb was steep and the sun was now pounding on us but hum log haste khelte photo lete hue bade chale gaye…
Sui Mata Temple:
History
There is a  story behind the foundation of the temple. Long ago, there was a heavy rainfall in the region and due to this issue, King Sahil Varman tried various ways to impress gods and so he started giving offerings to the gods. After suffering from great pain and stress, he left his throne to fulfil the requirement but there was no water for years. Then, he consulted Brahmins and religious advisors who advised the king that he would have to sacrifice his son or wife to bring water in the region. Though, it was very difficult for him to do so but with a heavy heart the king decided to sacrifice his son. But his wife could not see her son giving sacrifice and so she sacrificed herself instead of her son. After she died, her body and her close maidens were buried around the premises of temple. Very soon, water began to flow in the village and from that day the scarcity of water is never seen in the region.
The temple is constructed on Shah Madar Hill and has three parts. The first one is the main temple steps which were made by Rani Sarda, the wife of the king Raja Jit Singh who leads to the Sarota stream. Second is a passage and third is the memorial of Queen Sui. However, the shrine has been built as a temple and people make offerings in this temple.
We paid our respect to the Sui Mata and it was now time for us to to descend again but this time towards Chowgan ground. Half an hour descend and we reached the Chamba town from where we asked the locals for direction to Laxmi Narayan Temple.
Laxmi Narayan Temple:
Laxmi Narayan Temple: is built in the 10th century by Raja Sahil Verman. It has been built to suit the local climatic conditions with wooden chatries and has a shikara, and a sanctum sanctorum (Garbhagriha), with an antarala and a mantapa. A metallic image of Garuda, the vahana (mount) of Vishnu is installed on the dwajastamba pillar at the main gate of the temple. In 1678, Raja Chhatra Singh adorned the temple roof with gold plated pinnacles, as a riposte to Auranagzeb, who had ordered demolition of this temple. Situated in the crowded bylanes of Chamba, the temple suddenly transports you to medieval times as soon as you enter the Temple complex. Silent, Serene with only the occasional clinks of the bells makes the place feel so spiritual.
We now moved out from the temple, reached the Chamba bazaar and did some window shopping, in between trying our hand on Aloo Tikki and finally a late lunch and then went to the chowgan ground where we lazed on the green grass under the beautiful blue sky. In our daily hustle bustle of Mumbai its very rare that we get opportunity to chill like this, so we decided that everything can wait and let us chill down for now.
The sun was down so we walked to nearby food joint and had our dinner and went to our hotel so as to pack up our bags for our next destination….The beautiful Khajjiar.
Thanks for reading the blog. In case you missed out about our journey from the beginning you can click on this link and read. Till then stay tuned for my next part of this blog and
Hey! Please don't forget to comment on my blog in  the comment section your views are very important for me.
Total Page Visits: 3914 - Today Page Visits: 6