This blog of mine is a part of my Rajasthan Diaries Blog series . If you want to be part of our journey you can click on the link here and read that series.
Sanwalia or Sawariya  Temple is situated in the Mandaphiya Village which is about 40 odd kms from Chittorgarh and approx. 4-5 kms from Bhadsoda at the highway.
This temple is around 450 years old, Built on behalf of Mevar Royal family. This temple has connection with Meera Bai , it is believed that the statue of Girdhar Gopal is the same one to which Meera Bai worshipped. The idol is a form of dark-complexioned Krishna, hence the name Sanwaliya which also means the dark complexioned one. Lord Krishna is a favorite god in these parts of country viz. Nathdwara temple , Dwarkadheesh temple Kankroli and this Sanwaliya temple.
Like most temples in India , here too there is a story behind the construction of this temple. Let us see what is the legend behind this temple.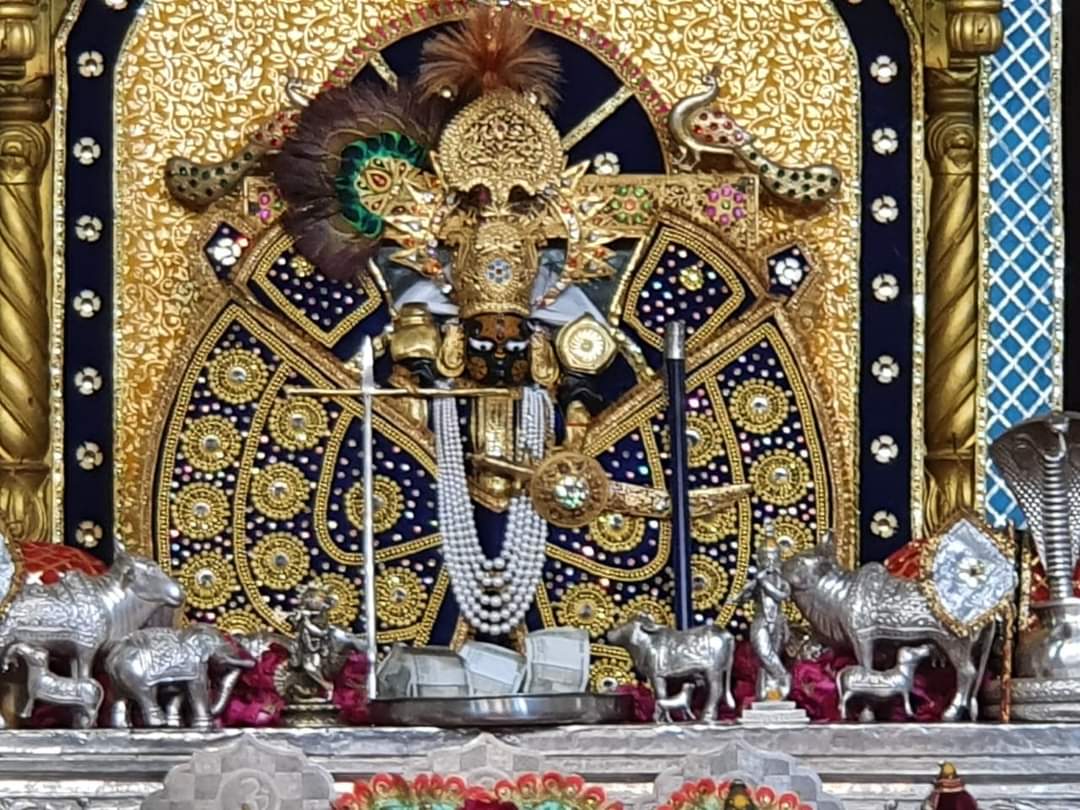 Legend of Sawariya Temple:
The legend has it that in the year 1840, a milkman named Bholaram Gurjar had a dream of three divine idols buried underground in the Chapar village of Bhadsoda-Bagund; on digging out the site, three beautiful idols of Lord Krishna were discovered as revealed in the dream. One of the statues was taken to Mandaphiya, one to Bhadsoda and the third remained at Chapar, at the very place where it was found.
 All three locations became temples. These three temples are located close to each other, within the 5 km distance. The three temples of Sanwaliya Ji became renowned and devotees visit them in large numbers since then.
 Among these three temples, Mandaphia Temple is recognized as the Sanwalia Ji Dham (abode of Sanwaliya).(Source Wikipideia)
Few peculiar things that I came to know about this place intrigued me, a local informed me that this temple deity is also known as lord of thieves. So naturally for a second I was stunned but later he explained that be it Thieves, business man or salaried person the percentage of donations are fixed as per the devotion of the devotees. Some give 5 percent , some even 25 percent of their earnings. The belief is that the more you give the more your wealth shall be multiplied. Some devotees visit every month to donate their share. In fact I was reading that even the filmstar Sanjay Dutt and his sister Priya Dutt visited this temple temple few days back. 
Another surprising thing which I noticed while driving on the highway was the poppy fields. Poppy is the principal cash-crop of this rather affluent region of Rajasthan adjoining Neemuch and Mandsaur the main poppy cultivation belt of Madhya Pradesh. You must be wondering what Poppy has to do with the temple. Surprise Surprise , Well growing poppy is allowed though through proper licensed system, but we all know how in our country anyone can circumvent the rules and make money illegally.
Poppy-traders treat Sanwariya-ji their protector and benefactor. It is an open secret – poppy traders make the Lord a divine "business partner" committing a certain percentage of their annual earning to Him. Hence, Sanwaliya ji is often referred to as Sanwariya Seth (as "owners" of a business).
My experience:
When I visited this temple it was not very crowded, We entered through a huge gate , which had some good carvings , moving little ahead  we encounter huge hall which has large number of pillars which again had lovely carvings on them.
passing through another gate we reach the main complex of the temple which has a long passage which has pillars with carvings on them too . 
One look at the temple I was totally mesmerized by the beauty of the temple, well laid gardens and the carvings on the temple were very detailed and intricate. The huge main temple overwhelms you.  A must visit temple.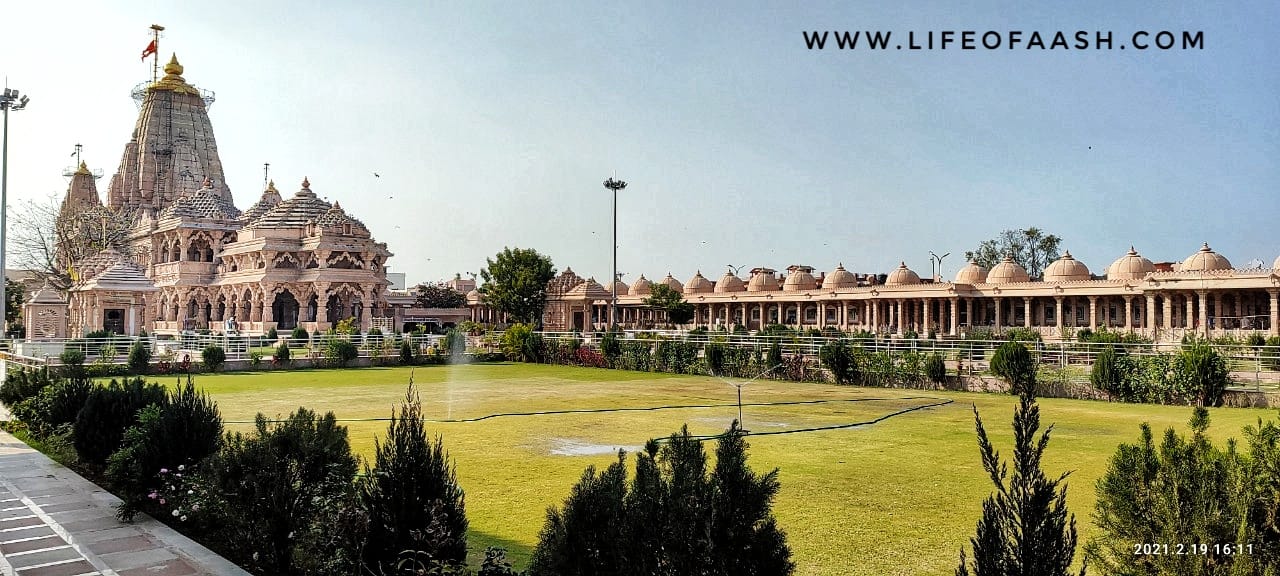 Lastly I want to clear one thing that the main Sanwaliya temple is the one in Mandafhiya, not the one at the highway and the temple at the highway is known as Sri Sanwaliyaji Prakatya Sthal Mandir, its actually the place where the idols were found.
Sanwariya Seth Temple Darshan Timings
| | | |
| --- | --- | --- |
| Days | Parts of the Day | Temple Darshan Timings/Schedule |
| Mon to Sun | Temple Opening Time | 05:30 |
| Mon to Sun | Morning Hours | 05:30 to 12:00 |
| Mon to Sun | Evening Hours | 14:30 to 23:00 |
| Mon to Sun | Temple Closing Timings | 12:00 to 14:30 |
Please Note:
Due to Covid restrictions there is a possibilities the above mentioned timings may vary.
The darshan timings of the Sanwariya Seth Temple might change during festivals and special days.
How to reach:
Air:    The Nearest Aiport to Sanwariya Seth Temple is Maharana Pratap Airport (UDR), Udaipur Airport. There are daily flights from all important cities in India like Mumbai, Delhi, Chennai, Hyderabad, Bangalore, Pune, Bhopal, Raipur, Goa & Indore.
Rail: Nearest Railway station is Chittorgarh (42 kms), Udaipur railway station ,.the distance is 70 approx.
Road: Regular buses which go to Udaipur from Chittorgarh and vice versa stop on the highway at Barshoda chowk. One can then hire auto or take local bus to go to Mandfiya village from Barshoda Chowk.
                                           . 
Traveller's Tips:
Don't get confused by the sawaliya temple at the highway itself. This is the place where the idol was found and this place is called Swariya Stal

Timings of aarti and darshan can be found from website.

No entry fees to enter the temple.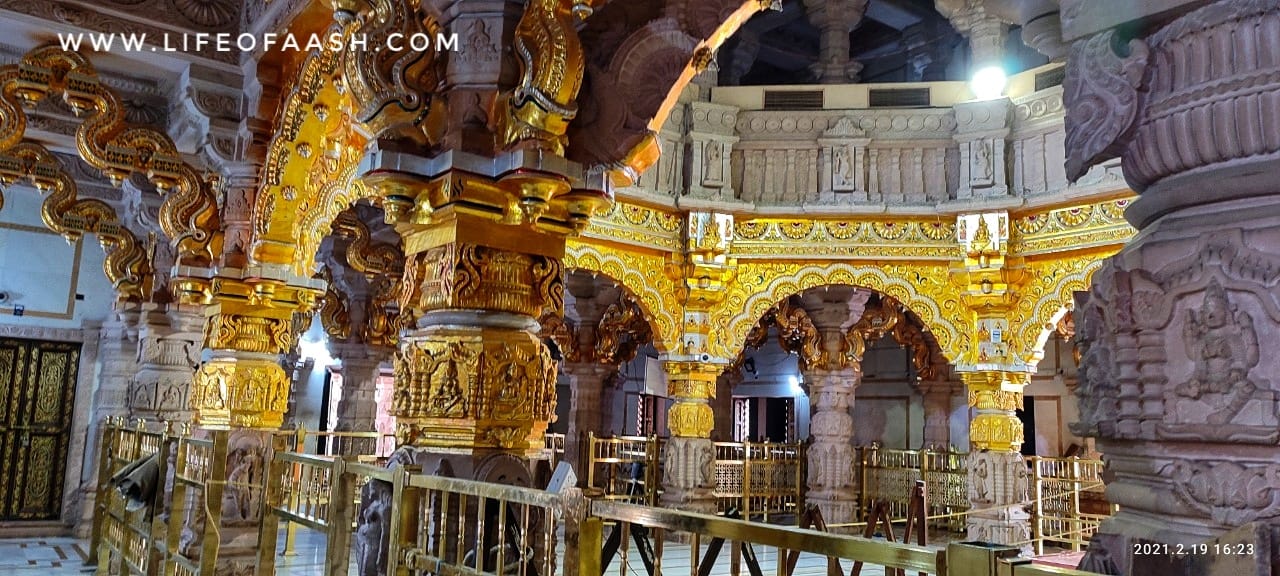 4.Photography is allowed inside the temple complex but not in the main temple where the presiding deity is there.
5.There is a dharmshala in the premises of the temple ( Though I did not check as to who all are allowed to stay there)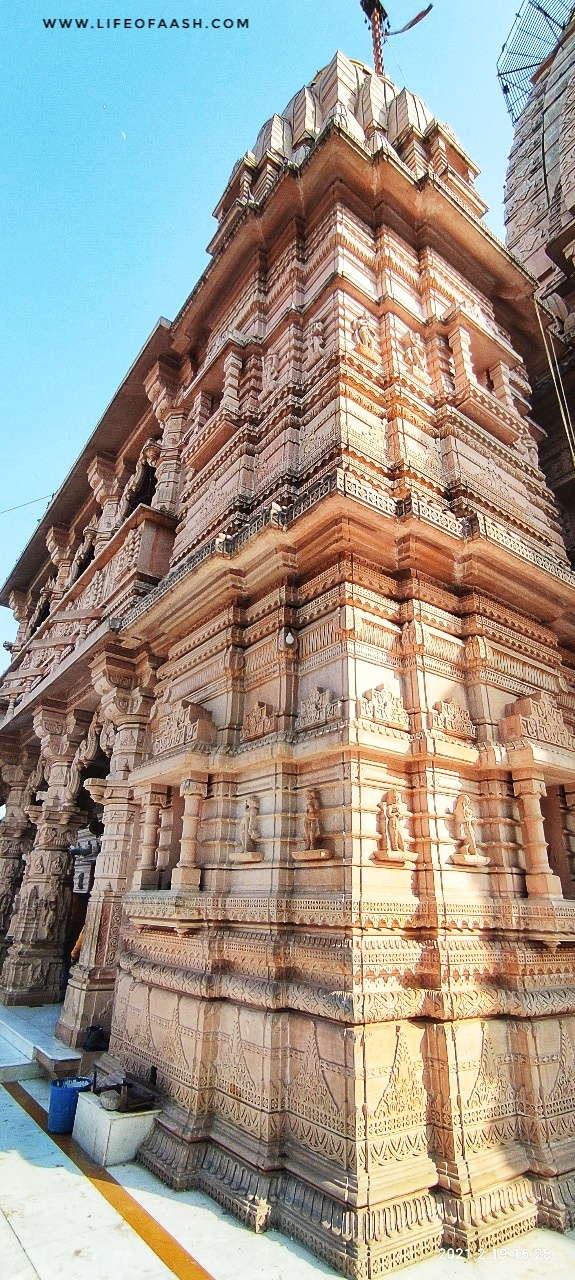 Don't miss the lovely carvings on the temple, worth watching.

Best time to visit is Oct to Feb.
Temple has ample parking space.

Don't miss the beautiful paintings adorning the passage walls of the temple.
Thank you for reading my blog. If you like my blogs please do share them with your friends and join my site. Your comments and views on the blogs  are very important to us , so please comment on the blog.
This blog of mine is a part of my Rajasthan Diaries Blog series . If you want to be part of our journey you can click on the link here and read that series.
.
.
.