People often see smiling faces on Facebook and Instagram stories of travelers like me and many others and they must be feeling Oh! What a wonderful time these guys are having, but my dear friends let me clear the myth of backpacking travels. It's only the smiles that you see, however behind those laughing faces many a times there are tales of pain, agony, feeling of fear and sometimes sheer helplessness, but then that is a part and parcel of travel life and you will find all this in this blog of mine. Life is never single dimensional it is always multidimensional perhaps that's why it's so interesting.
In this blog of mine titled Rajasthan Diaries I will be uploading series of blogs in which I shall be sharing my day wise journey with you. So fasten your seat belt and get ready for the virtual trip of Udaipur, Chittorgarh, Ranakpur , Nathdwara and many other offbeat places.
Day 1
18th Feb, 2021: We boarded Bandra Udaipur Superfast train which leaves at 11:15 p.m. from Bandra Terminus and reach Udaipur around 3:00 p.m , As we had reached early at the station we took the opportunity to click few pictures. This was my first travel post Covid so naturally I was all excited.
When the train left Bandra terminus it was  not full but then as soon as Borivali Station came, a  group of Gujarati group boarded the train and throughout the night till 1 a.m. they were shouting and making all kinds of noises, imagine ladies chatting together in the middle of night. At one point I had to shout at them luckily they realized that Aata Majhi Satakli moment may happen anytime.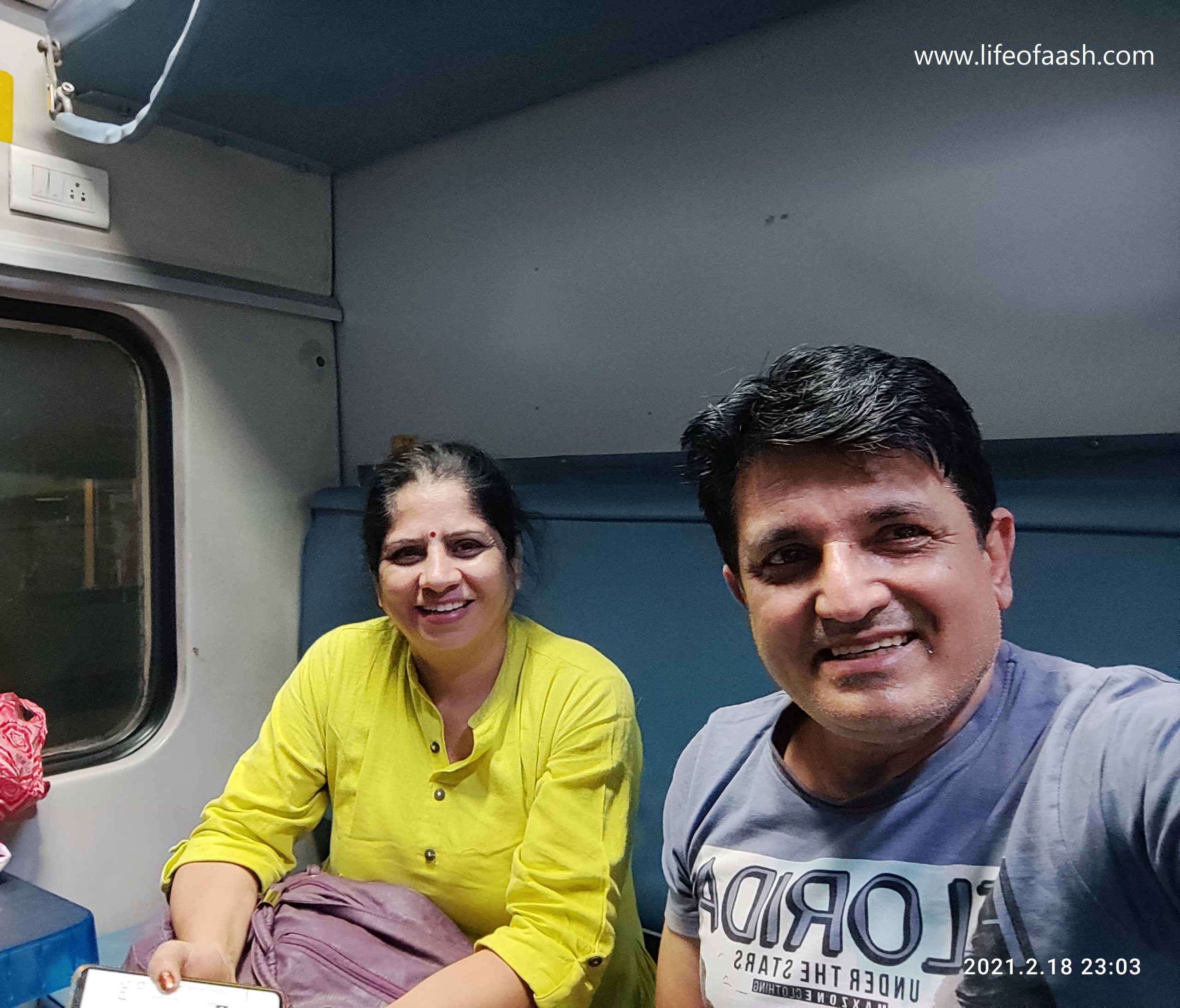 so the shouting subsided , gossips stopped and I could finally catch some sleep .Yaar logon ko thoda travelling etiquette seekhna chahiye kyunki train inke baap ki nahin hi ,aisa Chilam Chilli karte hai jaise shaadi may aaye hue hain, there are other passengers too and we should be considerate about them too.
Day-2
18th Feb, 2021: I am a light sleeper especially when it comes to travelling in a train. I was up by 6 a.m. By breakfast time Gujarati group were friends with us, well that's the best part of travel you become more tolerant when you know them. As we were having the poha breakfast in the train I checked that we shall be reaching Chittorgarh station by 12 15p.m. so I told my wife "Why waste 2 hours by going to Udaipur, let us get down at Chittorgarh Station" my logic behind this thought was that it would be 3 pm when we reach Udaipur and by the time we reach our hotel and check in it will be evening consequent to which the whole day would be lost. My wife grumbled initially but then she is used to my eccentricities where I often change my programs at the drop of a hat
Logon ke sath kabhi kabhi aisa hota hai ,Mere sath to hamesha hi aisa hota hai …..Jate the Japan pahunch gaye Chin samajh gaye na
Arre  Jaani  agar life me sab fix ho toh majja hi kya,
Thode twist bhi hone zaroori hai toh hi to excitement bana rehta hai
 Well just like a hot potato which jumps out of hand we dropped out from the train and landed on Chittorgarh platform. Here my new found Gujarati friend volunteered to click me and my wife "Dekha kaise naye dushman bhi purane dost ban jate hai, yeh hi jalwa hai safar ka".
After getting down from the train the next favourite activity of mine is that I love to take the picture with the station name board "Agar aisa nahin kiya to mujhe  lagta hai ki Platform bura  maanjayega" In blistering heat and upon that getting the right frame and angle from where to get clicked can be a daunting task if your wife hates to take pictures. My wife poor soul had a tough time clicking me in fact I was missing my daughter who is quick in taking pictures.
Once this photo session was done, what caught my eyes was this lovely paintings on the walls of the railway station. I started to click the pictures of these painting and as I was clicking the pictures, a gentleman came over and said he will take picture of me and wife so handed over my camera to him ,
believe me when that guys started to move back little by little as clicking the pictures I was getting alarmed. And then he suddenly ducked and I felt he would run away with my camera, my heart was almost in my mouth
but to my relief I realized that he was trying to click from lower angle. Phew what a relief!  Later I had a small talk with him and came to know that he is a booking clerk on the station. When I enquired with him as to how to reach Chittorgarh fort he said I can either take sharing auto from outside the station or hire a private auto to Chittorgarh who shall be charging me Rs. 550 or more ( Depending upon how big the fool you are)
Anyways we were hungry so lunch was our first priority, "Khali pet bhajan ha hoye…toh ghummakdi kaise hoye" I checked with one of the locals as to where can I get good lunch near the station, he suggested us to go to Ashirwad dining hall , the food indeed was good and Thali at Rs 130 was reasonable I felt. I loved the rajasthani kadi in the Thali
After finishing our lunch we came out from the dining hall and saw this Bike rental shop so we went there and booked one Activa. As we were two people and we had two bags on our shoulders so the rental guy suggested that as we were two so going on one bike with bags may not be possible hence he told  one of his staff member to drop my wife to the hotel and I can follow him on the rented Activa to the hotel. As the booking of the hotel was done at the last moment so we did not get anything fancy but yet livable bole toh travel mein jyada nakhra nahin hona mangta.
In the meanwhile I was in touch with one of my Fb friend Rajesh ji from Chittorgarh who surprised me with his visit, he drove more than 40 kilometres from Neemach to meet it me and our meeting lasted hardly few minutes, I wish he had informed me little earlier we could have lunch together. I had never met him before he was only an acquaintance and yet here made a courtesy visit, He even offered me his bike for the time I am in Udaipur but I politely refused. I am overwhelmed sir thank you Rajesh ji
When we left from our hotel in the afternoon it was very hot so we decided that we will explore Chittorgarh Fort in the evening and watch the sunset from there and for now we shall head to Sanvaliya Seth Mandir.
This temple is around 40-45 kilometres away from Chittorgarh so we drove our Activa and started to move toward Chittorgarh-Udaipur highway and as we were driving after travelling certain distance suddenly a huge speed breaker emerge from nowhere in the middle of the main road,  I suddenly jammed the breaks of the Activa but to my horror the brakes of the Activa proved to be quite weak and activa did not slowed down at all and it was here that my wife slipped and fell off from the backseat and skidded, the skin of her finger was peeled off and blood started to ooze out, her knees also were hurt  later in the evening we realised that she had swelling on her knees.
Remember I said do not go for the smiles in pictures there are often tales of agony and pain too behind them. I was very worried at the sight of blood and upon that there was no doctor a chemist nearby, No one had ice too. I parked my active at the side and started to inquire from locals if there is any doctor nearby, luckily one of the shopkeeper told me that there is a chemist shop, probably the person there may bandage the finger. So I drove till the chemist shop and I got the dressing done. I was shaken a bit so I wanted to turn back and go to the hotel but my wife said that we have come so far so better visit the temple and skip the Chittorgarh fort for today.
The drive to Sanvariya temple was smooth as the roads in Rajasthan especially the Highways are simply awesome.( Wish I could say the same about the internal roads)
Once we reached the Barsoda Chowk or Chauraha  on our left hand side we saw a huge temple complex, at first I thought this was Sanwaliya's Mandir but I was told that this is Shri Sanvaliya Ji Praktya Sthal Mandir,
Actually 3 idols  were found,  out of that one is kept here one is kept at another village and the one that we are going to visit is in Mandphiya village. Altogether three idols of Sanwariya Ji are there at three different locations.
From the highway at Barsoda Chowk we took left turn left turn and drove 4 kilometres to visit Sawariya temple of Mandphiya.
Temple complex is huge and once you enter the temple you see it's a beautifully made Temple with lot of carvings on the pillars, huge garden and an imposing Temple. You can click on the link to read in detail about the Sawariya Temple.
We spent some time here and paid our respect to Sanvaliyaji and moved back to the highway where we had darshan of the second Idol at Shri Sanvaliya Ji Praktya Sthal Mandir. I missed out visiting the third idol because I had still not recovered from the shock of accident.
In the evening after reaching Chittorgarh I got in touch with Dr Ajay Tyagiji who is from our  GDS travel community. He prescribed few medicines and the procedure to follow.  Let us hope my wife recovers and will we be able to explore Chittorgarh fort tomorrow or shall we be heading back to Mumbai….Stay tuned
Thank you for reading my blog. If you like my blogs please do share them with your friends and join my site. Your comments and views on the blogs  are very important to us , so please comment on the blog.