There was a slight drizzle when reached Lachen yesterday. ( in case you missed our earlier adventure to Yumthang valley you can Click here to read it). As soon as we entered our hotel room what fascinated me was the mesmerizing view of the valley and the river flowing from the window of my room. Sitting at the window and simply gazing at this kind of sight simply made me forget all the tiredness of the three and half hour bumpy car ride from Lahung to Lachen.
Do you remember in the last blog I had mentioned that there was no power at Lachung? Well, life can be cruel sometimes "Kismat dekho idhar bhi bhatti gul this". I prayed to God, please be kind Bache ki jaan mat lo! Let there be light! (Literally 😃) Taking advantage of the situation my wife and myself we decided to take a small stroll in the Lachen town.
YOU MAY LIKE THIS :Sikkim-series-mumbai-to-gangtok-day-1
Lachen is a small town with small shops and hotels lined up on both sides of the road. Nestled among mountains, the evening chill and the drizzle only added to the beauty of the place. Luckily we saw a small tea shop, so with no electricity and only the flickering candlelight, we enjoyed a steaming hot cup of tea in such a beautiful setup. Believe me, this moment will remain entrenched in my heart and mind for the rest of my life. Chodo yaar ab aap bologe banda senti ho gaya 😃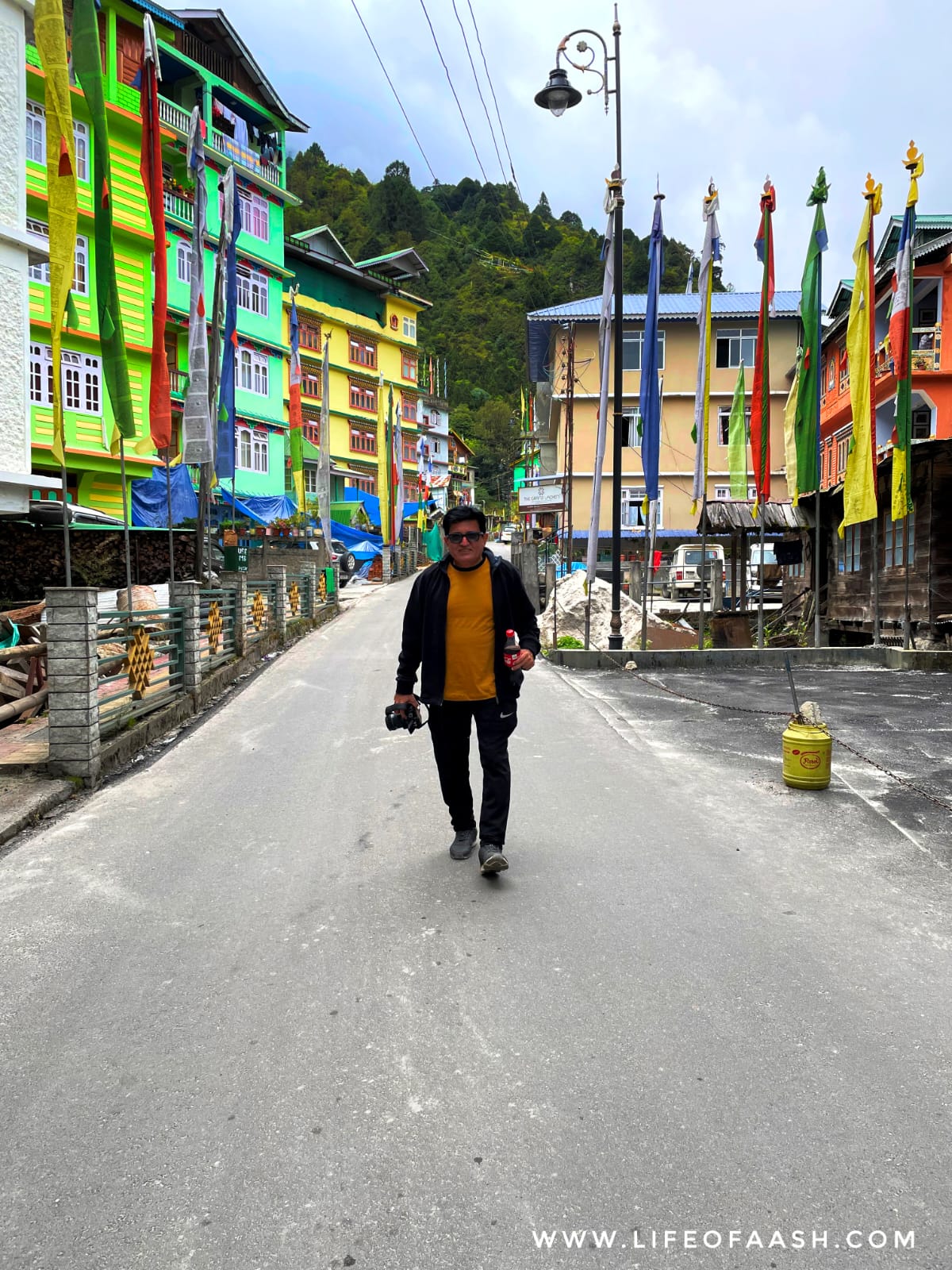 Thankfully after coming back from our stroll the electricity was restored when we reached our hotel room. After having a good dinner we retired to our room and went to sleep early as we have a long and challenging day ahead of us tomorrow.
NEW DAY-NEW VIEWS 
Early mornings are always pleasant, but mornings in the mountains are simply pure bliss. The chirping birds, the dewdrops on the leaves, and the explosion of colours all around among the bushes, grass and flowers all adds up to the beautiful masterpiece of nature almighty.
Today our plan for the day is to visit Gurudongmar Lake, then return back to Lachen for lunch, and finally move on to Gangtok today itself.
Our Journey:
Going to Gurudongmar lake is a little different and adventurous kind of experience, after all, it's not every day that you visit a lake that is perched at 18000 feet of height! So brace up and do a few small preparations if you intend to visit Gurudongmar Lake. I have mentioned a few tips for you at the end of the blog, till then enjoy the journey.
Early starts are always better, and if the journey is long then it's all the more good option. Keeping this in mind we left at 6.00 am from our hotel. As we were leaving very early in the morning, our hotel staff handed over a packed breakfast of Upma for us. (this is common practice here as most of the guests leave early to go to Gurudongmar Lake. Our cab drove through the village and soon we were heading uphill with huge mountains around us.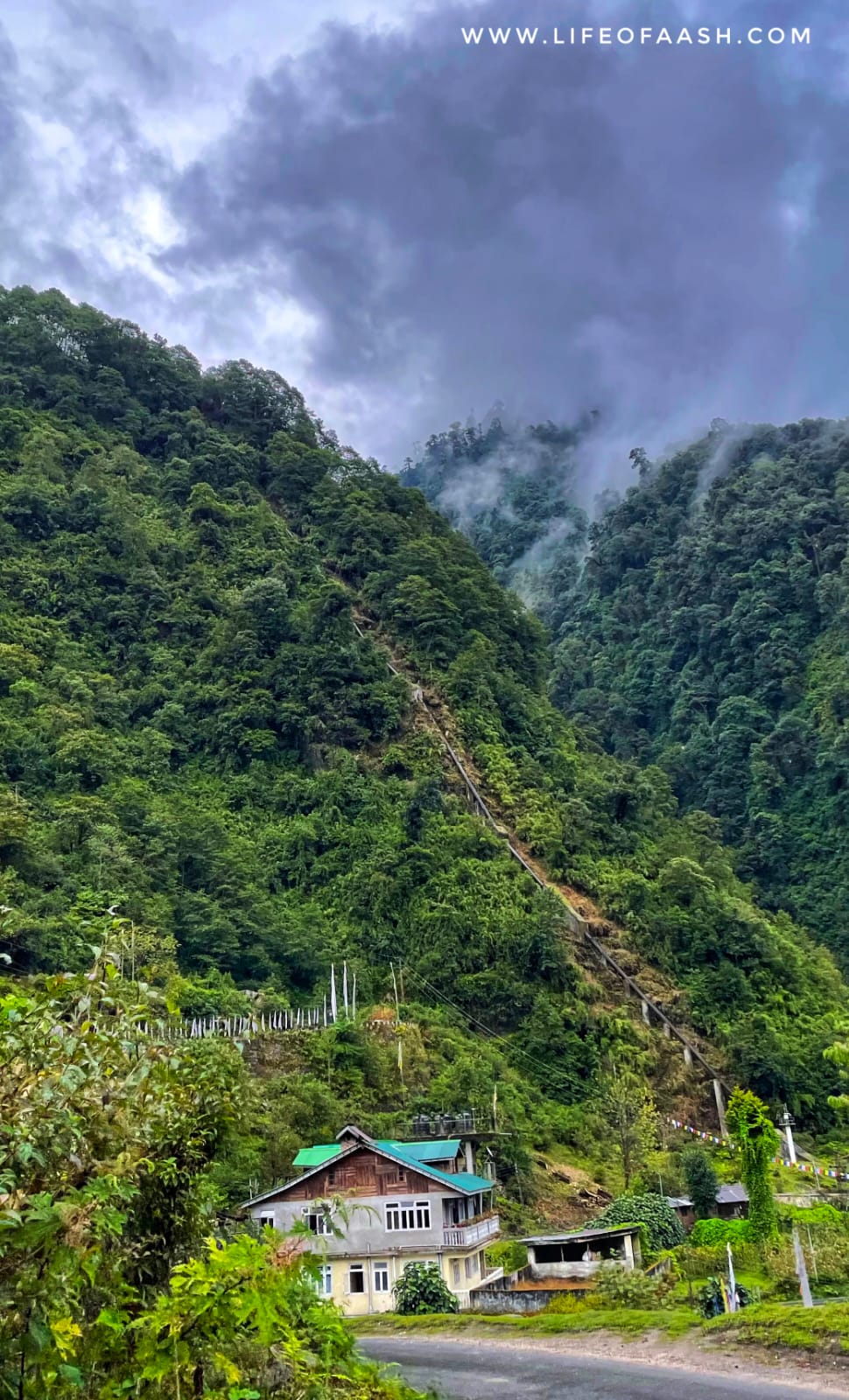 The chill in the air was very refreshing and we soon started to munch our Upma on this bumpy ride of mountains. At one point I almost stuffed Upma in my nose due to the bump. Arre bhai yehi toh safar ka majja hai , majje lo jumping breakfast ke 😃.
YOU MAY LIKE THIS: Sikkim-Series-Gangtok-Lachung-Day-2
The ride was extremely bumpy and steep, with huge mountains around us, the road initially was good but soon turned to be a muddy trail. But the view outside was so breathtaking that we could not complain. Our eyes were simply following the road ahead of us. The scenery around us kept changing as we entered the Yathang. we stopped here for a pee break.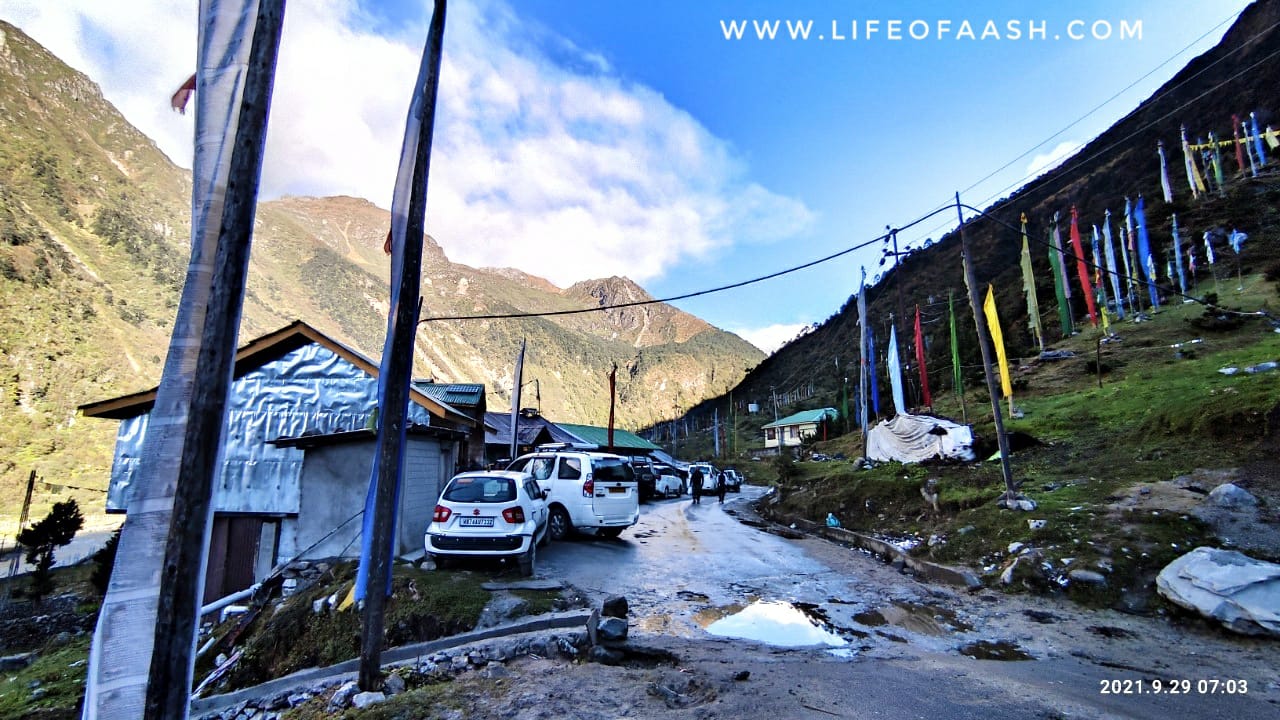 the moment I stepped out of the car, I felt so cold that I simply wanted to dive back into the car. Agar susu nahi aaya hota toh mai kabhi bahar nahi nikalta… Nature's call…Jana hi padega. Incorrigible that I am when it comes to taking pictures, I took this opportunity to click a picture of mine.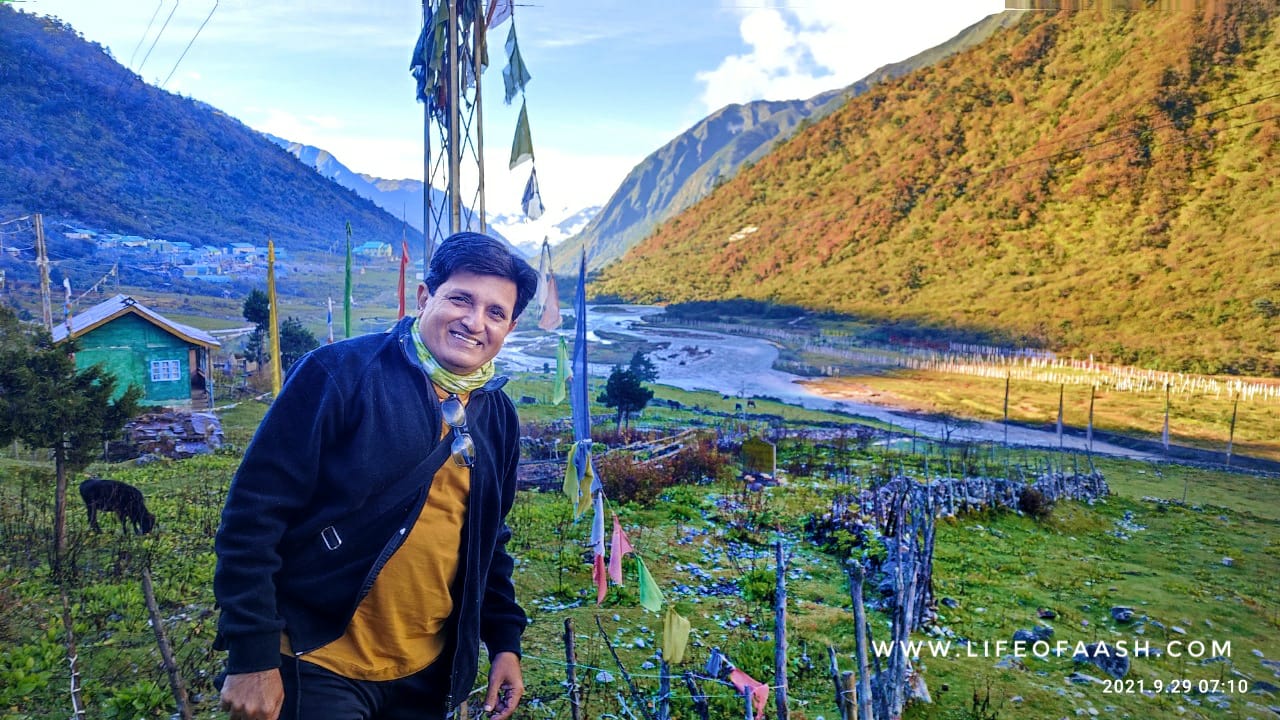 A little drive of 10 minutes and we were at Thangu Valley. We stopped for a small tea break, my daughter had Maggi the view of the mountains ahead looked extremely amazing. Actually, Thangu is also the military checkpoint where they check your papers. Foreigners are not allowed in Nathula Pass and Gurudongmar Lake as these two are international border areas. China border is very close by hence when you enter Thangu valley you get the feeling that you are entering a military area. Photography is prohibited around this area.
once our papers were checked we were again on the road to Gurudongmar lake. However, now there was a complete change of scenery. The mountains around us were quite dark in color, almost black and the road seemed to pass through a desert because there was no vegetation on both sides and the place looked quite arid. The turning road, the blue skies above, and the black road meandering through the black mountains made the atmosphere really quite mystical.
Soon we reached our destination. Yes, finally I am at Gurudongmar Lake!
The moment I got down from the car the cold wind crushed me even though when I was wearing a jacket. The next thing that I saw blew my mind, The lovely serene turquoise-coloured lake nestled among the mountains was a sight to die for.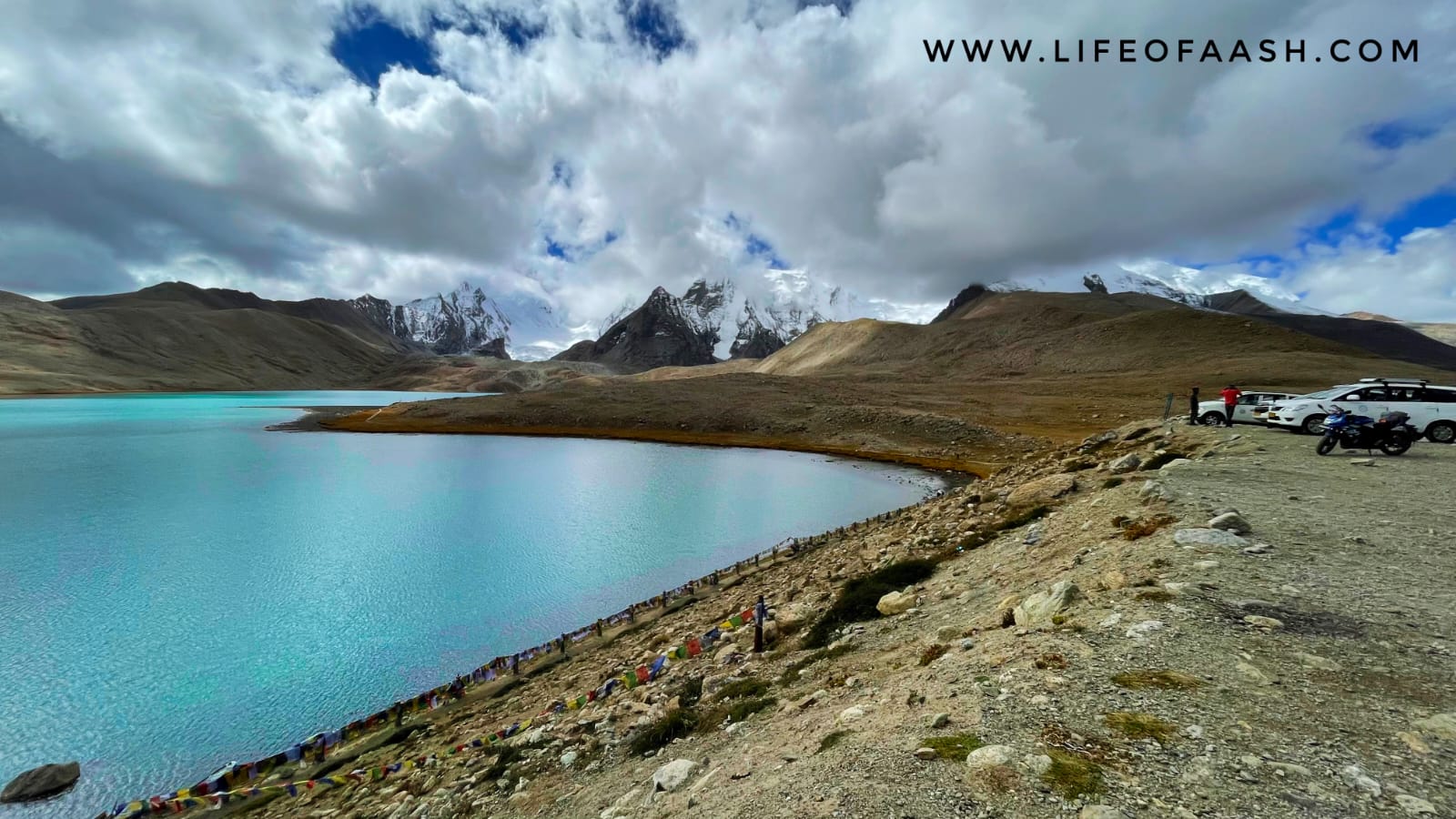 We were speechless for a second except for uttering wow, wow. Honestly speaking visit to Gurudongmar lake is a must for anyone who is coming to Sikkim. In fact, I would say that a visit to this place should be on the list of places one should see before they die!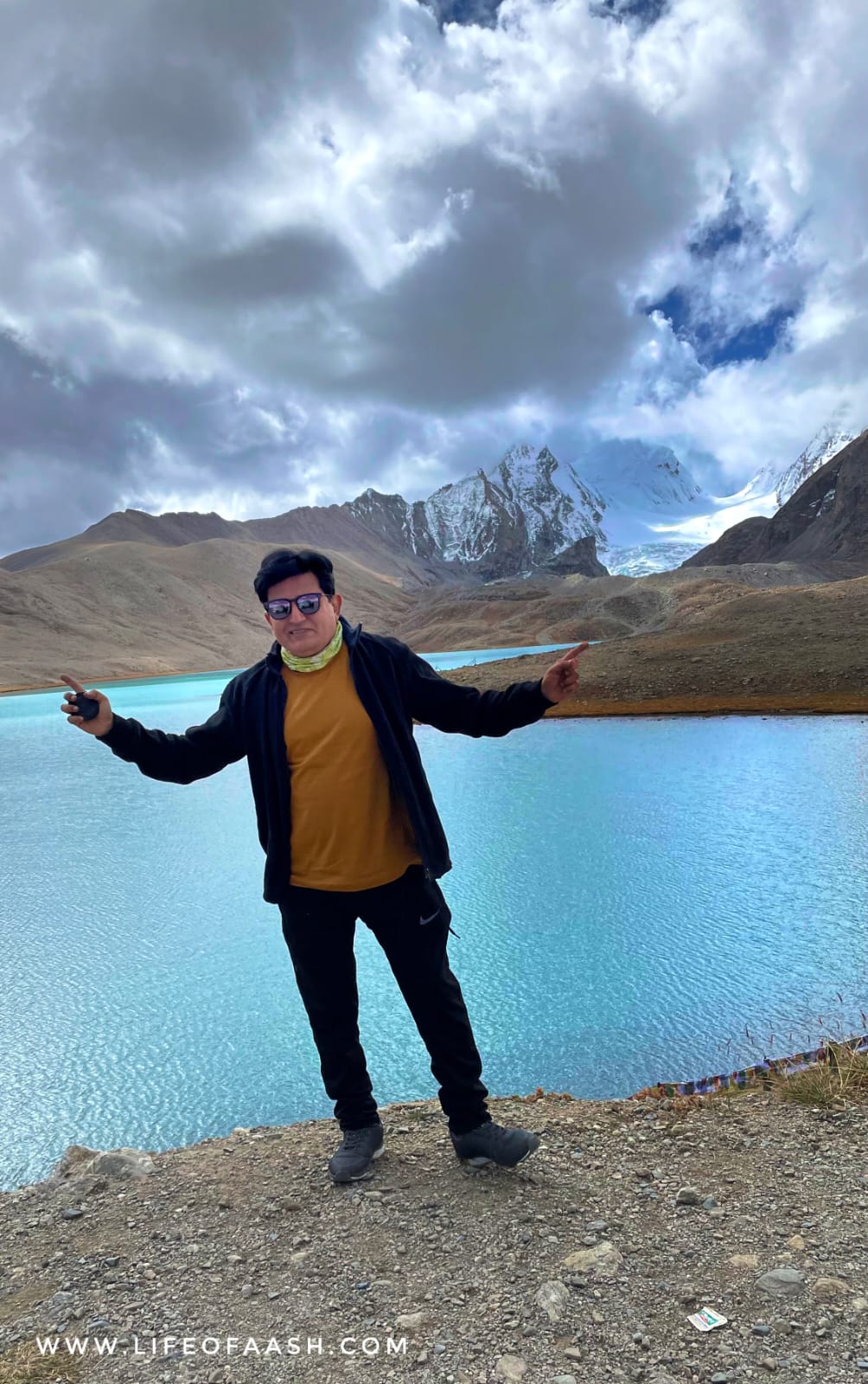 Generally, the return journeys are often uninteresting however our return journey was not only thrilling but an almost death-defying kind of experience. It so happened we started to drive back and soon we realized that there was a slight drizzle and to our utmost joy we realized that its not drizzle but snowfall. We were so excited as this was the first time that my whole family ever witnessed a live snowfall.
However, our joy was shortlived because the next moment we were about to witness the death-defying experience, As we were busy enjoying the changing scenery around, black mountains turning white,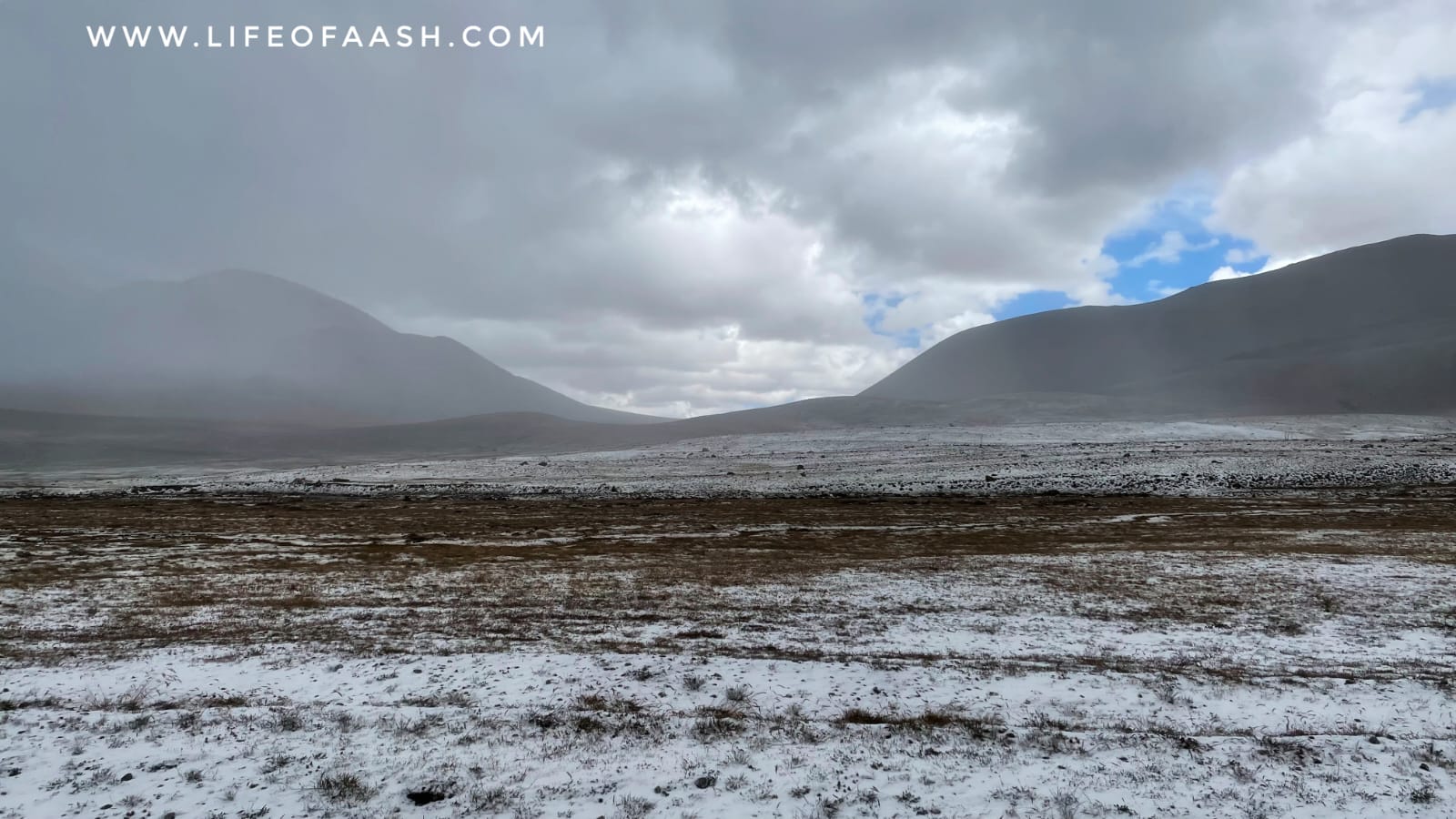 to our horror the car just ahead of us suddenly lost control due to the wetness of the road caused by this sudden snowfall, The car ahead of us swirled towards the right and crashed onto the side and the car was turtled.
Fortunately for us, our car driver was driving slowly otherwise to avoid the crash we too would have got entangled and crashed somewhere. My car driver, like us, was badly shaken, so much so that he sat just frozen and uttered " Sir humare sath  bhi aisa ho sakta tha" You won't believe but poor guy for the next 5 minutes simply refused to drive. For a minute I too was worried "Agar yeh driver hi darr gaya tho hum log wapas kaise jayenge" I could see the worried faces of my daughter and my wife and I knew they too had the same apprehensions. " saala tab mere ko laga ab gyan dene ka time aagaya, as they say Krishan an ka arjun se Yudd kar ." I nudged the driver and said chal apun 10kms ke speed se 1st gear me chalu karte hai chalna. He didn't seem to be convinced but I kept trying. after more than 15-20 minutes he found his wits and we moved on. As we drove a little further, we saw a bunch of bikes coming, and at the turn, just like a pack of cards falling they started to skid and fall. This was such a horrifying scene and after watching all this, my bigger worry was that now again my driver doesn't get triggered with fear. Thankfully I think he had come to terms with the situation and slowly made his way back.
We reached Lachen in the afternoon, We had our lunch in the hotel and started for our final destination today i.e. Gangtok.
To conclude the blog let me summarise our journey for the day. It was like Lachen-Gurudonmar Lake-Lachen – Gangtok.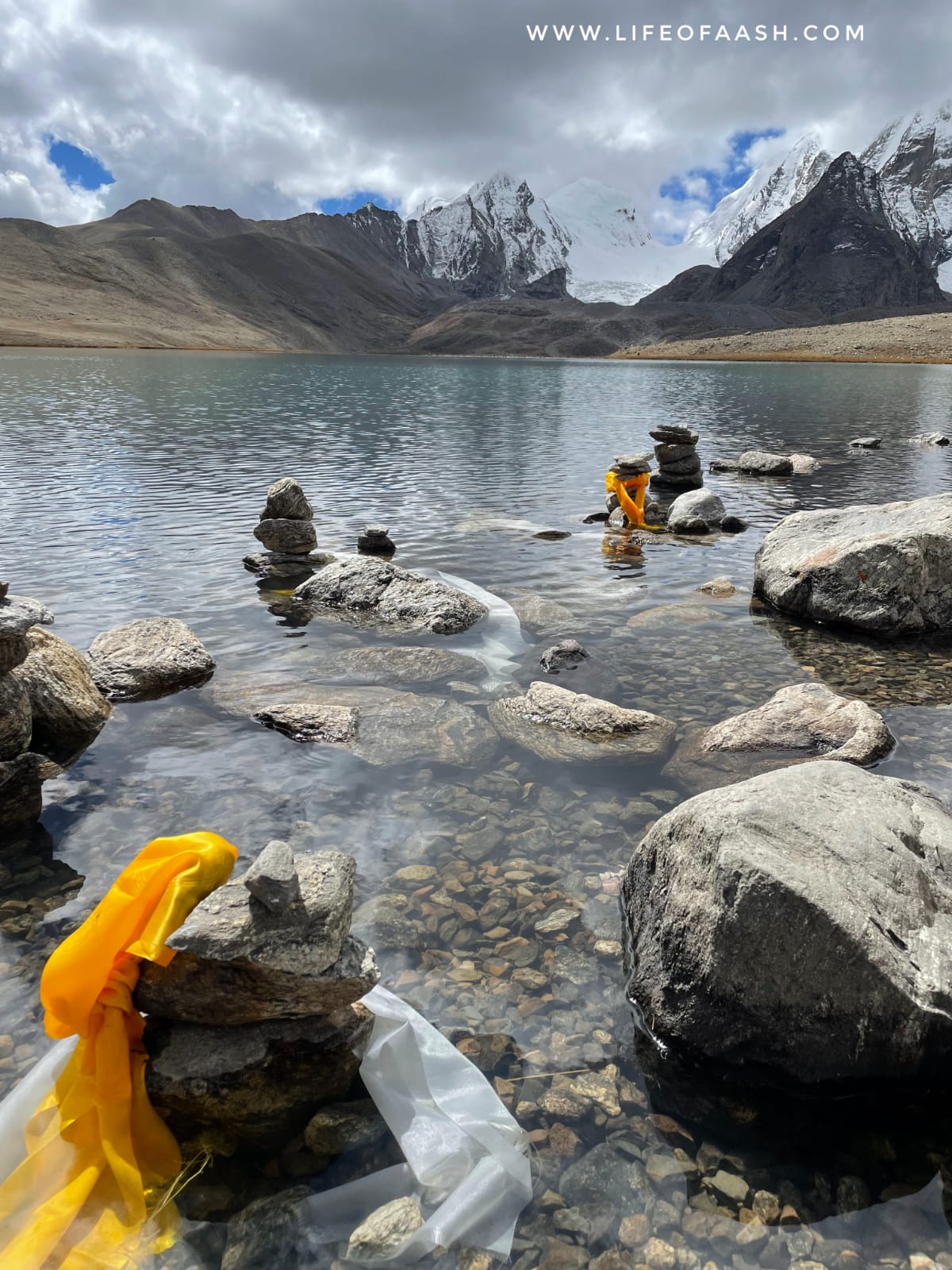 Traveler Tips :
First of all, as Gurudonmar Lake is a high altitude lake there is every possibility that you may get high altitude sickness which can give you nausea, headache, breathlessness, and dizziness, Therefore take a few precautions.
1. Drink lots of water and keep yourself well hydrated.
2. Some people take Diamox a day before coming to this lake (personally I did not feel the need to take one. better consult your doctor on this).
3. People with high blood pressure need to be careful.
4. Start early as I was informed that Army allows entry till 11 am only.
4. You can also carry popcorn (Personally again I don't know how effective it is, but yes it can divert your attention from high altitude sickness).
5. Don't run or jump around the lake as this could prove fatal for you.
Thank you for reading my blog. If you like my blogs please do share them with your friends and join my site. Your comments and views on the blogs are very important to us, so please comment on the blog.
Total Page Visits: 2093 - Today Page Visits: 35