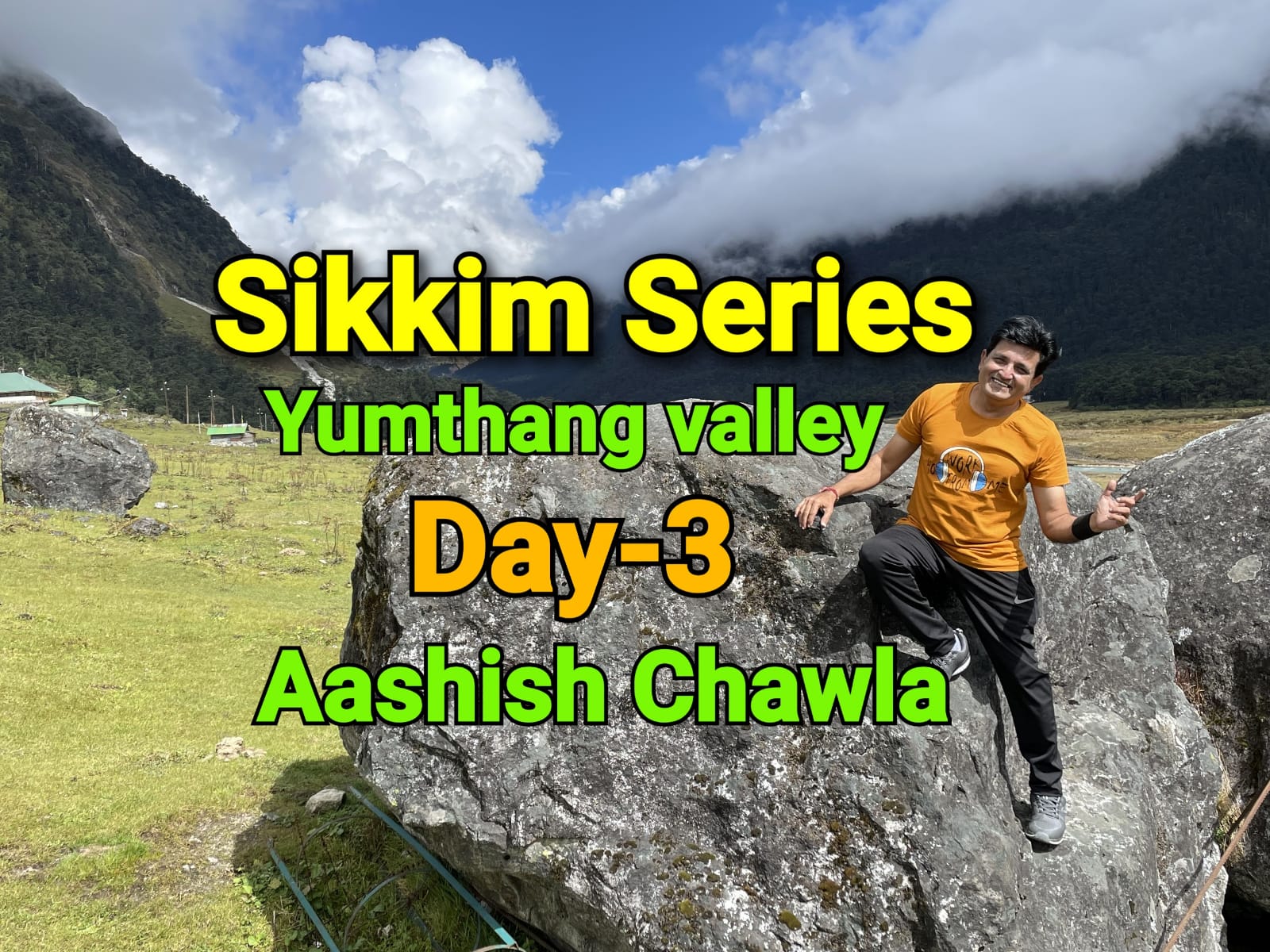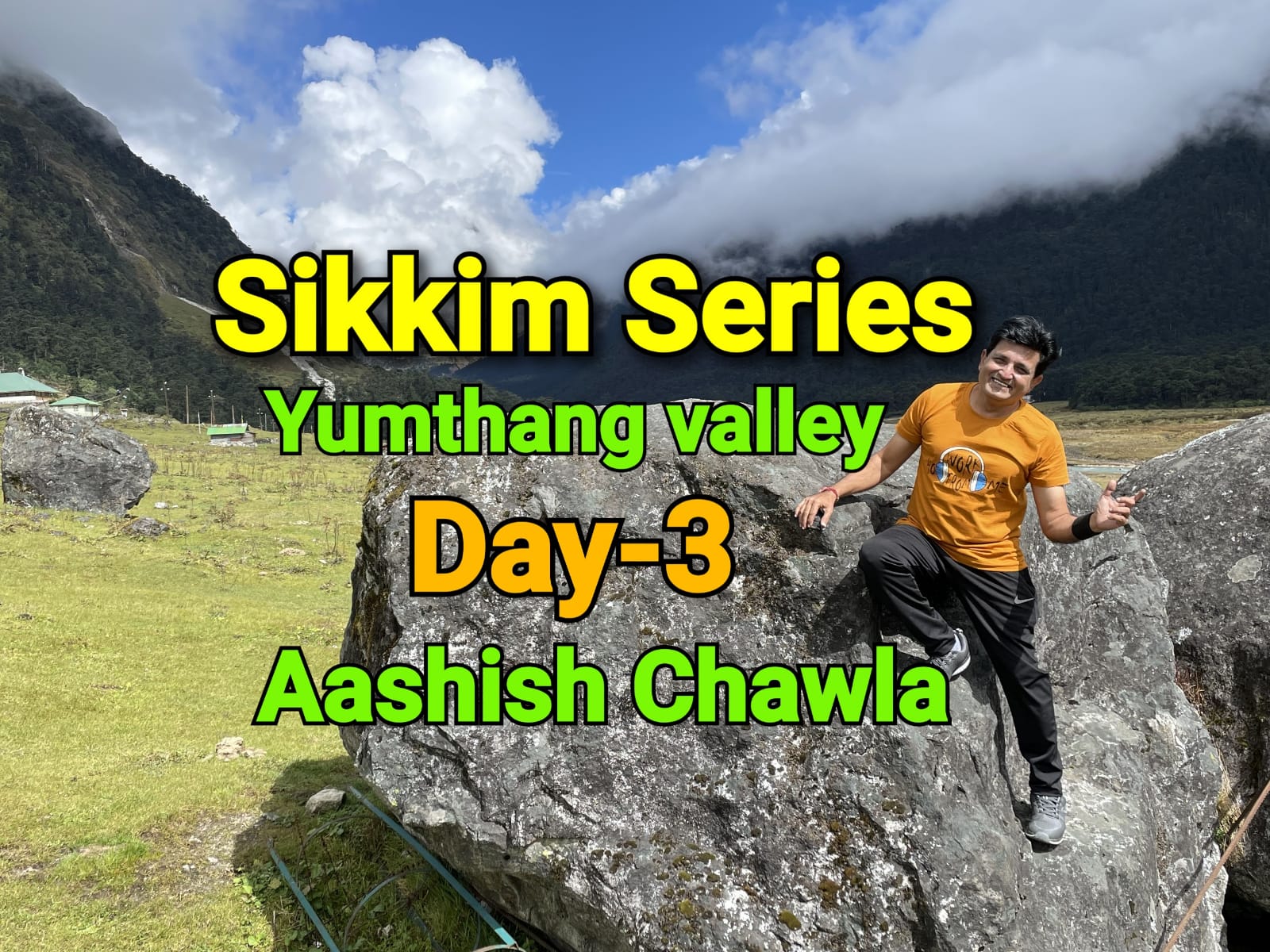 Click here to read this blog from the beginning 
In my previous blog, you read how we had to change our program and instead of going to Lachen we ended up in Lachung!, but then one must be prepared for such kind of last-minute changes, without grumbling about it. Our respected late former president A.P.J. Abdul Kalam once said and I quote "Man needs difficulties in life because they are necessary to enjoy the success. " Thus we happily went along with our changed itinerary with renewed vigour.
Click here to read the previous part of this blog https://www.lifeofaash.com/sikkim-series-gangtok-lachung-day-2/
DAY 3
Last night when we retired to our hotel room, we were dismayed when suddenly the lights went off due to a power breakdown. Initially, I was not worried, because these kinds of things are quite common in the mountains. However when there was no electricity for the next few more hours, I began to get worried.No power means No phone charging, No camera battery charging, which means NO PHOTOS😳 Hey Bhagwan aisa maat karna hum gareebo ke sath. Well, rest of the night I couldn't sleep well because I kept checking whether the power has come or not, finally, I went to sleep only to be jolted by the screaming sound of the alarm on my phone. The first thing I noticed was that there was still no power! Oh God, Please! Kuch chamatkar karo !
.
You make like this Rajasthan Diaries : Places to see in Chittorgarh Fort
.
Anyway, I called out to the hotel staff to arrange for the hot water as the water heater without power is of no use. Meanwhile, I went to the reception counter, where I saw two hotel guests were charging their mobiles, I was shocked but happy too,(They told me that few electric points are connected with the invertor hence the current charge is available here) I dashed back to my room and called out to my daughter "Beta jaldi apna phone aur charger nikalo charging ka juggad ho gaya." and in no time I was standing with my phones and charger next to the plug point. Boss apna kaam ho gaya , Power of Chamatkar !…….Ho gayi teri balle balle 💗😃😃😃
 In all this drama of no electricity and phone charging saga, I forgot to talk about the place where we landed last night. Yes, this lovely Place is called Lachung.
.
.
Lachung:
Lachung is a beautiful mountain town, situated at an elevation of 2750 meters nestled among the huge mountains on the banks of the Lachung chu (river) which divides the village into two parts, this popular hill town is famous for its apples, peaches, and apricots. The major attractions here include the Lachung Monastery(which incidentally we could not visit as it was closed due to covid guidelines) and the Handicraft Centre. What makes Lachung truly unique is the fact that the village still lives by the old Sikkimese traditions. For example, it is the only place in the state which still follow a unique system of self-governance called the Zumsa, where disputes of the villagers are resolved by an elected body headed by the Pipon. Most of the traditional houses at Lachung are made from pine wood. Lachung is generally the base town for those visiting Yumthang Valley and Zero point.
.
Our journey:
Today our plan was to visit Yumthang valley, but before I start to write about my journey to Yumthang valley let me confess something. After seeing various youtube videos and pictures I never wanted to visit Yumthang Valley but then Rajat Bhai who had arranged the taxi and hotel for me explained to me, why I should be visiting this valley. Bas Bhai ne bola aur apun valley ki aur nikal liye 😃  
We left our hotel at 7.30 am. The morning was very cool and pleasant with light drizzle of rain. The small colorful wooden village houses looked very beautiful. It was a thrilling experience when our car drove along the river and then crossed the metal bridge, the clang clang vibrating sound, the fluttering colorful flags, and the gushing river below, Well you end up saying Wow!
.
Soon our car was driving out of the Lachung village. As we were leaving the village to go towards Yumthang valley we stopped at a checkpoint to submit our permit papers and after verification, we were all set to go to Yumthang valley.
.
 Yumthang valley
Yumthang valley is also popularly known as the 'Valley of Flowers' and is home to the Shingba Rhododendron Sanctuary, which has over twenty-four species of the rhododendron, the state flower. The flowering season is from late February and to mid-June when countless flowers bloom to carpet the valley in multicolored hues of the rainbow. ( I will definitely like to come again to see these flowers) Yumthang valley is situated around 23km from Lachung offering some breathtaking views of Katao range. The valley is generally covered with snow in the winters but offers some amazing view of Rhododendron sanctuary during April May.
.
However one can travel between September to December to see the clear blue sky and snow-capped mountains. As we were traveling in the month of September the views were indeed very beautiful. I remember that as we were driving the views from the windshield of the car was looking breathtaking but the windshield was dirty. I requested my driver to clean the glass, but somehow I felt he was reluctant, so when we stopped for pee break I started to clean the glass, seeing this he must have felt embarrassed so he took out his water can and started to clean it. " Kya hai an kabhi khabi khud ko hi talwar uthani padti hai yudh ladne ke liye"
.
.
This drive among the mountains especially in the morning coolness was exhilarating, the playful clouds kept dancing around us. My excitement knew no bounds because as they say Aagaaz yeh hai, toh anjaam hoga haseen..( If the beginning is such, the end will be beautiful).
Finally, after this lovely drive, we were at the entrance of the Yumthang valley. The moment I got down from the car I realized how chilled it was especially due to the breeze which was blowing. The lush greenery and the beautiful mountains were the perfect recipes to make you jump in the air with joy and we actually jumped, 😃
.
.
We spent some time enjoying the lovely green field and went down the riverside to enjoy some fantastic river views. Yumthang Chu is the name of the river in the valley.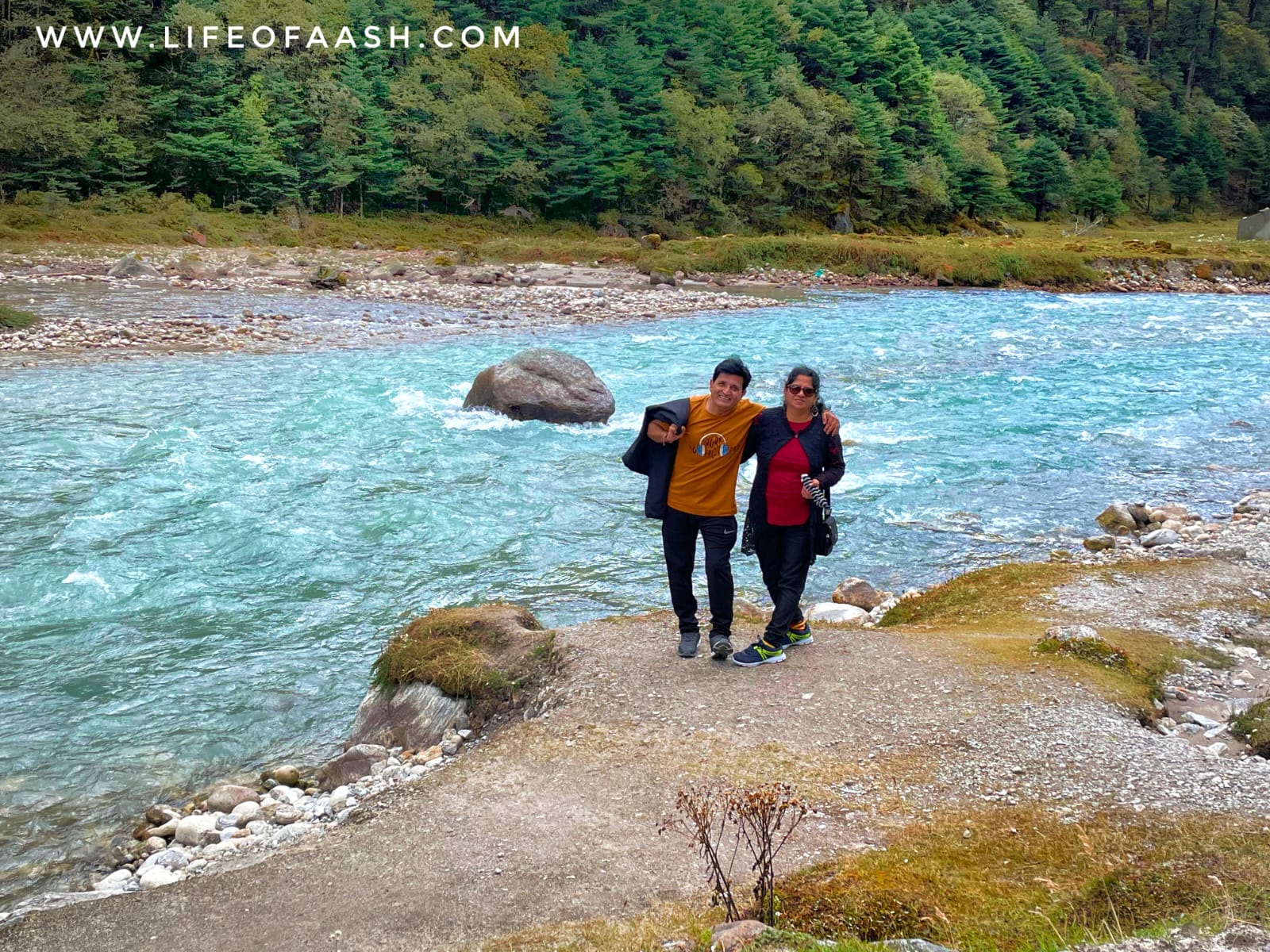 .
The crystal clear water and the surreal sound of its flow would soothe your mind and soul so much that you wouldn't feel like leaving this place. Be it just relaxing for a while or capturing some beautiful pictures.
.
After visiting Yumthang valley people generally visit Zero Point. 
.
Zero Point
Zero Point is quite popular with tourists because one gets to see snow and one can do lots of activities here. Zero-point is also known as Yume Samdong, Zero Point stands at an altitude of 15,300 ft above mean sea level. It happens to be the last outpost of civilization and the place where three rivers meet amid a panoramic view of snow-clad mountains and picturesque surroundings.
.
Since it is located very close to the International border between India and China, visitors need permission to come here. It takes tourists about 1.5 hours to reach here from Yumthang Valley, which is 25 km away, and about 3 to 3.5 hours from Lachung. After reaching here, there are no civilian roads beyond and that is why it is called Zero Point.
.
At times it's possible that you may have to come midway back due to excess snow on the way so be mentally prepared for that eventuality too, Though the roads can be treacherous, driving here is worth the reward of beautiful and pristine mountain sights. If you're lucky, you can also spot a yak in the snow. Zero Point hardly has any green stretches of land, except those that become visible when the snow melts.
.
'
In our case today as we had spent so much time at Yumthang that it would have become quite hectic for us to go to Zero Point and then travel to Lahung and then Lachen. Hum kabhi kabhi aalsi traveler ho jate hai... Fursat see majje lene lagte hai. tabhi toh kisi shayar ne kaha hai "Kabhi kisi ko mukammal jahan nahi milta.Kahin zameen to kahin aasman nahin milta" 
It was 1.30 pm when we reached Lachung, where we had our lunch at the hotel itself. We were now all set to move to Lachen for our night halt. Lachen is about a 2 -2.5 hours drive from Lachung. The route like any other road route of Sikkim was beautiful. We took our small break at Bhimnala Falls. which is also known as Amitabh Bachan Waterfall, isn't it interesting, Well the name is such because of its tall height.
A little more drive and we were again at Chungthang from where we turned right to go to Lachen. Just as we were reaching Lachen we came across a long bridge. With fluttering colorful flags this bridge looks very beautiful, my Car driver told me an interesting fact about this bridge. Won't you like to know about that? (Promise aapko next part me batata hu) 
Please stay tuned for my next blog on Lachen and our dangerous encounter on the way back from Gurudongmar Lake.
Thank you for reading my blog. If you like my blogs please do share them with your friends and join my site. Your comments and views on the blogs are very important to us, so please comment on the blog.
Traveler Tips for Visiting Yumthang Valley:
The most important thing in your trip to Yumthang Valley is Permit, Since the valley is situated close to the China border, the whole area is under the control of the army, and a Protected Area Permit is required for visiting it as a tourist. So, don't forget to get it from the Gangtok Tourism Office, District Administrative Center at Mangan, or at Chungthang Sub-Divisional Magistrate's Office while planning your tour. Or you can also ask your tour planner to arrange it for you.

Make sure you carry warm clothes irrespective of the season in which you are visiting Yumthang because the weather can get really cold up there especially when you are going to Zero Point.

Do carry your first aid kit, especially the ones that you may require for high altitude sickness.

Prefer staying for a night at Lachung and starting your journey to Yumthang early in the morning, as the evening gets darker and foggier quite early around 5:30 PM there.

Mostly the Yumthang Valley and Zero Point tour is planned in such a manner that you have to travel from Lachung to Yumthang- Zero Point-lachung -Lachen Or it is Lachung-Yumthang-Zero Point-Lachung-Gangtok which means long duration on the road. (Hence one needs to start early)

Homestays are basic, so don't expect grand rooms.

Wifi was not provided to us, but mobile data works.
Total Page Visits: 1243 - Today Page Visits: 2