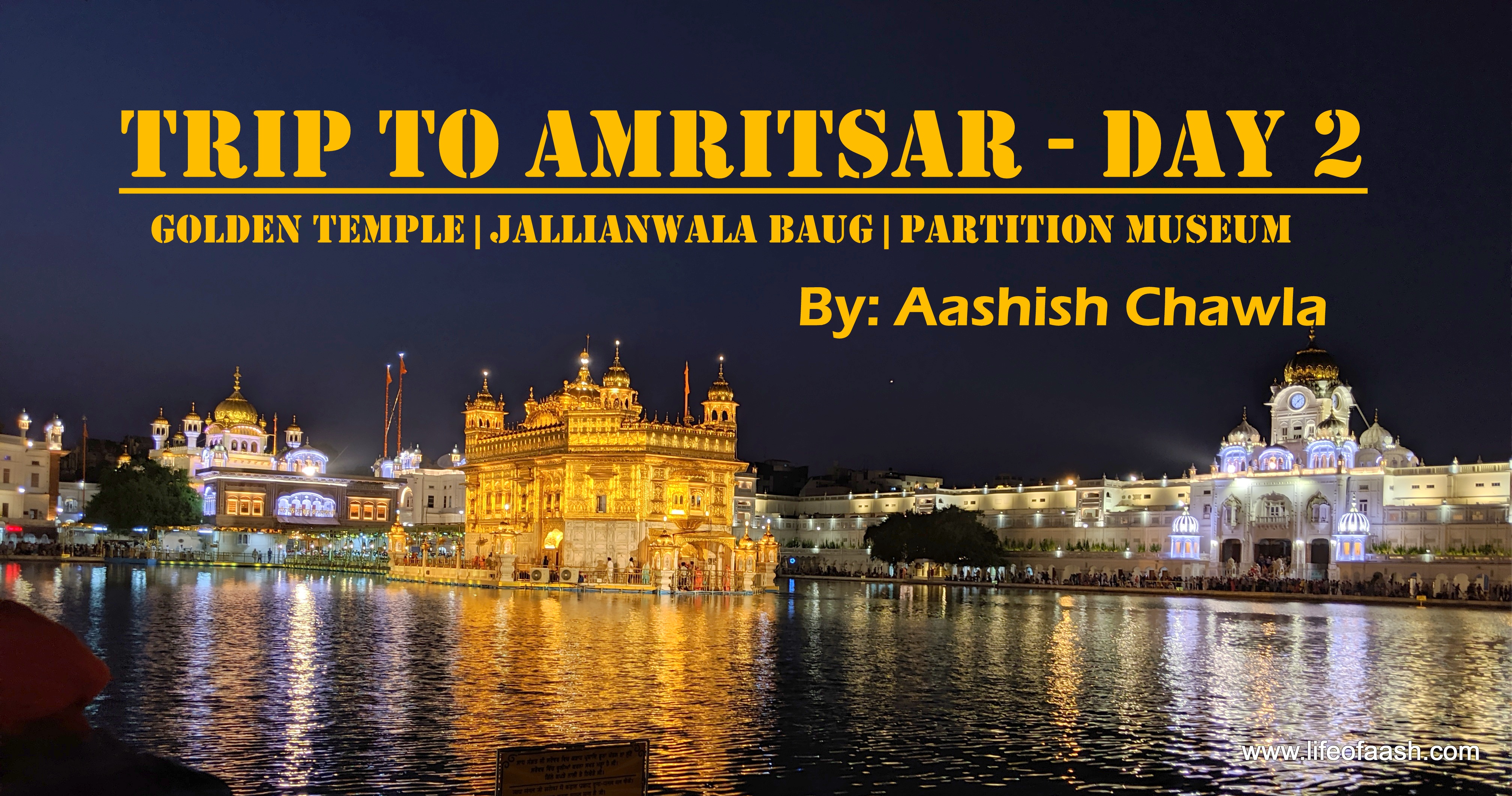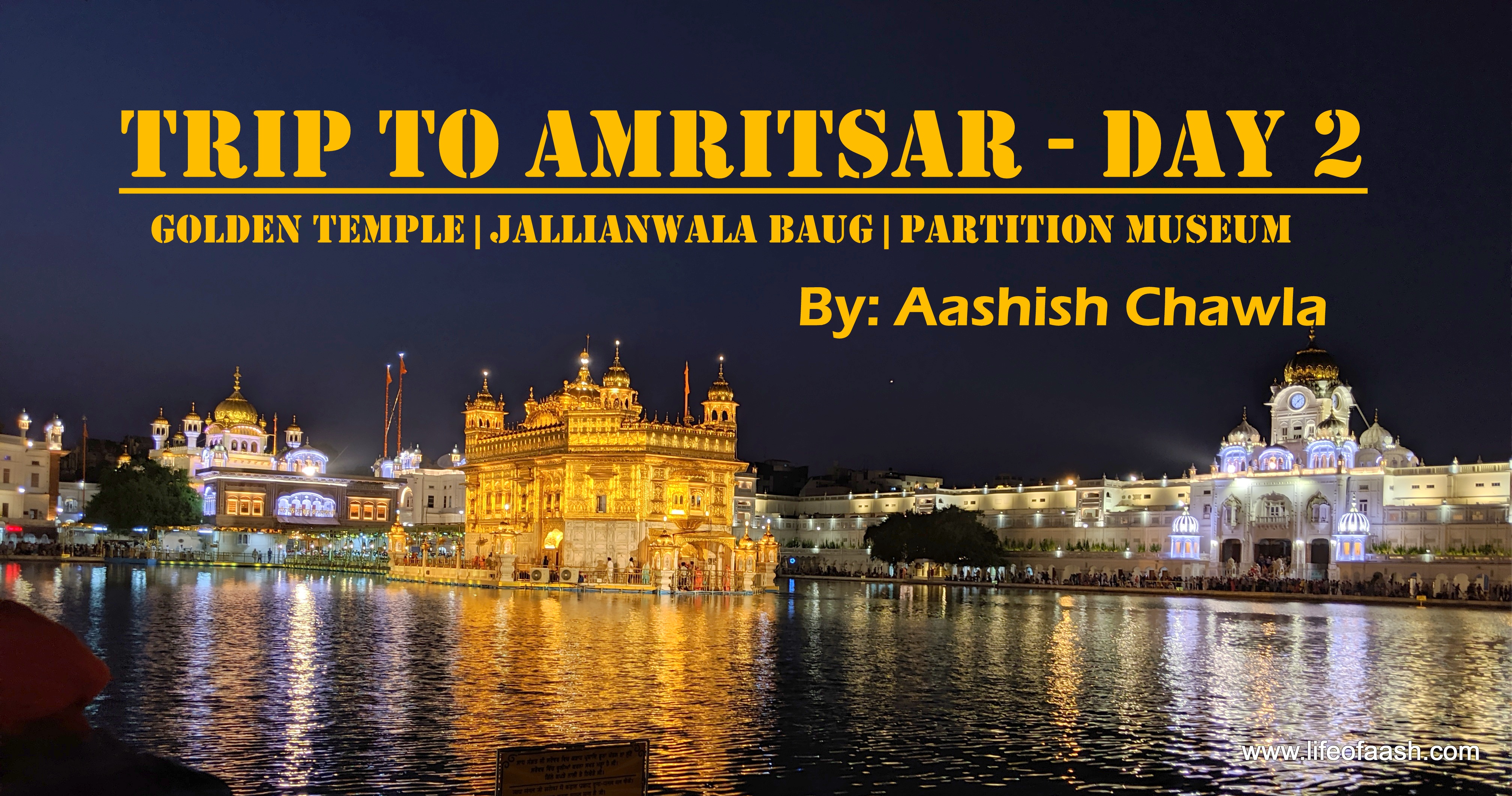 DAY-2 (Part 1)
Yesterday we enjoyed the grandeur of Qila Gobindgadh, followed by the ambiance of Durgiani Mata Temple. To read about our journey from beginning click on this link.
Today we were finally going to visit  the famous Golden Temple of Amritsar. We were all very excited to go hence we got up early at 4.30 am and quickly got ready to go to the temple. Earlier we had planned to go to Golden temple at 3.30 am so as to watch the Palki procession but with plane journey from Mumbai to Amritsar and Gobindgad fort visit yesterday we were all dead tired hence we shelved that program. Agli baar ke liye bhi kuch hona chaiye...so that we have reason to visit again.
It was 5.30 am when we reached the Golden Temple, we deposited our footwear at the shoe stand and proceeded towards the Gate of golden temple. Like any other Gurudwara one needs to cover their head with scarf or handkerchief, its compulsory so please do follow this practice.In the early dawn the twinkling well illuminated Golden Temple and the extravagant floral decoration of the entrance gate simply left us in surprise and awe. My daughter chirped "Dad, aaj idhar kuch special lagta hai, pechli baar itna decoration nahi tha"(Dad something special today because last time it was not decorated so much).
We inquired with one of the devotee as to why so much decoration, He had a surprised looked on his face when he answered me "Socha hoga golden temple aagaya hai itna bhi nahi maloom". He said "Arre bhai sahab aaj Prakash Utsav Hai." While writing this blog I researched a bit and came to know through a local newspaper that lots of efforts  and expenses were incurred for this event. As per the Tribune News paper of Amritsar "On the eve of first Parkash Utsav of Sri Guru Granth Sahib, the Golden Temple is all decked up with aromatic flowers from India and abroad".
Hundreds of quintals of different kinds of flowers, especially imported from Malaysia, Thailand and Singapore, besides Kolkata, Bengaluru and Himachal Pradesh are being used to adorn the walls of sanctum santorum, Darshani Deorhi, Akal Takht and the entire circumference of the shrine.Some of these flowers have a shelf life of 15 days to six months, Around 250 workers are making the designs and there were around 12 trucks containing hundreds of quintals of flowers for the embellishment. If you want further information click on the link here .
The Golden Temple today was very crowded, Knowing that it would take ages for us to have Darshan, still me and my wife stood in the queue for the darshan, after all we had traveled thousand kms to be here, how can we miss out  this opportunity and that too just for a small excuse of large crowd. Dil se pukar nikali "Bole So Nihal, Sat Sri Akal" and we were all set for the task. After almost 3 hrs of waiting in the queue we were finally able to have darshan.
Photography is not allowed within the Golden Temple and though I love taking photos but in the same breath I understand the sacredness of the place to avoid such petty things. We spent some time in the spiritual bliss with sabhad, kirtan playing out on the public music system.
As we were coming out from the temple we were given the delicious Kada de prasad ( Atta ke halwa). Since my childhood I always loved this prasad, I should say that it was kind of motivation to go to gurudwara for me, to have this ghee ka halva at the gurudwara
Ek childhood secret bolta hu jab bachpan me gurupurab per jate the, toh, do teen teen baar line lag kar halve ka parsad lete the
It was now time to go to the langar. Gurudware aaye aur langar nahi chakya Not right na !
Now for the benefit of those who don't know what LANGAR means ,well " Langar, is the term used in Sikhism for the community kitchen in a Gurdwara where a free meal is served to all the visitors, without distinction of religion, caste, gender, economic status or ethnicity. The free meal is always vegetarian" We now started to move today the langar hall.
I had heard so much about the Golden Temple Langar which runs for 24 hours, serving thousands and thousands Pilgrims rich,poor,very poor all are treated alike, I always feel overwhelmed whenever I see the humility and the dedication of the sikh community in their service to humanity which extends to providing food,serving water, picking and cleaning the plates and many more things.Hats off  to the Sikh Community.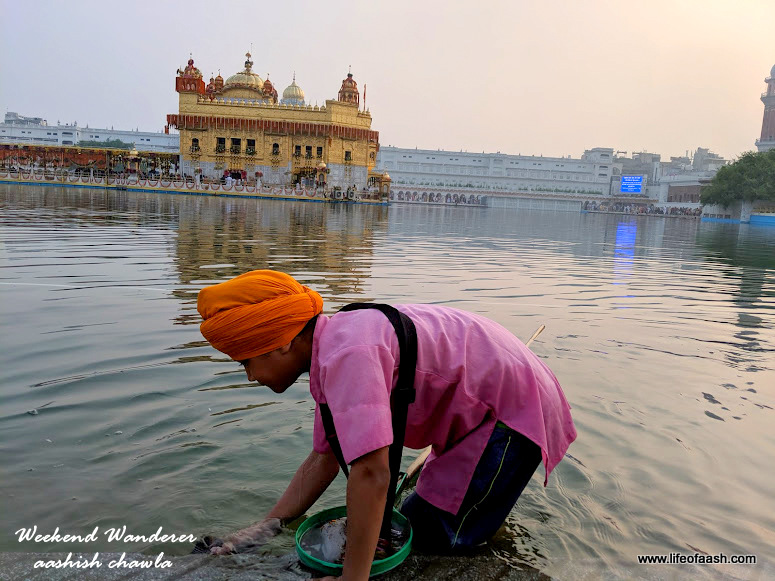 My daughter who had visited Golden Temple last year, insisted that I must see how the Rotis are rolled and baked for the langar. so we then moved on to the common kitchen of the Golden Temple where we saw a huge Roti making machine , belting out rotis after rotis. Watch the making of Rotis at the Golden Temple Kitchen with your own eyes in the video below
It was now time for us to bid adieu to this Beautiful Golden Temple but not before clicking pictures from different angles.
Coming out of the Golden Temple we walked hardly for minutes and we were at the gates Of Jallianwala Baug. Jallianwala Baug for me is all about my childhood memory, a memory of British brutality and sacrifice of Indian men,women and infants.
I can still remember every word uttered by my history teacher while explaining to us the massacre that happened at Jallianwala Baug, as to how thousands of unarmed Indians which included many old people, ladies and children, were mercilessly shot down on the orders of General Dyer. I could almost feel the helplessness of the crowd who jumped into the well to save themselves but all in vain. This cruel massacre of innocent Indians by British left a deep impression on my young mind.
I still got Goosebumps when I was reading on the internet about the Jallianwala baug. I always wanted to visit this place in flesh and blood and I had a long wait to be finally at Jallianwala Baug. If you ask me Jallianwala Baug is not just another tourist spot for me, For me its a sacred place, a place to be revered just as some Pilgrim place. My head bows to all the martyrs of Jallianwala Baug.
You enter Jallianwala Baug through the narrow entrance which opens up in a big Park, on the left side there is an exhibition hall displaying pictures of those days. A little further on the right is Amar Jyot, and little ahead on the right side of the the wall which has the bullet marks on the wall.
On the left side the well in which the people jumped, is also there but as the place was under renovation so I was unable to see the well. All my past memories of that history class came flashing on my mind, I paid my respect , spent 2 minutes in silence and with heavy heart we left the Jallianwala Baug complex.
The heat in Amritsar is very bad,We were feeling completely satiated due to the heat. Garmi se yaad aaya Ab kehte hai na ki Punjabiyo ka sar garam hota hai…. Te paji Punjabi nu ki chayda  (What does the punjabi needs ?)…Uff Oye Thandi Lassi Yaar ! Bas ab kya tha Hum logo ko jaise hi lassi ki Dukan dekhi , Lapak ke do do glass pi dale (Imagine the king size glass of Punjab ki Lassi and still we were able to lick it to the last drop…This much was the thirst due to the heat.)
Traveller Tip: Avoid coming here in summers, even Sept was bad.
With cool lassi in our stomach we started to walk towards Phuwara Chowk but not before clicking few pictures with those lovely statues.(Don't be fooled by the smiles on our faces in the pictures)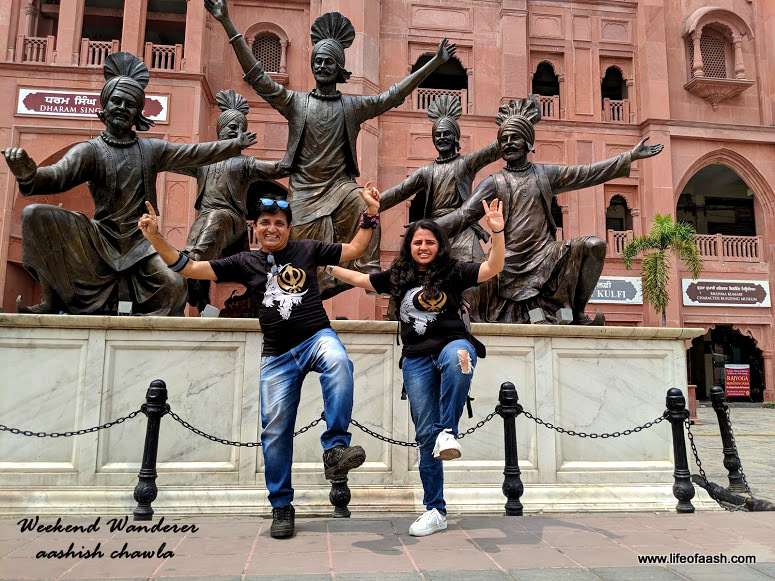 Partition Museum:
Little Further walking ahead from the Phuwara Chowk , with Jallianwala baug on your backside, you see the statue of Babsaheb Ambedkar and just next to that you see a  huge Red coloured  building which you can hardly miss, is Partition Museum.
This is a very interesting museum with all signage/ labelling in English and local languages. It contains recordings, clothes and many things of those times. It brings to life the real dilemma of partition, and the carnage which emerged from it. Partition certainly brought with it significant suffering and deaths and must go down as another calamity of colonialism.
It would be nice to be able to take photos here, but I managed by making notes. The building was once the town hall of Amritsar so the design is typically colonial. Well worth a visit, but allow at least 2 hours or more to see the museum in entirety. Coming out of the Museum you realise how much our ancestors have paid for this independence. Talking about independence friends, our next destination will be Wagah/Attari Border so stay tuned, be with me on my journey and let us experience the taste of patriotism on Wagah Border in my next Blog.
Travel Tips:
1. Most of the local sight seeing in Amritsar can be done on foot and for few places like Gobindgad Fort and Durgiani Mata Mandir and Wagah Border you can take local transport.
2.HO HO buses runs from the Phuwara Chowk and charge Rs 365 per person and do complete sight seeing including Wagah Border and these buses leave from 10.30 am.( Earlier you catch this bus the more sights you can see. To know more you can click on this link
3. Avoid going in summer to Amritsar
Total Page Visits: 3050 - Today Page Visits: 1