Khajjiar: Day 5 (03 Sept,2019)
This is the 5th day of our journey which started from Amritsar, In case if you had missed out on earlier blogs you can click here to read from the beginning.
For us city dweller the place like Chamba is like heaven. No pollution, no traffic and beautiful settings of Mountains,mist and river. So going away from Chamba was pretty hard for me lekin jaise mai hamesha kehta hu, musafir ko manzil se nahi raha se pyar karna chaiye, So no falling in love with CHAMBA
We wanted to start early hence we quickly got ready and had targeted to catch 9 am bus going from Chamba New Bus Stand to Khajjiar. We therefore had to be at the Chamba old bus stand  by 8.30 am to catch local bus , going to the New bus stand. Though we were well within the time at the Bus stand but the bus going to Khajjiar was late.Whenever we are at new place there are thousands of questions which comes to our mind like are we standing at the right platform, have we heard the time right and so on, the anxiety keeps building isilye logo ko kheta hoon, facebook per muskurate chere ke jhanse me mat fusna, Kyo ki us muskurahte ke peeche bahut toofan chuppe hai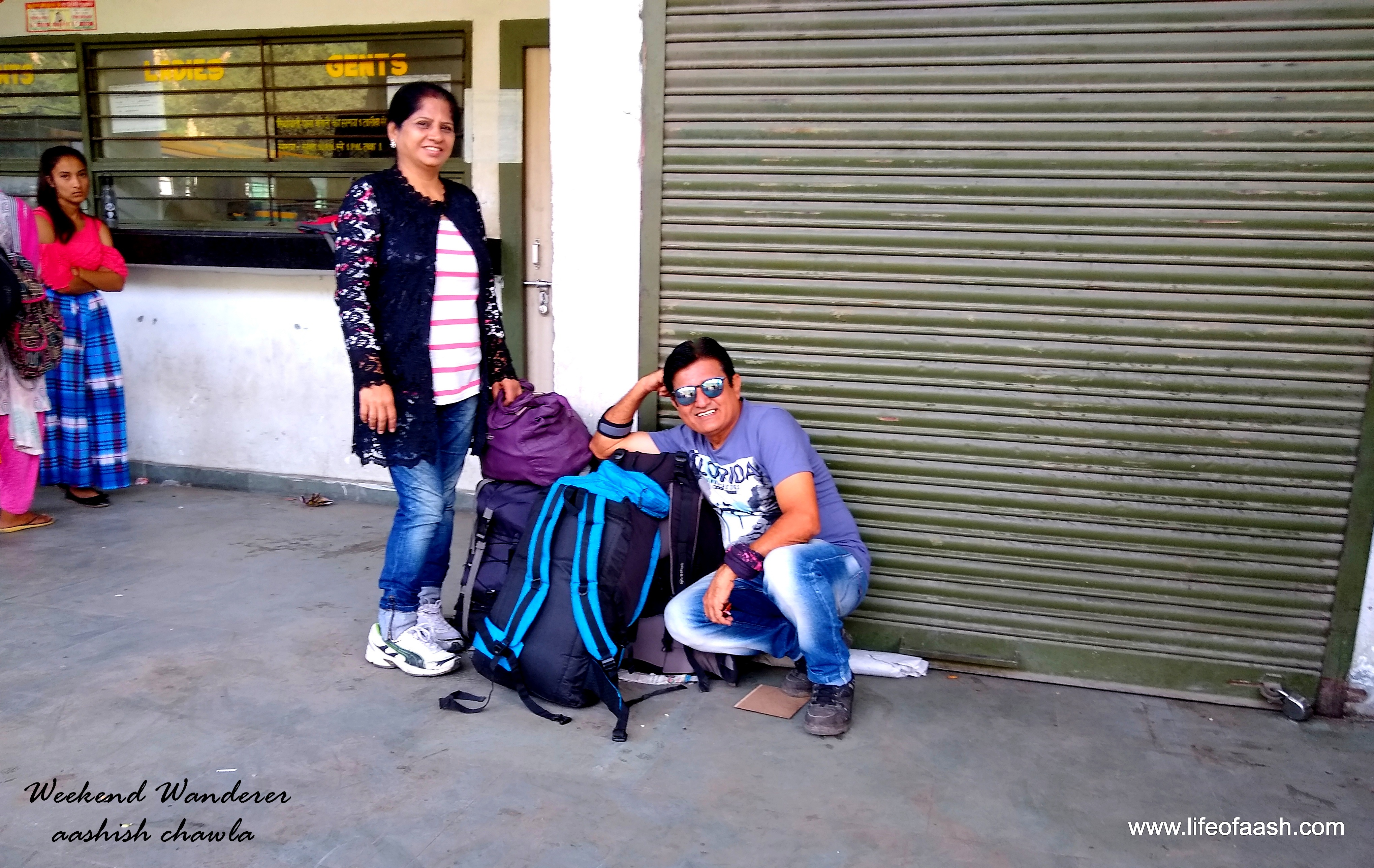 Finally after a long wait the bus arrived, fortunately Chamba was the starting point for the bus so we were able to grab our Manpasand Window seat
. The beautiful bus journey passing through one of the lovely mountains and forest is the high point of our  drive to Khajjiar.
The drizzling rain made the atmosphere all the more pleasant and finally our bus arrived at Khajjiar. First glimpse from the bus window of the Khajjiar field was simply mesmerising. But first we had to check into our hotel.I had purposely booked my hotel near the main Khajjiar ground. After getting down from the bus I saw our hotel's sign board and we started to walk on the marked route.
Again this 10 minutes walk to hotel from the bus stand was very picturesque, the tall pine trees and the muddy path with small puddles due to overnight rains, was something straight out of a story book. Whichever way I looked the settings were no less than a wallpaper. Words or pictures wont do justice what my naked eyes saw that day. I actually wanted to sit there rather than go to the hotel room. Seeing my dreamy eyes my wife patted on my back and smilingly nudged me to move ... Ab chalo bhi , apan wapas idhar aane wale hai aur yeh mat bhulo humare shoulders per bags hai
We checked into our hotel which was almost on the cliff, Due to which we were able to have a lovely view of the valley from our room's balcony. It was still raining lightly, the chill in the weather could be felt.As we only had to dump our luggage in the room hence we were quickly out of the  hotel room and back to that Pine tree path from where my wife had pulled me away earlier
. This time around we spent good time clicking pictures, talking to the locals that we met on the way and before we knew we were back at the edge of the huge famous Khajjiar ground.
You must be wondering what is this whole hue and cry about Khajjiar. What is so special about it? Well then here I go.  It was on 7 July 1992, Mr. Willy T. Blazer, Vice Counselor and Head of Chancery of Switzerland in India brought Khajjiar on the world tourism map by calling it "Mini Switzerland". He has infact put up a signboard showing Khajjiar's distance from the Swiss capital Berne -6194 km.
Khajjiar is among the 160 locations in the world that bear topographical resemblance with Switzerland. The counselor also took from Khajjiar a stone which will form part of a stone collage around the Swiss Parliament to remind the visitors of Khajjiar as a Mini Switzerland of India.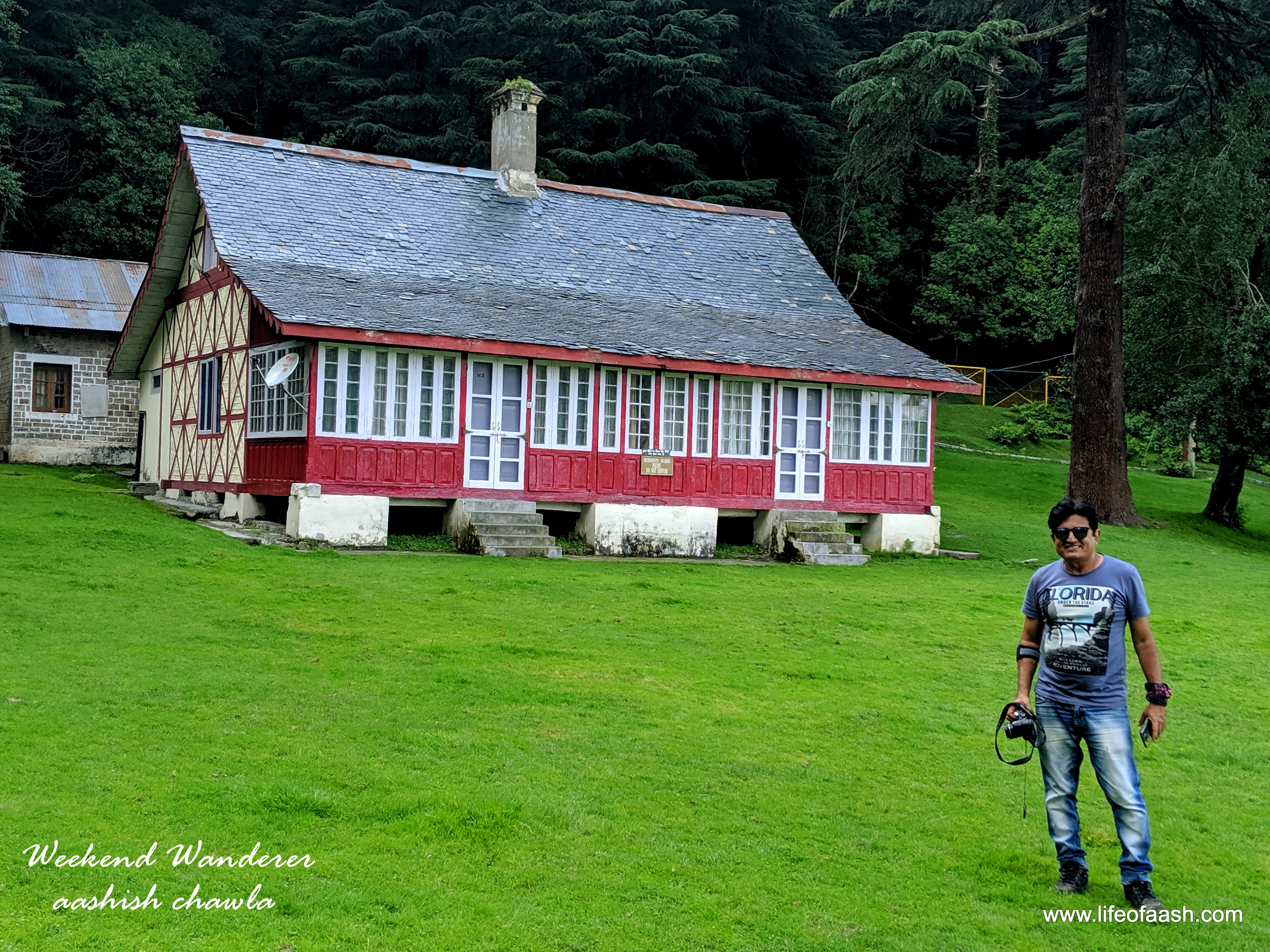 So naturally when I came across the above information I was all the more eager to explore and gain first hand experience of this beautiful place called Khajjiar and true to what I had read it proved to be the same as promised.
We Mumbaikar are not used to seeing open grounds and then that look with lots of greenery and surrounded by the deodar and pine trees, with lovely mountains overseeing a sublime lake in the centre of the ground.
Our plan for the day was very clear that we would be going for Paragliding first and the return to the Khajjiar ground and chill till late evening. I inquired with a local guy as to where can I get this paragliding guy so he pointed me towards some guys sitting near the horse stand. One guy told me to wait soon the car arrived and we were whisked away to the Paragliding launch pad. As I have done Paragliding so I waited for my wife and my daughter  at the landing site and they both went for the jump. Neeche koi photo lene wala bhi toh chaiye na.
The cabbie guy dropped me at the landing site which was just behind the temple which has a tall statue of Lord Shiva, now all alone I descended from the back of the temple with no idea if I am going at the right place, Do ladies bag aur hath me camera uparse ludk ludk ke utarta hu mai….Kya scene tha kaash kisi ne meri photo li hoti, Tab pata chalta family trip me kya kya karna padta hai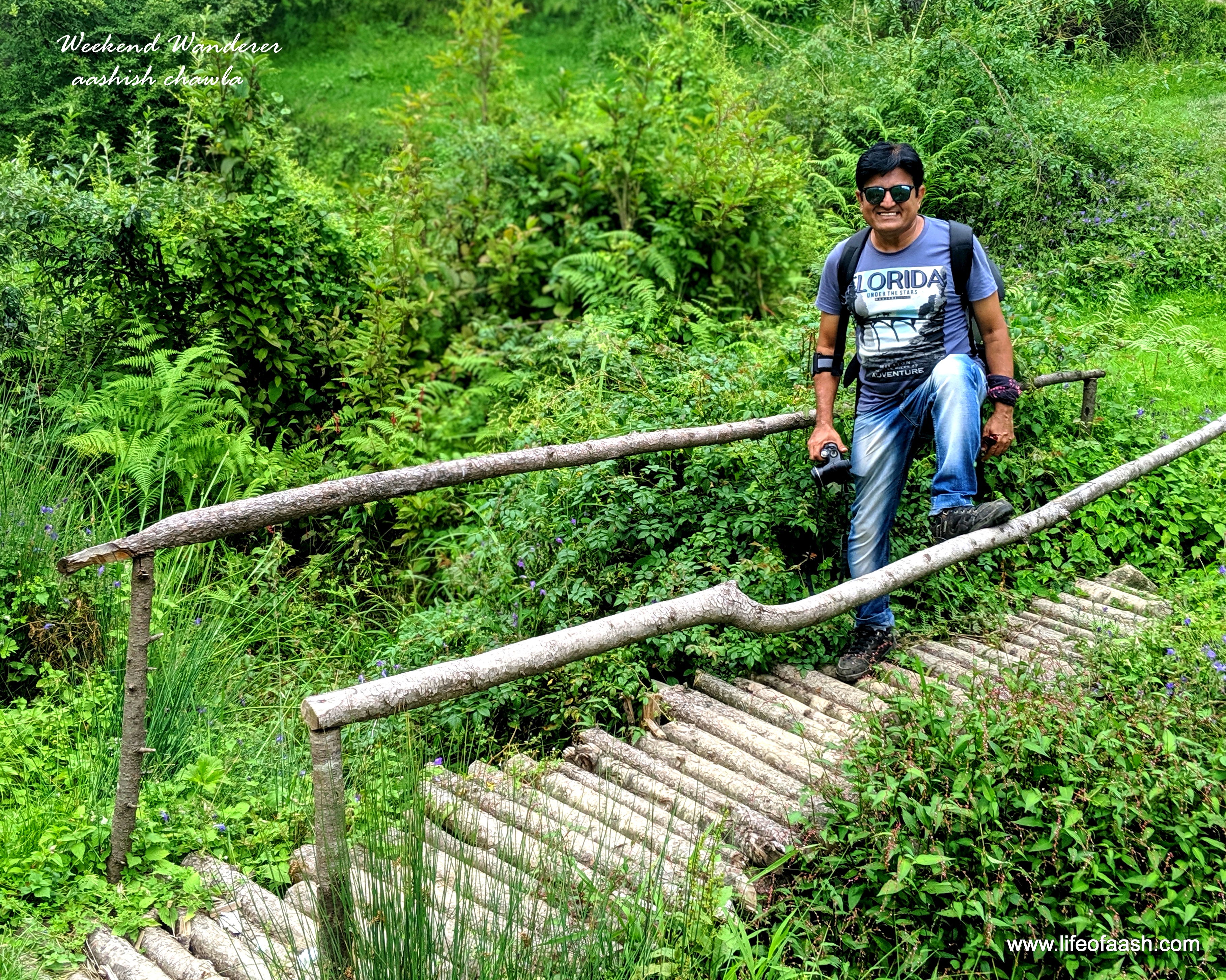 Here I was sitting in perfect silence and then next moment I hear screaming noise…. shrill as a whistle and when I turned and looked in the sky I knew my daughter is landing
and behind her my wife made the landing cool as cucumber, she was all smiles. We had a small photo session and then all of us climbed back to the temple. The cab guy picked us up and dropped us back at the Khaijjiar ground.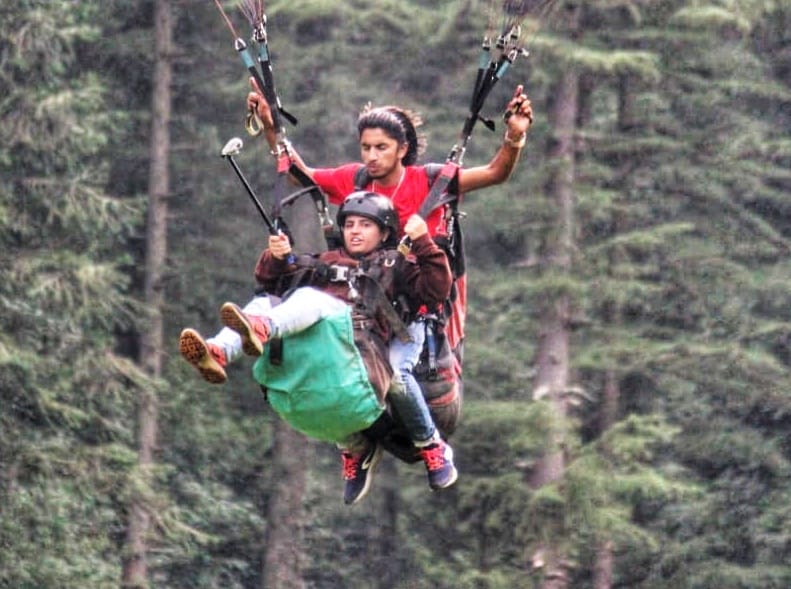 It was almost noon so we decided to finish our lunch and then launch full on to explore every nook and corner of this Khajjiar ground.
Though Khajjiar is compared to Switzerland I still feel Switzerland is lot lot more clean and organised. Yes I agree that the contours and the settings do look very much alike. The lake which is at the center of the ground I wish was lot more clean. Local authorities should understand that only the tag of mini Switzerland is not enough they need to ensure proper cleanliness. Its the natural beauty which captivates you.
Other than the lake there was this very interesting temple on the ground itself though surrounded by number of commercial establishments which has actually defaced the beauty of the place. The temple that we visited is known as Khajji Nag Temple.
Khajji Nag Temple
On the bank of Khajjiar Lake lies the Khajji Nag Temple that dates back to the 12th century. Dedicated to the Lord of Serpents, Khaji Nag, the temple stands out with its Hindu-Mughal architecture, complete with a gilded dome and intricate wood carvings. The temple has idols of snakes, Lord Shiva, Goddess Hadimba, as well as images of Pandavas and Kauravas.
After spending some time we again went to the ground, lazed on the green grass. My daughter had a novel so she got engrossed in the book and occasionally looked up to enjoy the beauty around her. Me and wife we strolled around and tried to soak in the natural beauty of the place, infact we went to a nearby village where we had small chat with a village kid who later took our picture. The sun was on the verge of setting down and there was immediate drop in temperature and we actually started to feel cold. For us this day was indeed quite memorable where we had our dose of adventure with paragliding, the bus trip of morning from Chamba to Khajjiar and finally this wonderful evening that we spent in Khajjiar.
For us the day was over and we decided to go back to our hotel. Tomorrow we were planning to go to Dalhousie so stay tuned for my next blog.
Thank you for reading the blog. Please do comment and share the blog if you like it.
   To read our journey from the beginning click here
Total Page Visits: 4916 - Today Page Visits: 1