We had a  wonderful time on the Khajjiar Ground yesterday (You can click on this link to read about our journey on the previous day)
Today we had decided that we shall be going to Dalhousie, a beautiful town in the clouds.
We left our hotel early in the morning because I was told there is an early morning bus from Chamba which passes through Khajjiar at 8 am, So we went to the market grabbed a quick breakfast of Aloo Parathas and maggi and as we were having the breakfast we heard the blaring sound of the bus horn, the stall owner shouted Sahab ji aap ki bus aagayi ( Sir your bus has arrived) I stuffed a huge bite of paratha in my mouth and rest was in my hand as I boarded the bus, leaving behind my half finished tea.
Boss aisi bhagam bhag ka,

apna hi majja aur excitement hai.
Actually these are the moments which become a part of our life and our travel stories. Imagine sitting with few friends, years later and  remembering  how you went running with Aloo paratha in your hand and your wife gingerly running with her cup of tea because she didn't want to let go that…the scene itself gets me into splits whenever we discuss this at home.
I was very happy that the bus was empty and we had the good fortune again to get a window seat. As the bus was empty, so I got into conversation with the bus conducter and inquired with him regarding availability and frequency of buses from Khajjiar or Dalhousie to Dharamshala in the morning hours.( I was collecting this information because tommorrow I intended to go to Dharamsala) He gave me a very useful advise saying that I should not take Dharmashala bus from Dalhouise as I'll have to wait  till 10.30, so I should rather take a bus to Lahru and from there to Dharamshala, this way I can save my time and reach early at Dharamshala. Well I never got to know how good his advise was because I had to change my travel plans, And why I had to change my travel plan?  Uski apni ek kahani hai which you will come to know as you read my blog further.
Our bus travelled through the lovely mountain range and people kept getting into the bus and by the time we left Lakker Mandi the bus was so filled as if the whole of Himachal Pradesh was in it and yet the conductor was loudly calling out Aajao! Aajao! (Come, Come). Believe me sitting in the bus and getting crushed from all direction was not my idea of fun in the mountain
Lekin aisa local ehsaas bhi zaroori hai,

Is baat ko realise karne ke liye,

Ki hum shaher wale kitne privileged log hai
because in mountain regions the frequency of buses are very far and few hence everyone makes sure that they are on it. Our bus was whizzing through curving roads which offered some mesmerizing views of valley, mountains and dense green forest.
Thankfully by the time we arrived at Dalhousie the bus was very less crowded and we were finally at Dalhousie.
The moment I got down at the Gandhi Chowk I could feel that I am on a touristy place of a hill station.The usual Mall road kind of atmosphere with numerous shops and cafes.
However what I really liked was the slow laid back ambiance of this hill town. Just like so many hill towns in north India you see a Stone statue of some prominent person so here been Gandhi Chowk we had this statue of the Mahatma Gandhi.
Standing at the Gandhi Chowk I saw the sign board to Panch pulla waterfall Toh bas kya tha , na yaha dekha na waha, bola sipayio follow me
and we started to trek towards the Panchpulla waterfall. The route was very good, green mountains on both the sides and three of use were walking and cracking jokes, at one point we were clicking pictures near the roadside when a white car came along and stopped,
The driver of the car smiled and asked me "Kahan ja rahe ho"
I replied "Panchpulla waterfall"
He said "Mai bhi udher ja raha hu chalo apko chod deta hu…."
Unknown place and unknown person not a right combination I felt
, So I politely refused, he said "Don't worry sir I am tourist taxi driver and I am  going their to pick someone"
Maine bhi socha chalo yaar dekhte hai kya hota hai…
waise bhi hum teen hai aur taxi wala akela
,
Travel me thoda chance lena mangta na
No sooner we sat down in the taxi , the driver asked me "Sirji Aapne local sight seeing karli "
I replied " Woh hi toh kar raha tha
, jab tumne awaaz dekar taxi me baitha diya"
Well then he gave me his visiting card and said that if I have any requirement I can call him. I explained to him that we intended to take a bus to Dharamshala tomorrow, but I still told him to quote me his price for taking me to Dharamsala, He quote and I liked the price , I told him that I am staying at Khajjiar so he will have to pick me up from there. He happily agreed and the deal was set for tomorrow.
Toh dosto safar aur safar ka andaz pal pal is tarah se badalta rehta hai humare sath….
Kaha tha na travel plan change ki apni ek kahani thi.

Toh woh ye kahani thi..
I felt, had the taxi driver not given us the lift , had I not accepted it, there would have be different travel plan. The reason I went for taxi though it costed me more, was that I would be saving time, plus passing through Jot Pass I could do photography and the best part of the deal was that I told him to take few extra bucks but do show us Kangra Fort which needed little diversion from our regular path. So in a way it was a win win situation for both of us. Traveller tip- As a traveler one should be quick to change the plans even if they are at the last moment.
Now back to our story. The Cab driver dropped us at the parking of the Panchpulla waterfall, we walked for  a few distance till we reached the Waterfall. It was a beautiful serene place and luckily not many people were there at the waterfall so we enjoyed the place clicked lots of pictures before moving back.
On our way back we hired a car to drop us back to Gandhi Chowk.
Next we spent some time exploring the Tibetean market. Honestly I rarely shop when I am travelling until and unless if the things sold are made by the locals. After spending sometime here, we now moved on to explore the Mall road, there is this iconic Cafe Dalhousie, it has perfect ambiance of British times, we had a cake and apple tea .
Clicked few more pictures and moved further . there was one way which was going towards the village nearby, we kept walking and enjoying the beautiful views, a small trek we enjoyed and came back to the Gandhi Chowk again.
Next to Gandhi Chowk is this very nice and laid back Church. St John Church is very ancient, it was built in the year 1863. and  it holds a historical significance of being the first Church to be built in Dalhousie.
 Earlier this church was just a wooden structure. The idea to build a stone structure for the chapel took place in 1863 when Rev. John H. Pratt arrived at Dalhousie. He inspired the tourist Christian Protestant missionaries to build a permanent church building at this place. The architecture of the church is similar to the Roman Catholic's Church of England; the only difference is that the St. John's Church belongs to the Protestants community.
The British architecture looked quite prominent however the grandiose of English Church was missing but still Charm and peace remains.
It was almost 3 pm  now so we moved on to the local bus stop because our return bus to Khajjiar was to come at 3.30pm.
In this trip to Dalhouise I missed out visiting Chamera Lake and Dainkund trek.
Lekin agar kuch chutega toh  hi toh wapas aane ka bahana milega na ...

Apna toh bas aisa hi sochna hai .
The bus arrived at 3.30 pm and soon we were on our way to khajjiar .
Tomorrow  we shall be visiting Dharamshala and Kangra Valley till then wait for my next part.
To read our journey from the beginning Click Here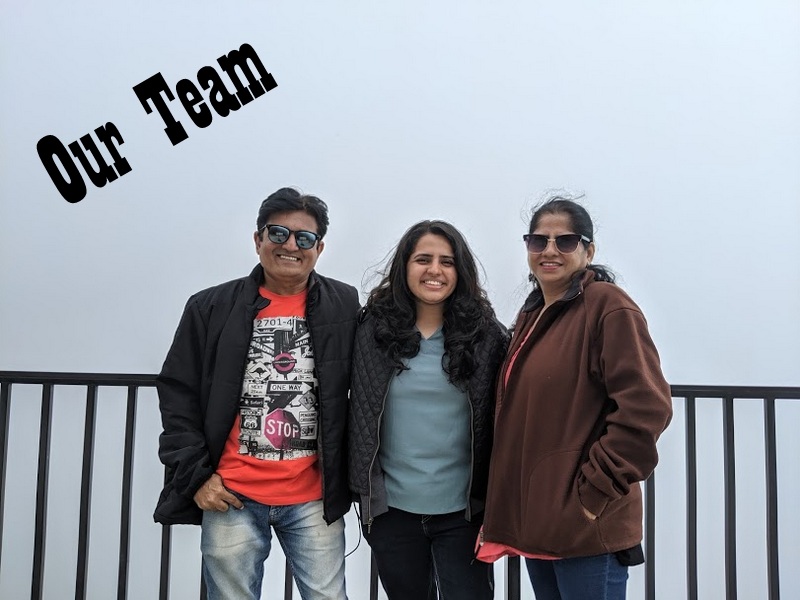 Thank you for reading my blog. If you like my blogs please do share them with your friends and join my site. Your comments and views on the blogs  are very important to us , so please comment on the blog.
Total Page Visits: 10405 - Today Page Visits: 3