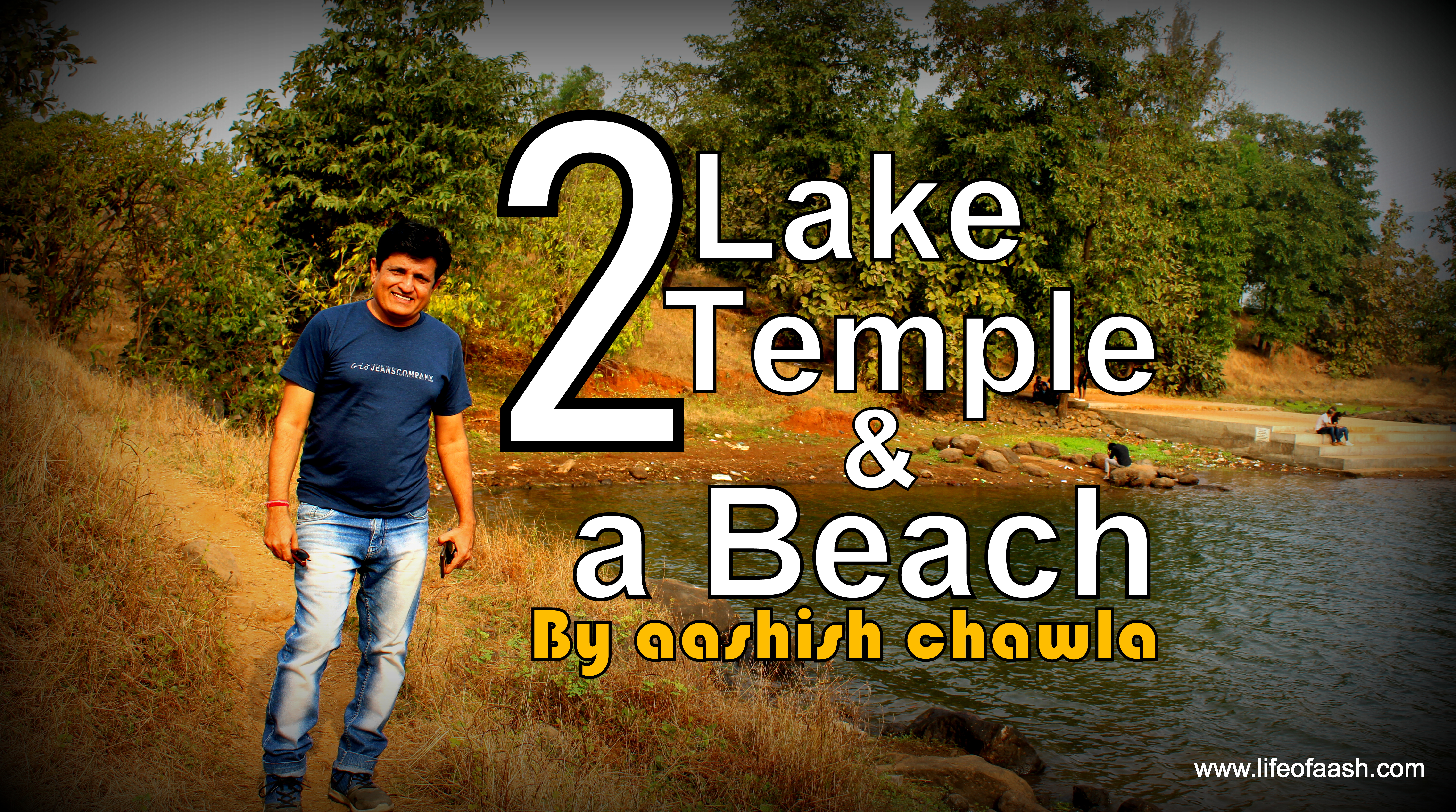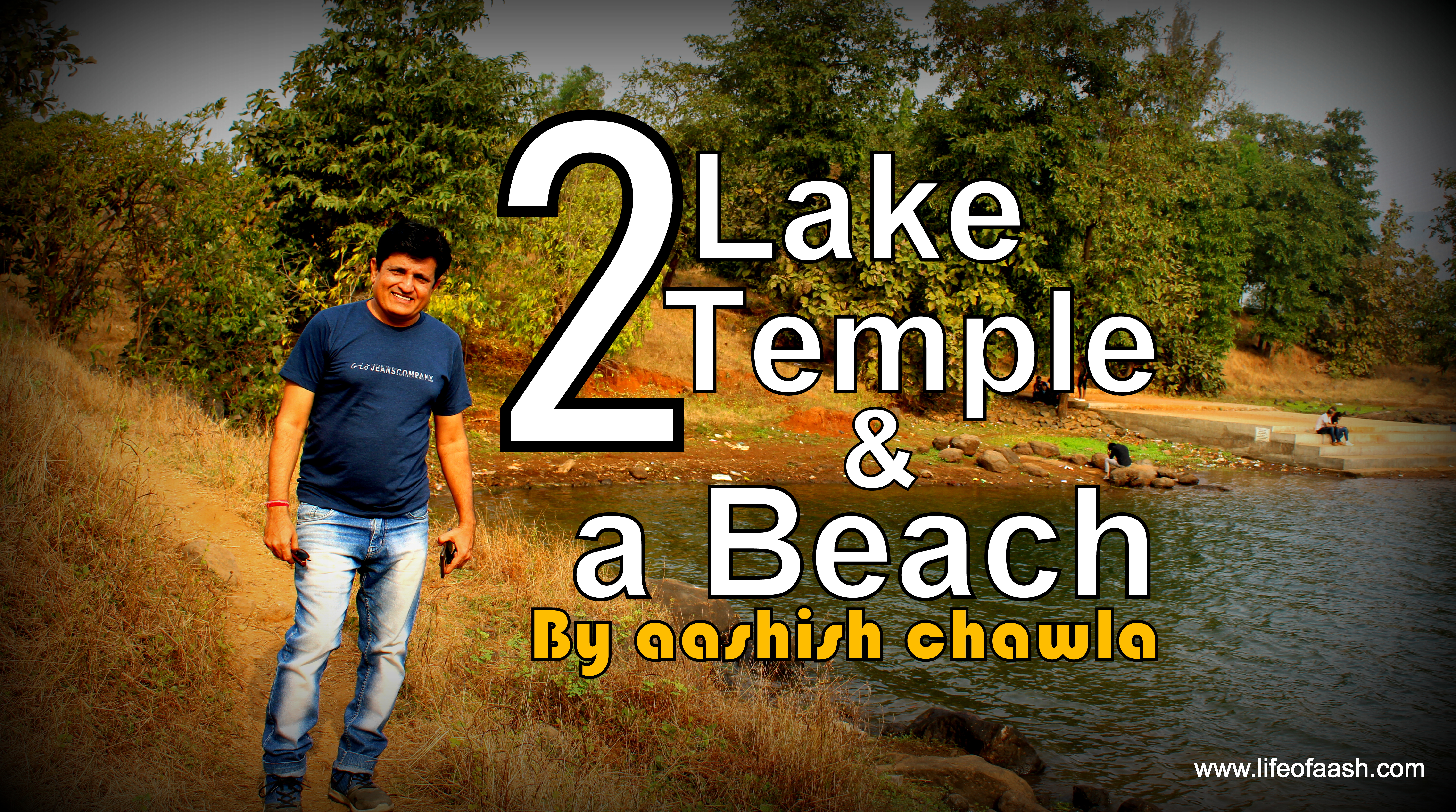 It was the last weekend of the year 2019 and I didn't want to squander it away by just sleeping on the couch or Binge movie watching, I was only thinking where to run away on this weekend from the madness of Mumbai City. Coincidentally I got this call from my friend Manohar, with known actually I had traveled only once! He asked me "Hey Aashish , Why dont you plan something for this weekend"  and I was like "Arre yaar yeh hi toh mai bhi soch raha tha"  and so this conversation of us set the ball rolling and I was all over the google maps struggling to find offbeat place to visit near Mumbai which I haven't been to.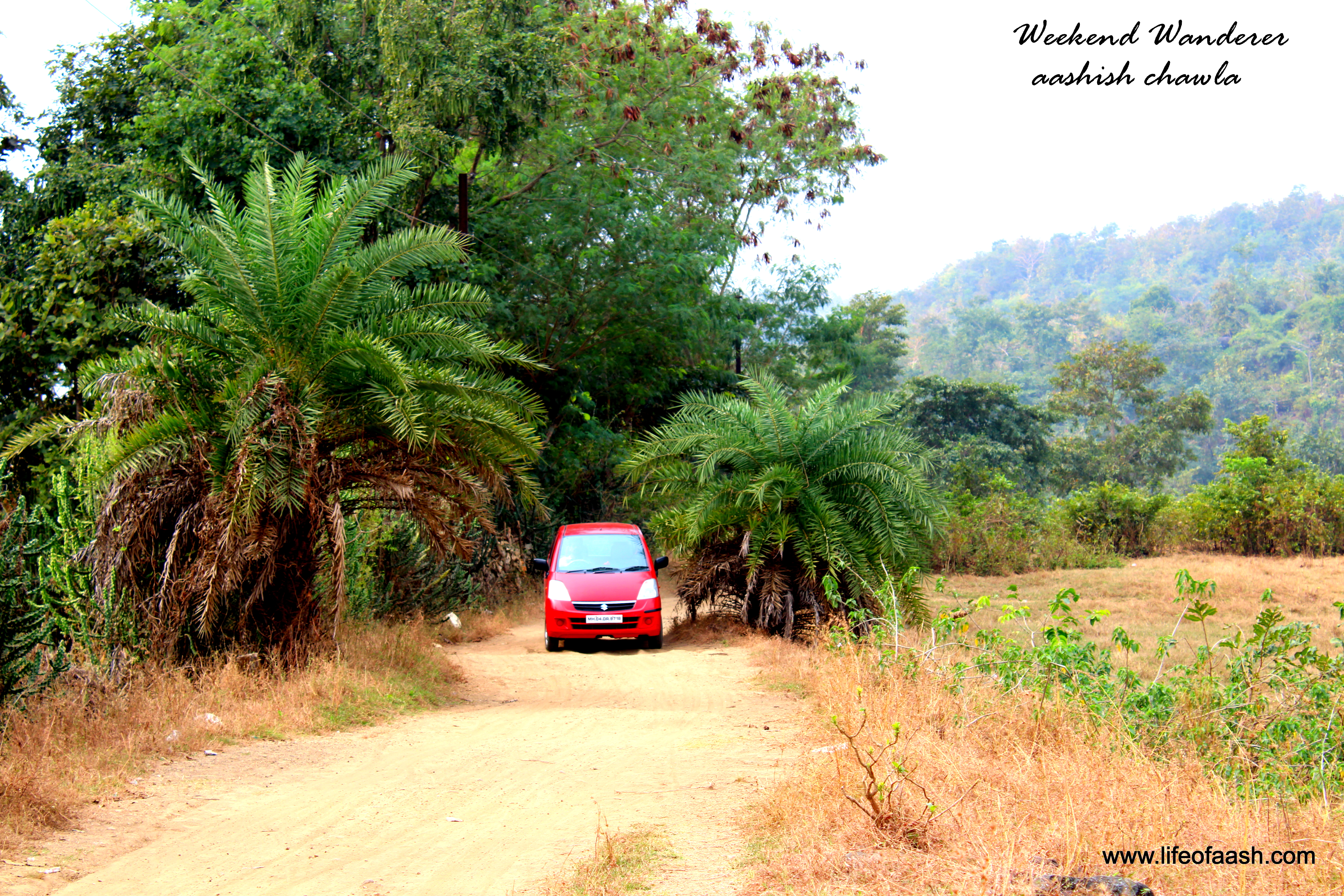 My method to select a travel spot is very simple I dig in my heart and follow the first few words that come to my mind and then follow it from there. So today When I started my search three words popped out in my mind.
So I simply jotted down 3 words Lake,Temple and beach.
Lake      ( because I love to visit water bodies hence they are always first on my list)
Temple  (This was actually for my wife
)
Beach    (This was the last option actually, knowing that they would be crowded on weekends)
With these head points of visit category I charted the course of our travel and we set out on our journey.
5 of us were ready for the trip, Neha and her friend Madhu, my wife and me and Manohar. We had planned that we shall leave early in the morning as we shall be covering lots of places, but as usual last minute blues happen and this time too it was no different, today Madhu was late by 15-20 minutes and it was close to 7 am when we left Andheri.
Early morning drive is always pleasant,with not much traffic we headed on Western express highway toward our first destination Vandri Lake.The route is well marked on google. We had crossed Vasai, Virar and next turn for us was for Vandari Lake but "Yaar Agar Datta ka Vada Pau nahi khaya toh safar shuru kaise hoga" so unanimously It was decided to plunder the hot vada paus at Datta, but the catch was we had to drive extra 17 kms to and fro to eat Vada Pau
Ab safar me pagalpan to banta hi hai kyo ki roz toh hum samajdar ban kar ghumte rehte hai and we drove on till Shree Datta Vada Pau centre Manor. 
We had our breakfast and left from there, driving little ahead and taking the U turn (remember we had left our turning point 8 kms behind)  on the highway and we were back on course to Vandri Lake.Today it was going to be my second visit to Vandri Lake.
Last time around I had visited it when I was on my trip to Jwahar ( You can click on this link to read about my Jawhar visit blog). Vandri Lake is a small lake in a beautiful setting however today being Sunday it was little too crowded for my comfort so we didn't spend much time here. Few local  villagers were washing their clothes  and few were fishing within the lake.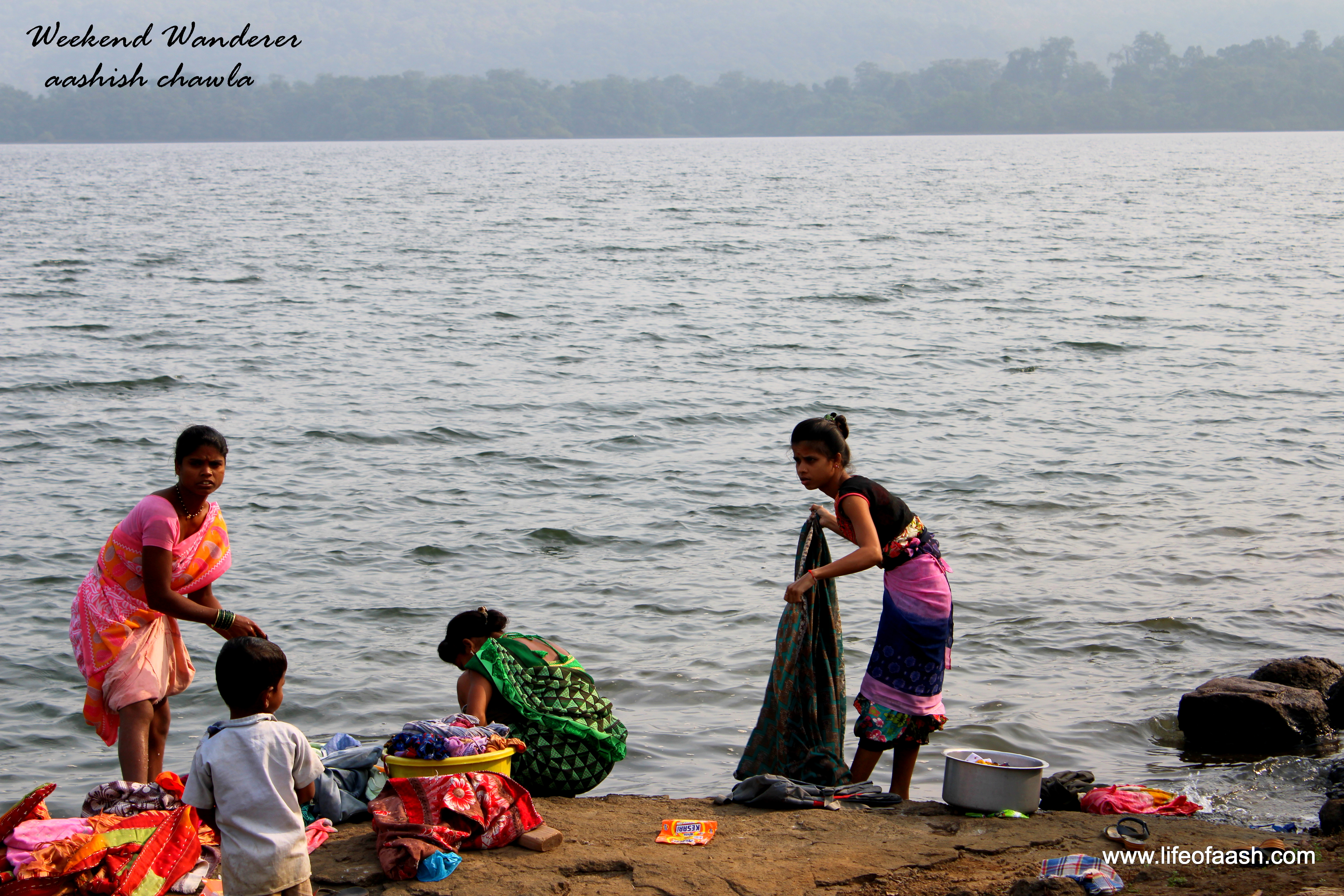 We took few pictures and selfies and moved on to our next destination which was again a lake. Sinchan Lake. 
As we were driving towards Sinchan Lake we happen to cross a Bridge going over Vaitarna river. The view  was so beautiful that I urged Manohar to stop the car and take the unscheduled break to visit the banks of Vaitarna river. We hiked down from the road to the river and spent some time fooling around.
The untouched sandy shores were so slippery and the mud kept sticking to our shoes but yet we dashed  to the edge and got clicked. Ek picture ke liye kuch bhi karega
.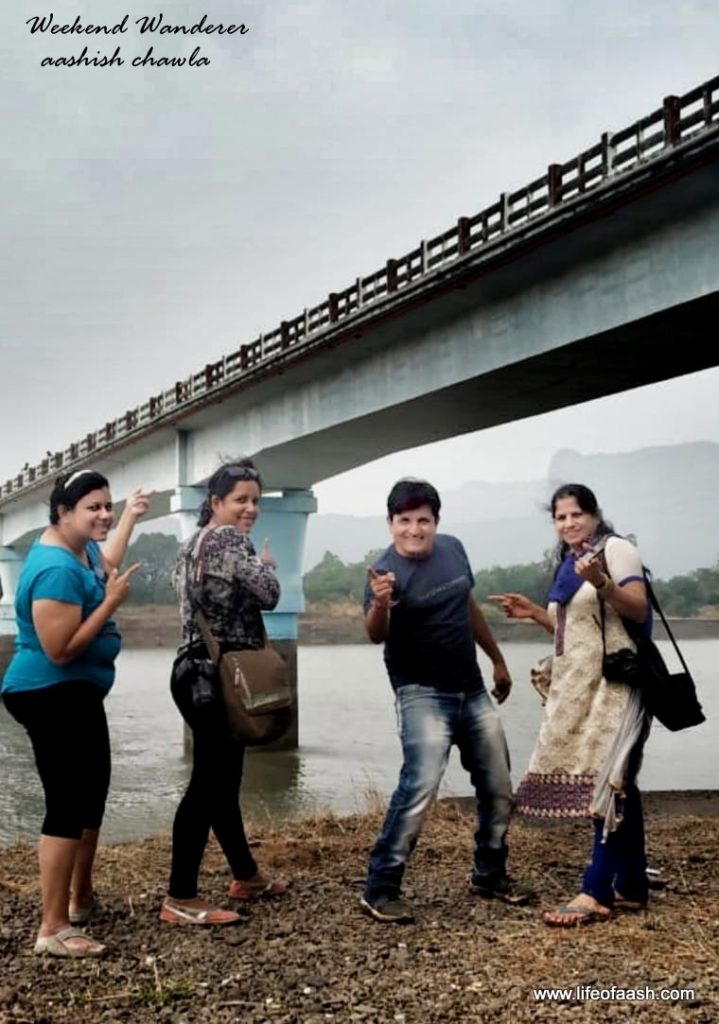 Later we also tried our favorite jumping jack pictures and many more,
Phele bhi bola tha phir bolta hu
Safar me pagalpanti bhi toh  zaroori hoti hai,
kyo ki samajdar toh hum roz bante firte hai
Neha was so impressed with this place that she suggested that next time around we should come and camp here. We again hiked to the top of the bridge and were back in our car with muddy shoes but then there are no rules when we travel, and we rarely follow the itinerary. I am from that school of thoughts that its the journey that matters the most rather than the destination. A little drive and we were at our next destination ie. Sinchan lake.
As we reached the lake to our relief it was not at all crowded there was hardly few boys who were swimming in the lake. we went around the lake which was nestled within the mountains. 
we spent some peaceful moments here and were ready to move on to our next destination which was Ashapur Temple.
As we were driving we came across the sign board of Bhuvangad Fort so I asked Manohar as he was driving the car that can we add this destination too in out trip today He said no problem and we were now on our way to Bhuvangad fort. Bola tha na humara kuch bharosa nahi…Pagalpanti toh kut kut kar bhari hai hum me and we are just like this song of Movie Aandhi
कहाँ से चले कहाँ के लिए
ये खबर नहीं थी मगर
कोई भी सिरा, जहाँ जा मिला
वहीं तुम मिलोगे…..
Please say tuned for the Part 2 of this blog. Kya karu aalsi hu, isiliye baki ki kahani agli baar ke liye
Click on this link to read the next part of this blog.
Thank you for reading the blog. Do comment and share if you like it.
Total Page Visits: 4843 - Today Page Visits: 2