In my previous blog you read how we had a small accident, due to which we had to skip visit of Chittorgarh Fort and we visited only the Sanwariya temple. You can click on this link to read earlier part and blog on  Sanwariya Temple.
Day-2
21st Feb, 2021
Today morning when I got up , I was little upset because of the events of yesterday. I checked out with my wife as to how she was feeling. The pain killers seems to have done their job but then relief through pain killers can be deceptive therefore I cannot take the risk of my wife walking the Chittorgarh Fort with me. So we decided that its better we hire an auto and my wife will sit at one place and enjoy and I'll just complete the ceremony of photo clicking the place.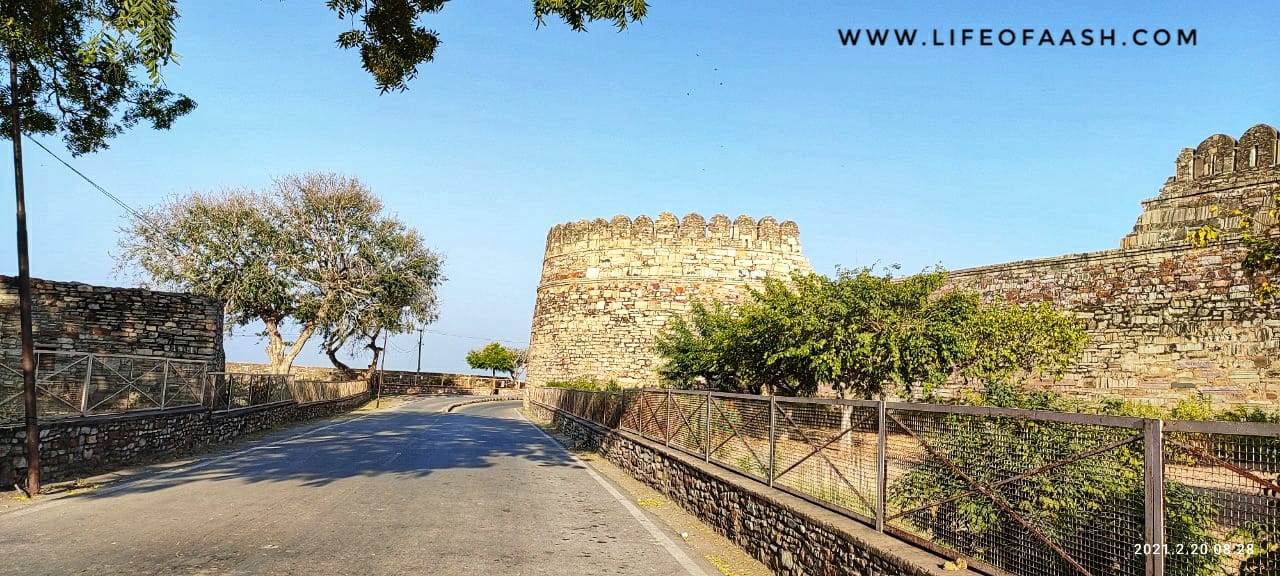 At 8.15 am the auto guy was at our hotel. His services were arranged by the hotel people. Auto person charged us Rs 500 for sightseeing of Chittorgard. So riding on our mini helicopter we were off to Chittorgard Fort.
Chittorgarh is a huge fort. In fact it is the largest fort in India spread over 691 acres. However the good thing is that one can drive through the  fort premises and most of the sightseeing points can be reached without actually trekking the fort.
You may be interested in this:  KANGRA FORT | HIMACHAL PRADESH
In 2013 this fort was declared as UNESCO World Heritage site. Our auto passed through series of Gates. My auto driver who was also self proclaimed guide, informed me that there are 7 gates in this fort and locals call them Pol. The name of these seven gates were Padan Pol, Bhairon Pol, Hanuman Pol, Ganesh Pol, Jodla Pol, Laxman Pol, and the main gate is known as Ram Pol (Lord Rama's Gate). All the gateways to the fort have been built as massive stone structures with secure fortifications for military defense. The doors of the gates with pointed arches are reinforced to fend off elephants and cannon shots. The top of the gates has notched parapets for archers to shoot at the enemy army. A circular road within the fort links all the gates and provides access to the numerous monuments (ruined palaces and 130 temples) in the fort. 
After buying 40 Rs entry ticket per person we entered the Chittorgarh Fort premise and the first Palace that we saw was one of the most huge Palace on the Fort and it is Maharana Kumbha Palace. We walked up from the ramp and come to a huge Courtyard which has this horses and elephant stables.
One look around the courtyard I was captivated by the beauty of the place. Maharana Kumbha Palace today is in a state of ruins , yet it still has that aura of awesomeness, because of the ambience of the palace even when its in ruined state.
Being early morning, there was no one in the palace except me and my wife. Imagine having the whole Palace to yourself especially when you are living in pigeon house apartments in Mumbai. Aaj toh sach me Raja wala feeling aane lagi thi. 
I made my wife sit at one place and I started to roam around the palace all alone. I kept moving from one room to another passing through a narrow passage. The palace was giving me eerie feeling perhaps it could be because of the numerous stories that I had read and heard about this palace.  The palace is believed to have underground cellars where Rani Padmini and other women folks in the royal palace performed Jauhar by jumping into the fire during the attack of Ala-ud-din Khilji in 1303 AD. It is also said that their souls are still haunting this palace. Stories that guides often repeat is that one can at times hear the cries of women calling out for help.
Honestly I take these stories with a pinch of salt because sensation sells hence I personally feel that guides, vloggers, bloggers make out such stories to attract people to their videos, blogs as the case may be. As far as I am concerned I am a timid creature, story or no story, such huge empty places anyways spook me. "Koi bola tha na ki darr ke aage jeet hai…Aadhi baat hi bola tha…. Arre per pehle darr toh hai na usko kon jhelega.
Leaving my wife alone I started to move towards the rear side of the palace climbing up and down on various stone stairs. It was here at the rear side as I was clicking the picture I saw something move from the lens of my camera, my heart missed a beat.
I kept looking at the place but nothing happened again. I heard a murmur sound again and then it stopped. By now I started to perspire, my hands were wet, how can there be sound or movement when there was no one on the fort. I decided to make a run and reach the courtyard.
and I turned and dashed and was flabbergasted when I saw a shadow of lady in gown, before I knew I had crashed into someone in flesh and blood. Someone tapped me on my shoulder and I hear a sound " Are you ok bro"
I turned around and was relieved to see that it was a human. I was honestly shaken, actually a boy and two girls had entered the fort and while I was taking pictures they had moved from the other section towards the back of the fort hence I missed them. Lonely places can drive you crazy., but then one thing is clear there are no ghosts only stories…. or is it ?
Now that there was someone who can click us so I made good use of my fellow traveller.
Now back to the palace. Another famous folklore that is connected to this Palace is that  of Panna Dai. The story goes like this  that when Maharana Udai Singh was declared as heir to the throne  his wicked uncle Bhanvir tried to kill him. When Panna Dai came to know about this she replaced her son Chandan in the prince bed and hid the prince Udai Singh in a basket covered with flowers and ensured that he escape safely out of the palace.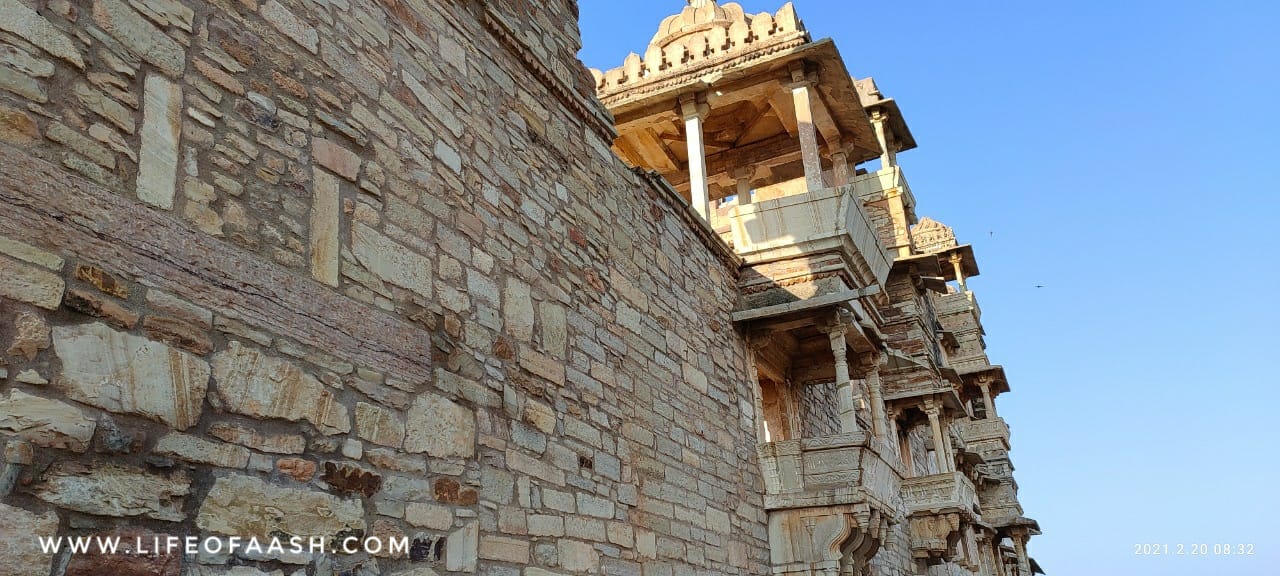 In the meanwhile Bhanvir thinking that he is killing the prince , killed Panna Dai's child. This story of sacrifice has become immortal in Mevar. It was only because of Panna Dai's sacrifice that Maharana Udai Singh years later on was able to fight and capture Mevar back from his uncle.
Another famous personality Meera bai too had spent some part of her life in this palace.
I was very impressed by this palace and I think we spent almost 45 minutes here, therefore as soon as I came out of the palace and reached my auto, I found my auto driver to be in a grumpy mood and he rebuked me " Agar aise aap time lagate rahe toh pura din nikal jayega"  Well I got the message loud and clear and decided that henceforth I shall be little quick. But deep down in my heart I know that this is not the last time I am seeing Chittorgarh Fort. I'll be back very soon.
We now moved on to our next destination Meera Mandir. Stay tuned for next part
To read from the beginning about our journey Click Here
How To Reach Rana Kumbha Palace, Chittorgarh
By Road: Rana Kumbha Palace is located in the Chittorgarh Fort at a distance of 5 km from center of Chittorgarh on Fort Rd. One can easily reach here by rickshaw, local bus or taxi or by walk.
By Rail: Rana Kumbha Palace is well connected through nearest Chittorgarh Railway station (6 km) to major cities railway stations like Delhi, Agra, Mumbai, Chennai, Bikaner, Pali, Jaipur, Ahmedabad.
By Air: Rana Kumbha Palace can be reach through nearest Udaipur airport (98 km) which is well connected with regular domestic flights to Delhi, Mumbai.
Thank you for reading my blog. If you like my blogs please do share them with your friends and join my site. Your comments and views on the blogs  are very important to us , so please comment on the blog.