In my earlier blog, about my visit to Chittorgarh, you had read as to how we visited Sanwaliya Temple, despite the unfortunate accident and next day i.e. today we started our day with a visit to Chittorgarh Fort, where we visited the huge Maharana Kumbha Palace, then the beautiful Mirabai temple, and after that, we were awestruck by the beauty of the Vijay Stambh.
You can click on this link in case if you want to read about our journey from the beginning.
Back to our journey on Chittorgarh Fort:
The Rajasthan heat was hitting us hard even though the time was just 10 am. We stopped for a while and had refreshing chilled lemon juice to quench our thirst, before moving on to our next destination Rani Padmavati Palace.
In order to have a better understanding of Padmini or Padmavati Palace, It is necessary that we must know Who was Rani Padmavati, who resided in this palace?
Indian history abounds with captivating tales that introduce us to our rich and glorious past. (As I have earlier also said, and I am reiterating again, please introduce your children to Amar Chitra Katha Comics for mythological tales) Our past is so fascinating that the more we learn about it, the more intrigued we become.
For me as to whatever I had read about Rani Padmavati since my childhood days, she was an epitome of flawless beauty, who incidentally became a part of history books.
Who was Queen Padmini or Rani Padmavati?
There are four different versions of stories regarding the existence of Rani Padmavati
1 Malik Muhammad Jayasi's Padmavat (1540 CE) version
2 Hemratan's Gora Badal Padmini Chaupai (1589 CE) version
3 James Tod's version
4 Bengali adaptations
However in this blog, I shall be covering only the poet Jayasi Version because if I keep writing all the versions then I will end up writing a novel, not a blog (Idar chota sa blog koi padta nahi , Puri dastan likhi toh mere ko tadipar kar denge)
You may like this –  Jaswant Thada : Taj Mahal of Marwar
According to the Poet Malik Muhamed Jayasi's version, Rani Padmavati was born at some point between the 13th and 14th century, in Simhal Dvipa, former Sri-Lanka. As the story goes, Rani Padmavati was noted for her unparalleled beauty and had caught the eye of many suitors. She also had a talking parrot by the name, Hira-mani, However, Rani Padmavati's father resented the parrot's closeness to his daughter, and ordered the bird to be killed.
The panicked parrot bade goodbye to the princess and flew away to save its life. It was trapped by a bird catcher and sold to a Brahmin. The Brahmin bought it to Chittor, where the local king Ratan Sen purchased it, impressed by its ability to talk. The parrot spoke of Padmini's beauty at length to Chittor's Rana Ratan Singh, who then proceeded to travel to Simhal Dvipa to attend the swayamwar and ultimately won her hand in the swayamvar.
So this was the story of Padmini or is it…. Bhai picture abhi baki hai, Asli plot toh abhi aayega jab villian aayega ki… Ab hoti hai entry Allundin Khilji
You may like this- Jodhpur Dairies | Mehrangarh Fort- Gates
The legend of Rani Padmavati is a tale of lust and war, which unfortunately ended in tragedy.
The story of Rani Padmavati and Alauddin Khilji is mentioned in Padmavat, an epic poem written by Malik Muhammad Jayasi. A long time ago, in the early 14th century, Chittorgarh was ruled by Rawal Ratan Singh of the Sisodiya Clan. Rani Padmavati was his second queen, whom he had married after winning the swayamvara. (Thodi si story repeat kar raha hu bura mat lena)
Among the king's many subjects was Raghav Chetan, a musician in his court. What nobody knew however was that Raghav was also a sorcerer. One day, while he was performing sorcery which was considered illegal, he was caught and banished by the king.
Enraged at the humiliation, Raghav Chetan started plotting revenge. He went to Delhi and took refuge in the court of Alauddin Khilji, the Sultan of Delhi. Soon he gained the Sultan's trust; taking advantage of his closeness with the sultan, he began singing the praise of Rani Padmavati's beauty, thus invoking the Sultan's curiosity.
Intrigued by the description of Rani Padmavati's enticing beauty, Alauddin marched to Chittorgarh with his soldiers and set up camp outside the fort. Word was sent to Rawal Ratan Singh that the Sultan of Delhi had come to catch a glimpse of his queen after which he would leave.
The request made the King uncomfortable as Rajput custom didn't allow women to meet strangers. But Rawal Ratan Singh knew that upsetting the Sultan would result in an attack. So, to save his kingdom and his people, he agreed that the Sultan could see his queen.
Rani Padmavati didn't want to have a face-to-face meeting with the Sultan. It is believed that the mirrors were arranged in the palace in such a way that the Sultan could see the queen's reflection, without the queen having to meet him in person.
But with just one look at Rani Padmavati's reflection, the Sultan was smitten by her beauty. He was so captivated that he changed his mind and decided that he would not leave without the queen. On his way back to the camp, the Sultan was accompanied by Rawal Ratan Singh.
As they reached the end gate of the palace, Khilji sensed an opportunity and captured Rawal Ratan Singh. He then sent a message to the palace that if they wanted to see their king alive, Rani Padmavati should accompany him to Delhi. That was when; two loyal generals of the king – Gora and Badal – devised a plan and sent a message to the Sultan that the queen had agreed to go with him.
The next day, over one hundred palanquins made their way to the Sultan's camp and he was told that the queen was coming with her maids. Only she wasn't. The palanquins had soldiers were hidden inside, who fought fiercely and freed their king.
Meanwhile, Devpal, the Rajput king of Chittor's neighbor Kumbhalner, had also become infatuated with Padmavati. While Ratan Sen was imprisoned in Delhi, he proposed marriage to Padmavati through an emissary.
When Ratan Sen returned to Chittor, he decided to punish Devpal for this insult. In the ensuing single combat, Devpal and Ratan Sen killed each other.
Meanwhile, Alauddin invaded Chittor once again, to obtain Padmavati. Facing a certain defeat against Alauddin. Nagmati and Padmavati along with other women of Chittor committed suicide by mass self-immolation (jauhar) so as to avoid being captured and also to protect their honor.
The men of Chittor fought to the death against Alauddin, who acquired nothing but an empty fortress after his victory. Khalji's imperial ambitions are defeated by Ratansen and  Rani Padmavati because they refused to submit and instead annihilated themselves
Controversies around Queen Padmini 
Tale of broken mirrors at the Palace:
One more thing I want to add that mirror was also removed from the wall after the protest that erupted during the release of the movie Padmavat. In fact claiming responsibility for the attack, the Karni Sena said it had warned that the mirrors in the Padmini palace would be destroyed if they were not removed. The mirrors were installed about 50 years ago. The group alleges that the mirrors misrepresent the story of queen Padmini, who preferred to commit Jauhar or self-immolation to protect her honour rather than submit to Muslim ruler Alauddin Khilji.
Khilji, the Sultan Of Delhi, had attacked the kingdom of Chittorgarh in 1303 apparently to capture the queen, renowned for her beauty.
The mirrors in Padmini Mahal are shown to tourists as part of the narrative that the queen's face was revealed to Alauddin Khilji in a mirror as part of a compromise with her husband Rana Ratan Singh. Karni Sena activists insist that it is wrong to say the queen's face was ever shown to the ruler. Mirrors, they claim, did not exist during the time.
Tale of Covered Plaque
The plaque outside Padmini Mahal, which was put up by the Archeology Survey of India (ASI), stated that the Padmini Mahal was the spot where Allauddin Khilji had a glimpse of Padmini. Objecting to this, the SRKS had demanded that the plaque be removed. Fearing violence, the department has now covered it with a red cloth.
The older Plaque had the following information on it. The plaque reads: "This palace is of immense historical importance in the history of Mewar. Associated with Rani Padmini, this beautiful building stands in the northern margin of Padmini lake. It is said that here Rana Ratan Singh showed a glimpse of the legendary beauty of his wife Padmini to Alauddin Khilji through a mirror. After which, Alauddin Khilji went to the extent of ravaging Chittaur in order to possess her."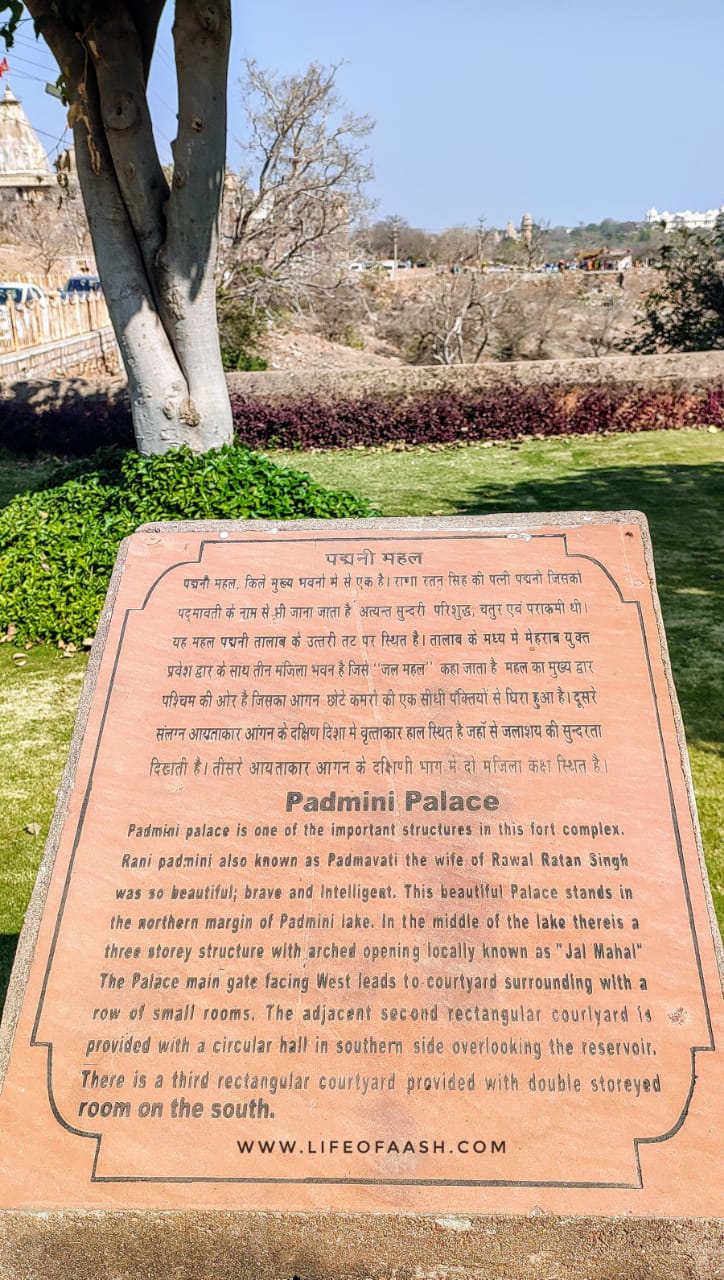 Now I'll share my personal experience, As far as I was concerned I felt that the structure of Padmini Palace looks more recent and does not go with the other structures on the Chittorgarh Fort. Most of the structures, be it be Rana Kumbha Palace, Mira mandir, Shiva temple, or Vijay Stambh, all had intricate carvings on them and one can feel them to be ancient. However, Padmini palace looked very simple and plain in comparison to that. Still a historical place is a part of history so naturally always close to my heart.
Trivia for Movie buffs
Three beautiful leading ladies of the film industry has portrayed the role of Rani Padmavati
Vijayantimala  as Chittoor Rani Padmini in the Tamil (1963)
 Hema Malini played the role of Rani Padmini in one of the episodes of the anthology series Tera Panhey (1986)
Deepika Padukone played the role of queen Padmavat in the movie Padmavat (2017)
We moved out of the palace and our auto drove off towards Kalika temple but due to paucity of time I had to give it a miss, our checkout time at the hotel was 11 am so we rushed off but not before stopping over at the Kirti Stambh. We took few photos and moved on to our hotel to check out.
Thank you for reading my blog. If you like my blogs please do share them with your friends and join my site. Your comments and views on the blogs are very important to us, so please comment on the blog.