If you missed reading the first part of the Sikkim Series blog Click Here
In my previous blog, if you remember, I had told you how eager I was to see the sunrise from my hotel balcony, well it was a spectacular sight, what I saw in the morning was beyond words. the changing colours of the skyline looked like a painting done by nature.
While we were watching the sunrise, a thought occurred in my mind and I told my wife and my daughter that when we are in Sikkim, we should be prepared to start our day early, because by 5 am the sun shines so brightly that it seems it's 10 in the morning and by 5 pm in the evening, the sun vanishes away, plunging everything is darkness as if it's 10 o'clock in the night.😃
After enjoying the amazing sunrise, we got ready and had a good breakfast of Aloo parathas at the hotel's restaurant.
Meanwhile, I got a call from my driver that he shall be reaching our hotel by 9 am, Earlier it was decided that we would be traveling to Lachen and the next day we shall be going to Gurudongmar lake and from there to Lachung. However due to not getting the hotel booking my travel plan was flipped and instead we were on our way to Lachung.
As they say Jana tha Japan pahunch gaye chin samajh gaye na… Bhai sach me chin nasdik hi tha 😃
But before landing in Lachung we had a lovely drive through some glorious mountains and bumpy roads,😃.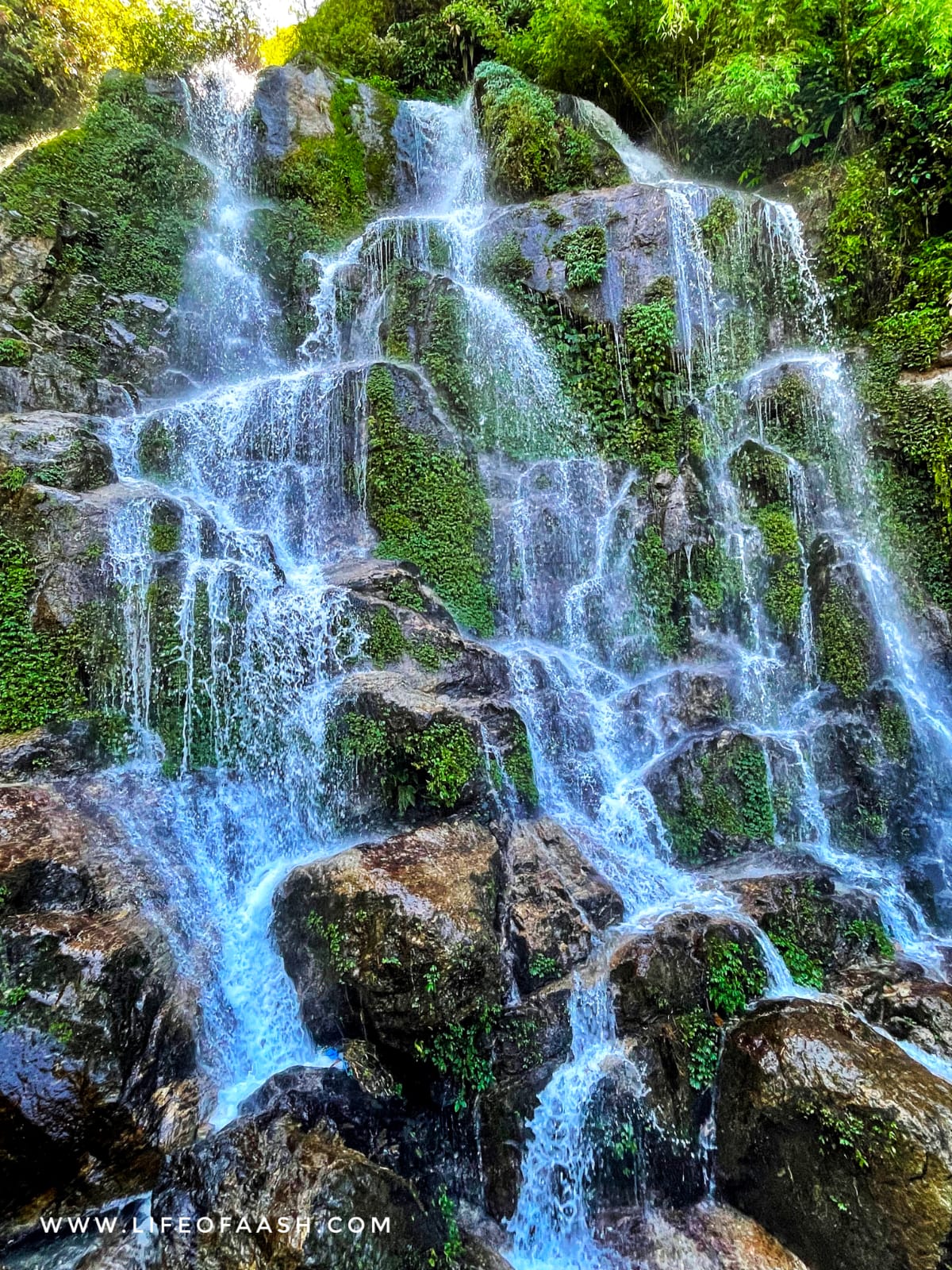 As soon as we were leaving Gangtok, the first thing we came across was a lovely waterfall known as Bakthang waterfall. As this was the start of our journey we were very much ecstatic and almost pounced on our driver to stop the car so that we can click the picture. Poor guy was protesting that this doesn't come in our sightseeing schedule. This waterfall is to be covered during local sightseeing, before he could even open his mouth all three of us were out of the car and busy masquerading La Sharukh Khan style before the waterfall. A few quick snaps and we were back in a jiffy in our car. Did not want to bug the driver at the beginning of the journey because we knew that he will have a tough time dealing with one poser and one photographer😃.
Talking about Bakthang Waterfall, In the local language 'Bak' means a forest and 'thang' means meadow or place. The natural spring water source of these falls originates from the dense vegetation above this site which is preserved as a Smriti Ban by the Forest Department. The place also offers a cafeteria for tea and snacks and local photography services to take pictures with local costumes and dresses for visitors. Some of the adventure enthusiasts can also try rappelling down the cliff on a prefixed rope which is organized by the local tourism committee of the area. The local taxis conducting daily sightseeing tours of Gangtok include this spot as one of the points of interest to visitors.
After travelling for some time we came to Butterfly waterfall which neither has any butterflies floating around nor looked like a butterfly. But then who cares, Rose by any name will smell the same.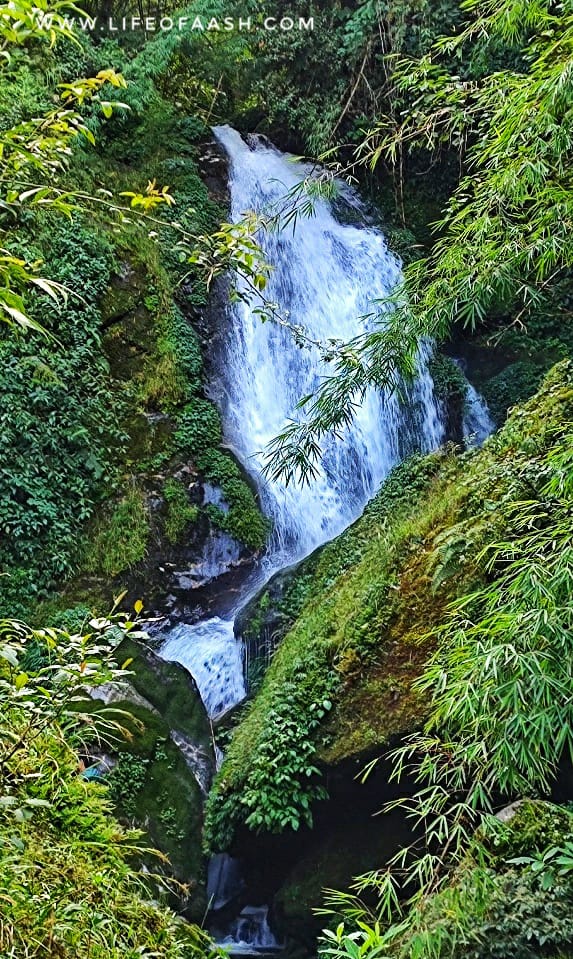 This waterfall is around 21.4 km away from Gangtok and near the waterfall, a watchtower is constructed from where one can enjoy the sight of the waterfall from a height.
Actually, these small breaks are good for this long journey to Lachung. Hum ko toh photo lene ka bahana chahiye so we just drop and do good amount of photo shoots.
The drive to Lachung was quite pleasing, lovely mountain views, River Teesta following you almost everywhere and the colorful prayer flags fluttering along the roads made the atmosphere all the more divine and mystical
As we were traveling en route we saw a small restaurant, behind which we could see some lovely mountains, so we requested the driver to take a break. On the top of the restaurant, there was a small shop, we purchased a few prayer flags, a hand fan.
We spent some time clicking pictures with the local children and offered them chocolates and biscuits that we were carrying with us. Soon we waved goodbye to those smiling kids and moved on.
Next, on our way, we stopped at a Kanchanjunga viewpoint near Singhik, which offered us an amazing view of mountains, valleys, and rivers. This time my driver warned me , Sir ek spot per itha time lagega toh hum raat ko Lachung kaise pachunge …. Well I was prepared for this dialogue because hum gareebo ke sath aisa hi hota hai , hum photo lete rehte hai aur driver dhamki dete rehte hai…. The duel goes on 😂
After moving out from here, Our driver informed me that our next stop was Naga waterfall, my reaction to this announcement was like Sikkim me toh waterfall  har mod mod per hai , hoga koi  ek aur …. But I was wrong! because the moment when I saw this huge flowing waterfall from the car windshield I was totally zapped and believe me that I almost jumped out of our car and holding my camera ran toward the waterfall.
This gigantic multilayered waterfall was altogether a different experience only to be seen in real to be believed. The pictures given below will explain to you why I was so excited.
We spent quite some time here clicking pictures and climbing almost every rock there🌹😅 literally left no stone unturned😂😂😂😂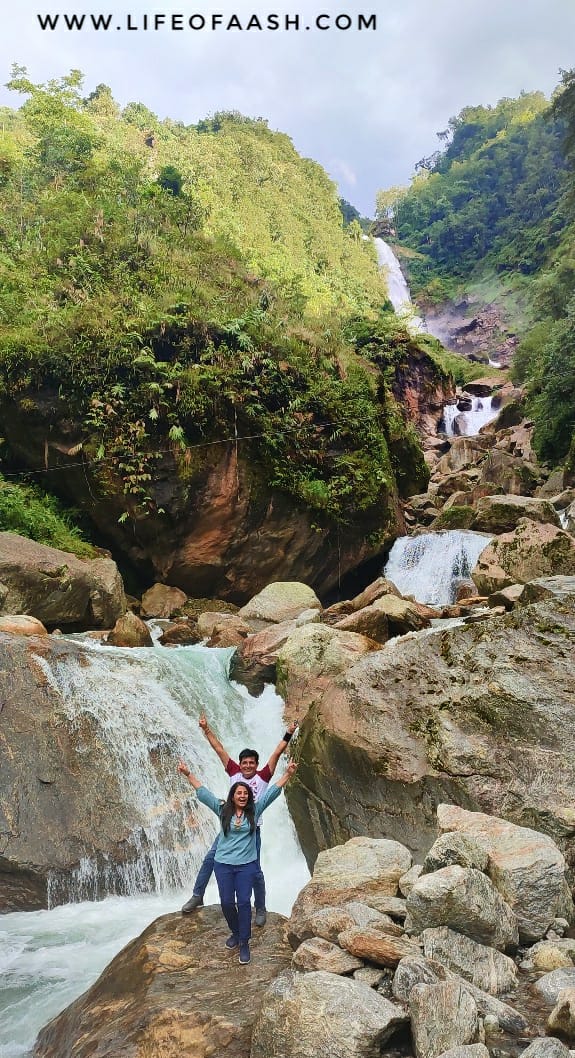 The force of the water was tremendous and it truly added to the magic of this gigantic waterfall. Very reluctantly we left the waterfall to go to our destination Lachung. So much so that we felt the waterfall whispering to us Tussi na jao ji😃
En route, we stopped over at Chungthang, where our permit and other papers were verified. Talking about Chungthang it is a small town in North Sikkim, located at the confluence of Lachen and Lachung rivers, where they form the Teesta River, considered to be the most important river in Sikkim.
Chungthang is considered to be a sacred site by locals and Buddhists. It is believed to be the place where Guru Padmasambhava himself walked around and sat on a rock. This rock has a crevice and footprints of Padmasambhava as per legend.
The view of the dam is very amazing from here. As we were on our way to Lachung, hence we were not able to visit Chungthang town. I have added this place to my bucket list of travel.
It was dark when we reached Lachung and retired to our hotel room. At night we were served excellent dinner and soon we went to sleep as we were to leave for Yumthang valley early tomorrow morning.
Stay tuned for our next part of the blog 
Thank you for reading my blog. If you like my blogs please do share them with your friends and join my site. Your comments and views on the blogs are very important to us, so please comment on the blog.
Total Page Visits: 1686 - Today Page Visits: 2