Few days back I had been to Wai near Mahabaleshwar and I was simply enamoured by the beauty of the ancient temples set against the picturesque backdrop of clear blue skies, flowing river water and the rhythmic musical chimes of the temple bells.
It was here at Wai during my conversation with the locals, I came to know that there are hundreds and hundred of temples in and around Wai and thus germinated  the idea of Mission Satara and I promised myself that I shall be soon coming to visit Satara and explore the treasures of the past, then be it be temples, forts, or even a stepwells. तोह दोस्तों अब समझें  कहानी कैसे सुरु हुई
.
If you remember in my last blog I had traveled with Manohar and Neha to Vandri Lake (Click here to read) and many places near Mumbai, so this time also when Manohar called, asking me if there is any program for the weekend. I told him as to how I was still researching for the places that I can visit in Satara, But I also hasten to inform him that my research is still going and its incomplete, so please give me sometime.
However it turned out that Manohar would be busy rest of the month hence we have only this weekend to make our program.अब आधा homework कर के स्कूल जाने की आदत तोह बचपन से थी , सोचा चलो कोई बात नहीं जैसे स्कूल जाते समय रस्ते में बस में होमवर्क पूरा करते थे वैसे आज भी कर लेंगे। जितनी कहानी इस बार की बनेगी उतनी बनाएंगे बाकि अगली बार के लिए, वैसे भी कोनसा सतारा भाग रहा है।  
Friday,10th.Jan,2020:
Late night the whole program was locked after series of mobile calls and it was probably 12 am when we decided that Satara is the place( Mind you we were still discussing few other places too viz Bhor for Raireshwar, Rohida). Manohar has left the last message at 9:30 pm. "Just let me know in the morning wherever you guys have decided to go, Going to sleep as I have to drive the car tomorrow". Before breaking up the meeting Neha and myself, we had decided that It's Satara only for now! and we shall be meeting at 6 am at Ghatkopar.
Saturday,11th. Jan 2020
I left my house by 5.30 am and was there at 6 am at Ghatkoper, Manohar and Neha too were there and we all left for Satara with new excitement, मनु भाई गाड़ी चली पम पम 
Driving from Mumbai to Satara is quite long drive, we drove almost for 5 hours. Our first pit stop as usual was near Lonawala. A small Loo and Sho (Arre pagal photoshoot
) break and we were soon on the national highway, till we could find our diversion for the Limb village, Where our first place of interest i.e is Baramotichi Vihir.
Incidentally it so happened that Manohar and me, we were so engrossed in our discussion as regards to a particular song which was playing on the car stereo that we missed the left turn and so we had to drive all the way ahead and take a U turn.Leaving the highway and moving on the road to LImb we passed few old houses and made a small stop for clicking the photos.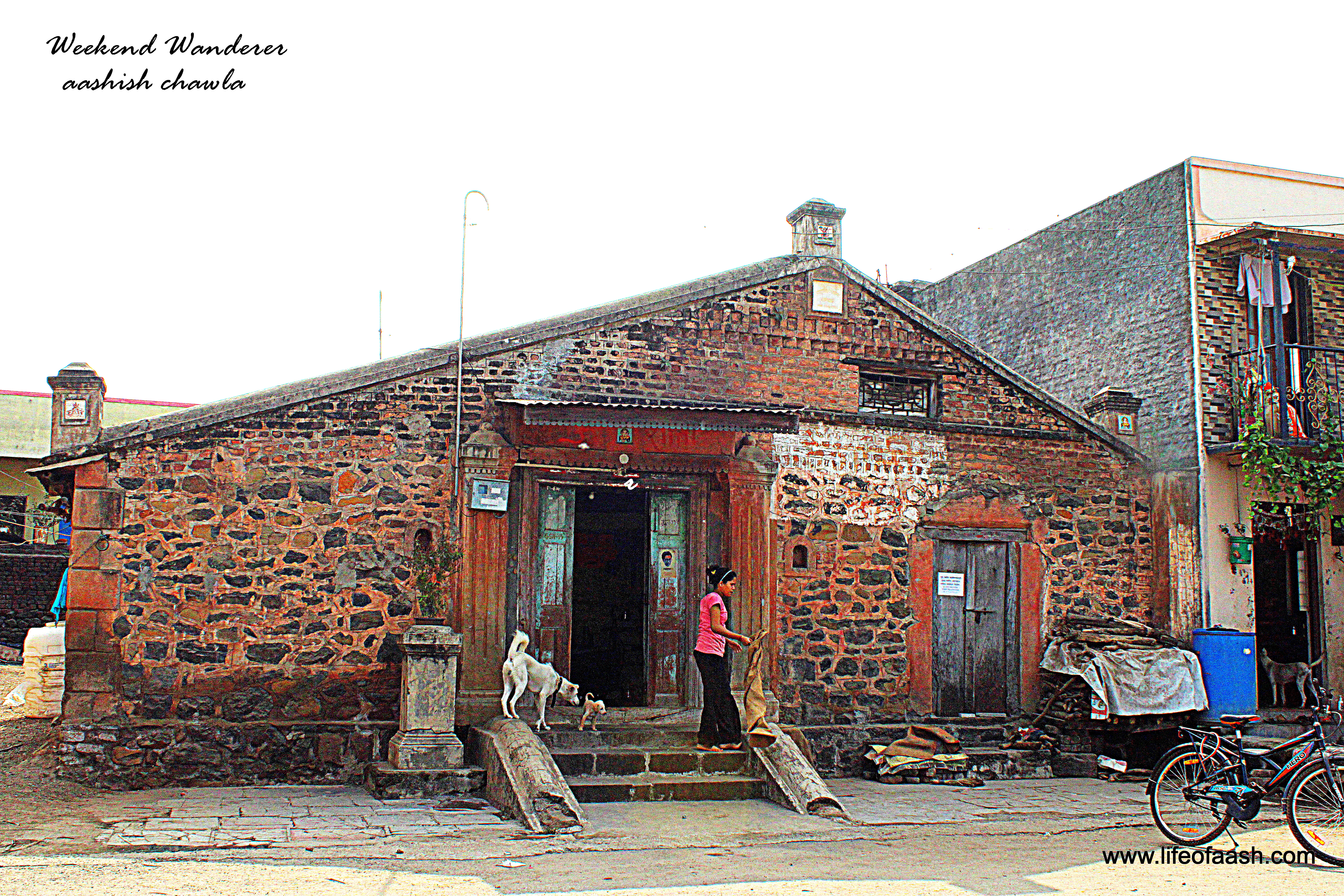 The road which we took was getting narrower and narrower and at one point the GPS was telling us to go straight and take a right, However a local village guy who was driving the motorcycle behind our car indicated me to take right and not go straight, on our part we followed the GPS because we thought how come he would know that we intend to go to Bara motichi Vihir. ( या फिर उसने सोचा होगा की मुंबई की कार यह गांव में क्यों.. शायद बारमोतीची विहिर ही देखने आए होंगे ). Anyways we were faithful to Google and we indeed reached the entrance of the Bara Motichi Vihir but guess what, Just from the opposite side We see a familiar face with a smug smile, Yes the face of the same local guy on motorbike who had indicated us to come behind him.वैसे आप सोच रहे होंगे की इतनी रामायण सुनाने का कारन क्या था…. कारन यह था की अगर आप किसी भी गांव या interior इलाके में जाएं तोह लोकल की सुन लिया करो……. ज्यादा गूगल के भरोसे रहे तोह एक दिन पक्का आपको गूगल अरब सागर भेज देगा
.
As we were entering the village , There was hardly any indication that we may come across this stepwell, however as our car neared the google indicated point, we noticed few bikes and cars parked. BAD SIGN ! I thought because whenever I see this kind of scene of cars and bikes, my worries are that the place I have come to see would be crowded and as thought my fears indeed came true there was indeed quite a few groups scattered around the complex. Last week too something same had happened on our road trip to Kelve. But अब क्या करे , इंडिया और भीड़ का अटूट नाता है…as they say made for each other
.
(Here I want to add that as there were many people on the day we visited this Vihir so taking proper pictures were not humanly possible hence I requested one of my friend Hemant Jadhav to allow me to use few of his pictures)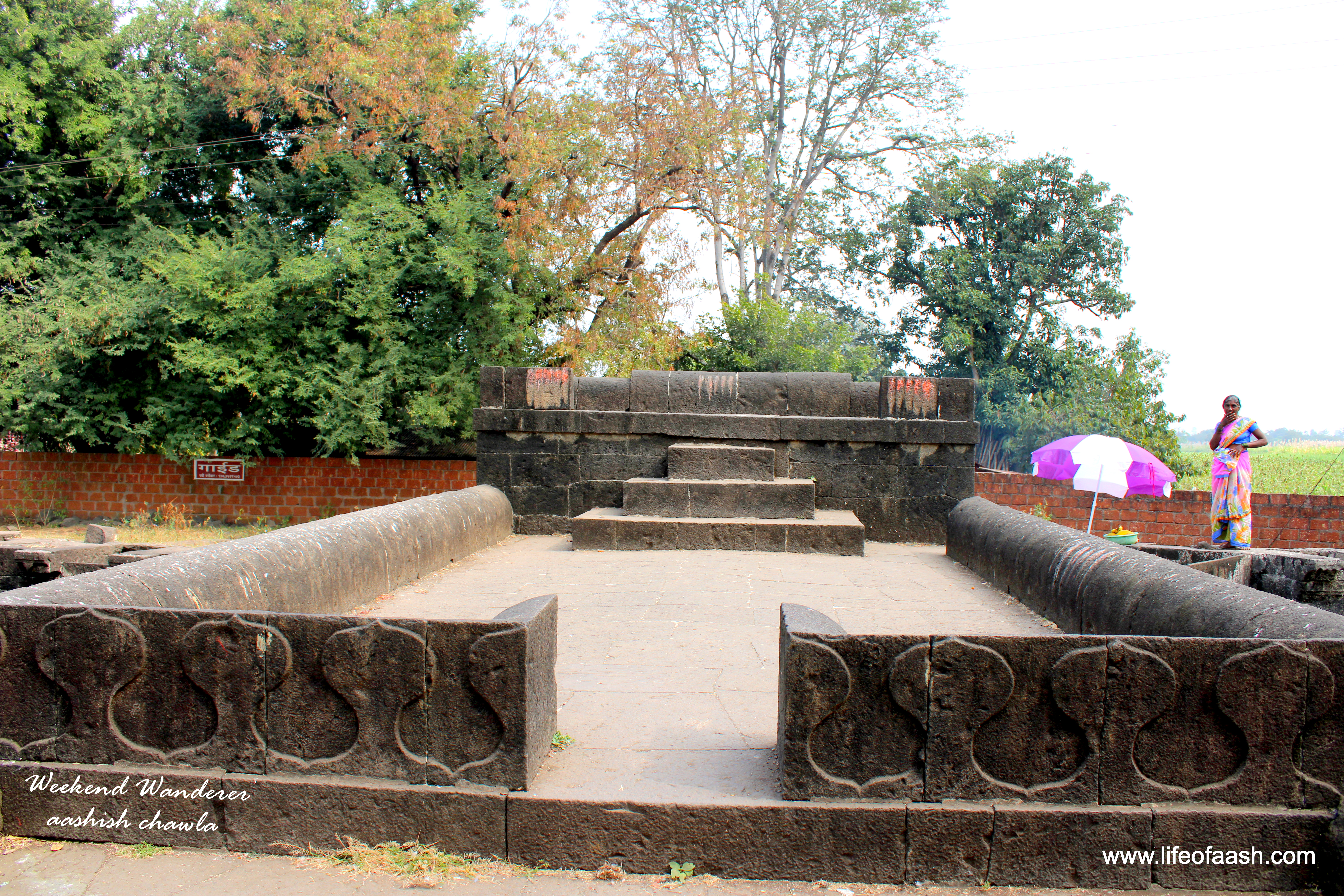 After getting down from our car we entered the Bara motichi Vihir complex, The entrance to the complex is simply a small opening in a red brick wall. Talking about this Baramotichi Vihir , it may not be as exotic as Rani ki vav , but nonetheless for me its period of its construction, the history attached with it is more important. After all this vihir is again one of the gem of the ancient past. अब चाहें यह छोटा हीरा ही सही…… हीरा तोह हीरा होता है विश्वास न हो तोह किसी महिला से ज़रूर पूछ लेना
(It doesn't matters if the stepwell is just a small diamond, because after all a diamond is a diamond whether big or small and if you don't believe me, Ask a women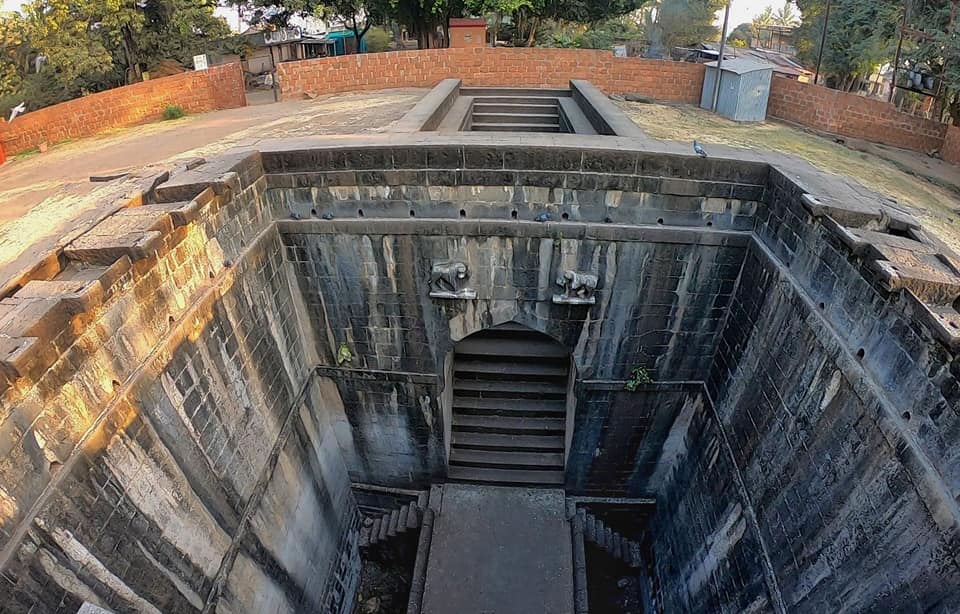 Maharashtra as compared to Rajasthan has lesser Stepwells probably it could be that Maharashtra was always blessed with abundant rains or may be Maharashtra rulers were lazy
(Believe me guys I could be wrong too, So if you have any other view point on this aspect please do write in comment section and let me know…so waiting friends) Well now back to our story. As I said earlier that this Vihir is not as exotic as Rani-Ki-Vav or bigger than Toorji-Ka-Jalhra 
Baramotichi Vihir was constructed in the year 1641 and 1646 by Virubhai Bhosale. This well was used to water the hundreds of different varieties of Mango trees which locals say were procured by Virubhai Bhosale. This well also served as secret meeting room. There were 12 pulleys (Baramoti) in operation hence the name 12 Motichi Vihir. As regards to the size of the stepwell it is 110 feet deep and 50 feet in width.This place is situated in Limb village of Satara and this stepwell is well marked on Google maps and luckily the locals also know the place as one can easily reach this stepwell.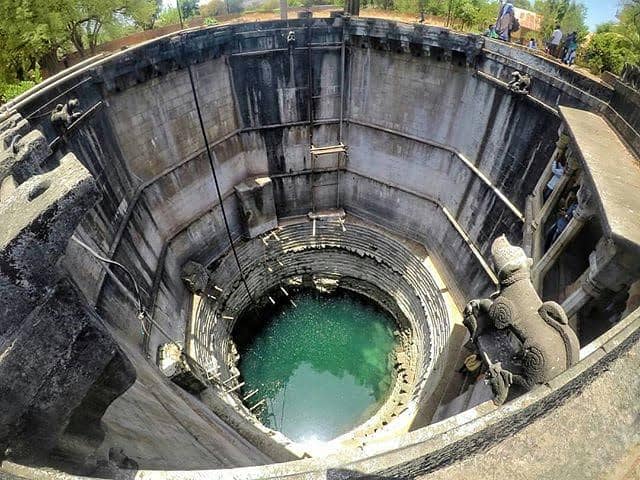 With the fear of crowd in my mind,with heavy heart I entered the complex. At first glance you will hardly feel that there is a stepwell, especially if looking from the ground level, but as we go nearer we see  the stone stairs going downward and entering the same we reach the lower section of the stepwell,
Once at the lower section , you see a small room on top  and an  octagonal shaped well ahead.  The small enclosure or room kind of thing on the upper floor was something similar to what we had visited  Naldurg Fort. 
We were given to understand that during the ancient times secret meetings were held  in that above room which had those balconies attached to it.However on this day with lots of people moving in and out of the room it was really very difficult to imagine that this could be a secret meeting place. Actually I have understood that we have to take the narrations of the guides with pinch of salt. They have this habit of dramatising the events. 
Inside the Secret room there are few pillars with some carvings on them.Personally I felt the stepwell was not well maintained but still standing there I could still feel the richness of the place centuries ago बॉस जगह का एहसास करने के वास्ते थोड़ा फ्लैशबैक में जाना ज़रूरी है
In one of the blogs I had read that this stepwell has 3 active springs which provides fresh water all through out the year.
other than the entrance from the front there was another entrance from the side from the top which takes you to the secret room. Walking through this narrow stairs can give you eerie feeling.
We spent sometime clicking the pictures, honestly it took lots of effort on our part to find a frame where there are no people around but seeing our pictures here you will realise that we indeed managed to click lonely kind of pictures.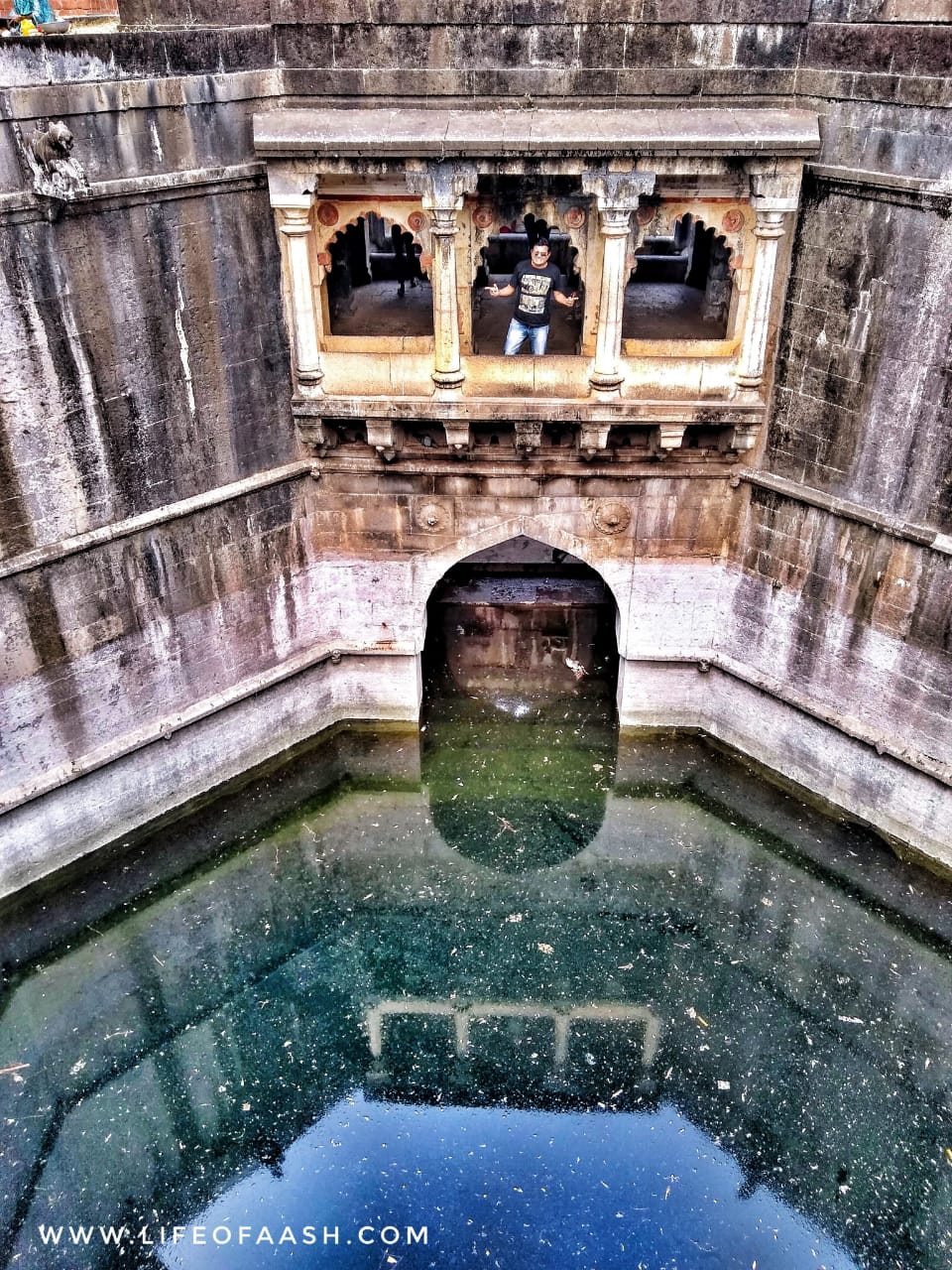 But then as they say Life goes on…so we bid goodbye to this stepwell and were on our way to our next destination which again is a lesser explored Shiva Temple , which has large  numbers of Veerghal or Herostones.
If you are interested to know about it then please stay tuned,Watch out for the next part of this blog …Till then fasten your seat belt and be with us on this road trip to Satara. 
Thank you for reading the blog and please do like comment and join our site if you like my blog.
Total Page Visits: 4981 - Today Page Visits: 5