In my last blog, If you remember we had visited Baramotichi Vihir (Click on this link to read)  of Limb Village near Satara, once we were done with our exploration of this ancient stepwell, we decided to proceed to our next destination  Shree Bhairavnath Temple.
The idea to travel to this temple actually happened few years back when one of my friend who had gone for Chandan Vandan Trek discussed about this place with me while we were trekking to NANEGHAT TREK. Based on this 5 minutes conversation, I made a small note in my notebook , that whenever I shall be planning to explore places in and around Satara I will check out the Bhairavnath Temple.
For starter I had only the name of the Temple but no exact location and secondly I knew that it was somewhere close to the base village of Chandan Vandan Trek , hence based on this information I started my search on google and was indeed successful in finding the place.
Our Journey :
After coming out of the Baramotichi vihir we again took to the highway driving towards the Satara City. We kept asking the locals as to where is Kikali Village however we were not getting any satisfactory reply, Traveler Tip: there is a way through the village to this Bhairavnath temple , you need not come back to highway, On other hand we were depending on the google map also! Just few kms before Satara city there was one left turn, which we took as suggested by google map, at the turn we asked locals again but again no reply , Sun was getting hotter and we were feeling quite thirsty too, Luckily for us we saw a sugarcane juice seller,  and drinking sugarcane juice is something mandatory ritual for us when we are travelling the interiors of maharashtra.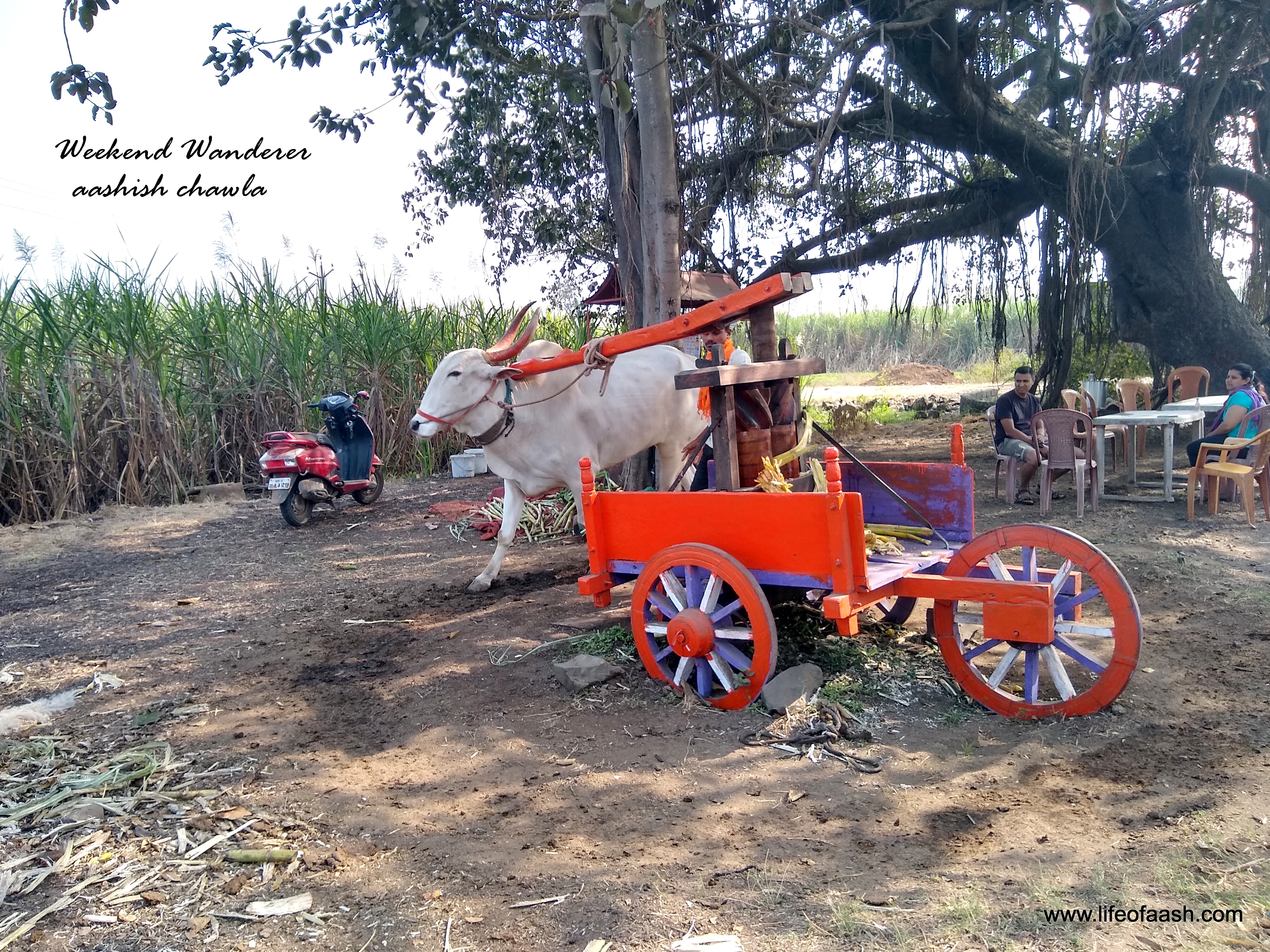 Fresh juice was extracted by the bull pulled machine, we had good two glasses and it was here that we stuck a small conversation with the Juice seller , who guided us properly as to how we can reach to this Kikali village and further to this temple, matter of fact he sent one person to assist us and in no time we were at the Kikali Village.
Moving little ahead into the village We saw a beautiful road lined up with the series of trees and just on its left there were 15-20 stone stairs going up towards Shree Bhairavnath  Temple gate. We climbed these stairs and entered the temple complex.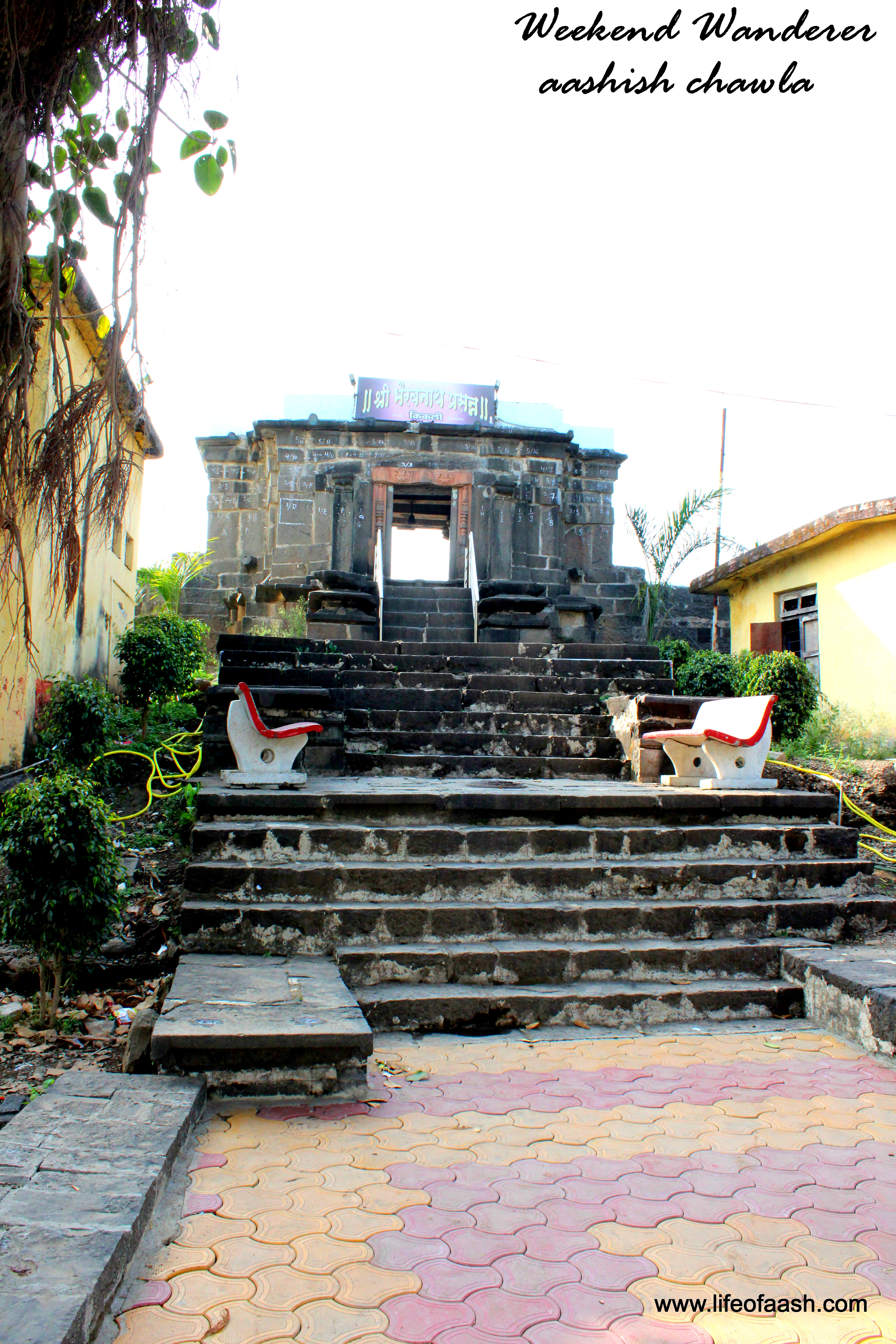 The moment I set my foot inside the complex all the exertion and, all the heat evaporated in the ecstasy of looking at a temple, Yes a temple so calm and beautiful. What an ecstatic feeling, Not a single soul, Yes not a single soul , we had all the temple for ourselves alone.
Had we been not on a tight travel schedule I would have loved to spend time here sitting and meditating for hours but भटकती आत्मा को आराम कहाँ , वह तोह कभी इस डाल पर, तोह कभी उस डाल पर 
Talking about this temple , Not much could be found on the net but as per the plaque put up at the temple we get the idea that this temple was built around 12-14 century AD during the Yadavas era. Further I was told that this temple is one of the 14 Bhairavnath temples in Maharashtra ( I think I can now add these 14 temples for my future exploration, got to do research and find. If you have any idea please do give the details in the comment section. This temples confirms to the standard of the classic Tridala plan of temple architecture whereby the main and the southern sanctum houses the Shivlinga and the northern sanctum has the sculpture of Lord Bhairavnath.
As we enter the Temple complex we see the lovely temple with lots of carving on its exterior and there is a beautiful deep stambh, typical of most ancient temples, just before the mouth of the temple.
Removing my slippers we entered the temple, as we enter the main hall the first thing that you notice is a huge and impressive Sacred bull Nandi.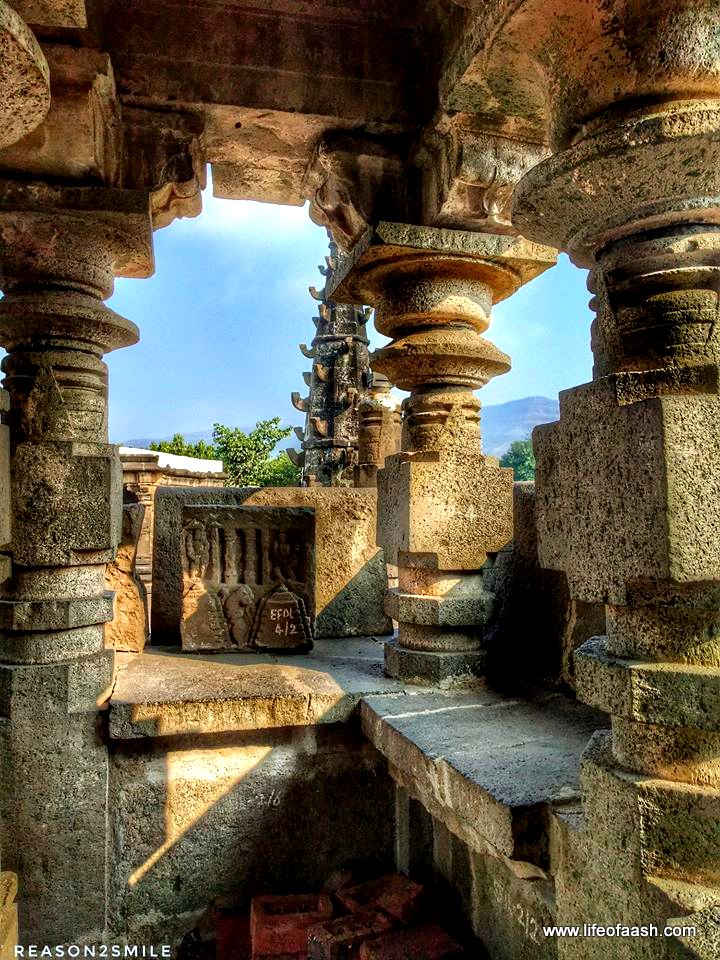 This outer room is quite airy and the maze of pillars offer good cross ventilation. Paying our respect to Nandi, from here we entered the next room, Now this room has many pillars and on each pillars there are lots of intricate carving depicting the scenes of Ramayan and Mahabharata I presume.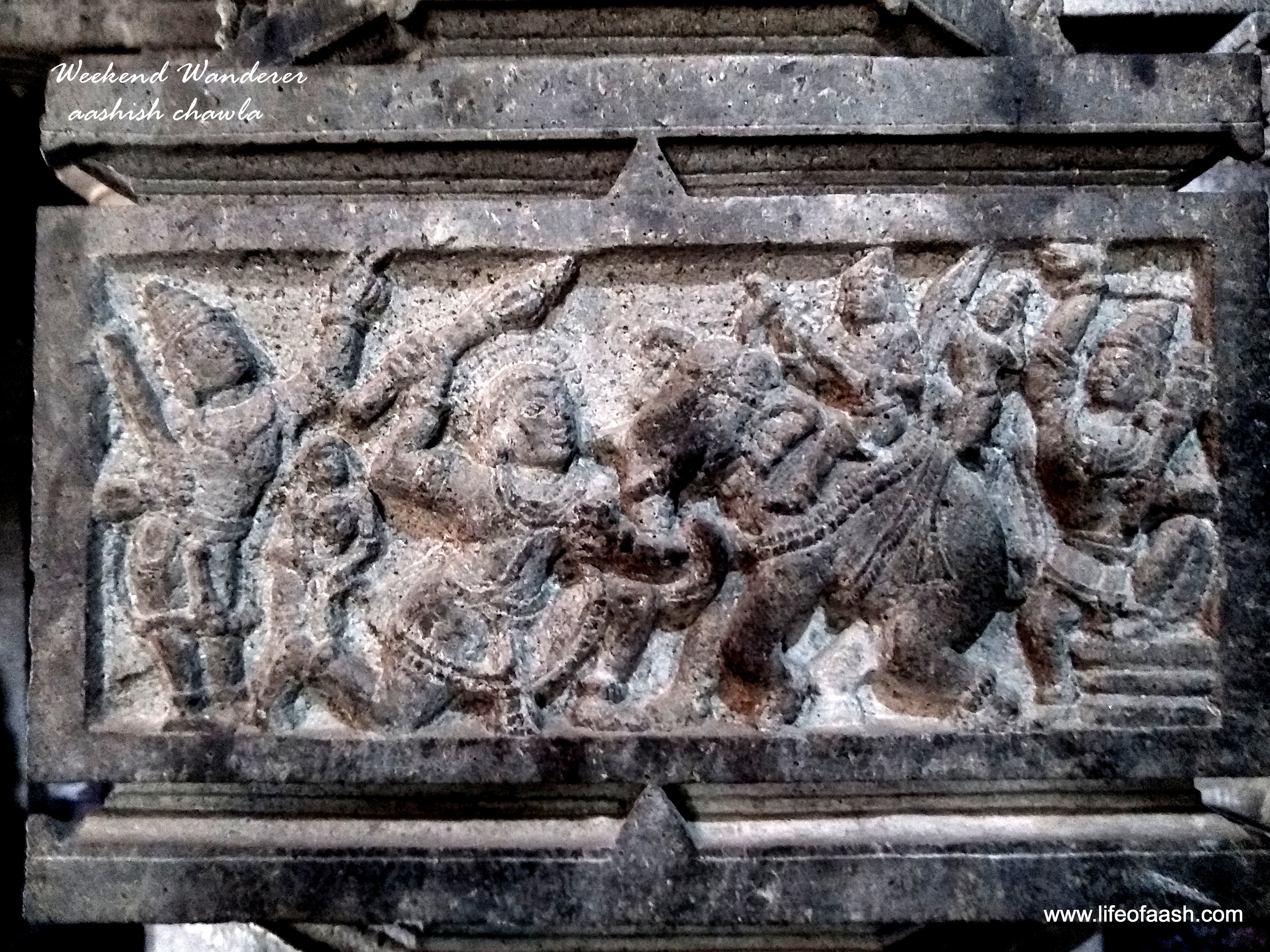 Another noteworthy thing was the two colourful painted pillar which only adds to the uniqueness of the temple. 
Just behind this pillar is the Main Deity of this temple, Though it was closed when we visited this place however I managed to click through the grill. Here is a special picture for you
Other than the shivling the temple also contained many idols which unfortunately I couldn't identify . Please do comment and let me know if you are able to identify.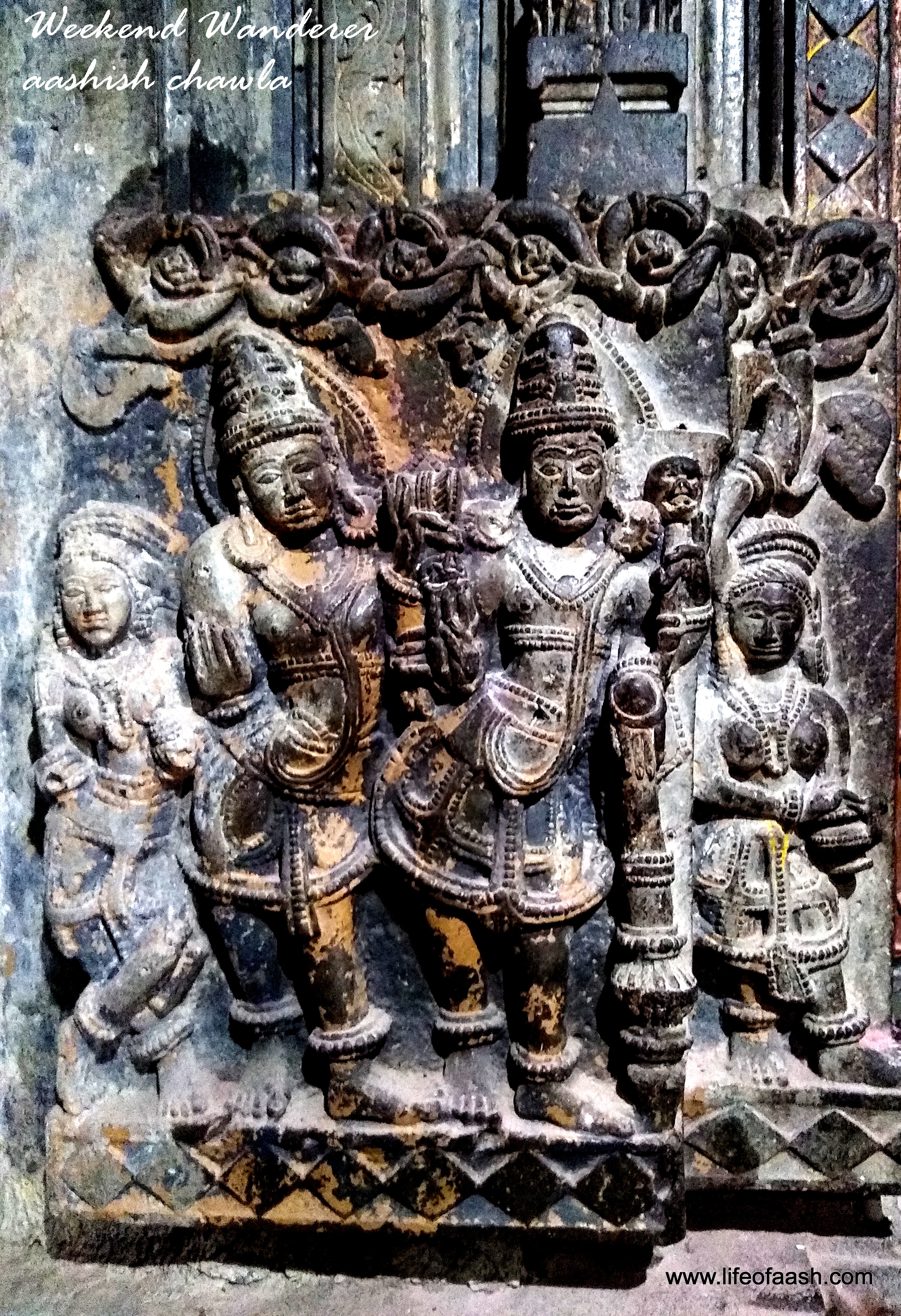 During my research about this temple I came to know another interesting thing that lots of efforts were undertaken by the locals of Kikali village to reconstruct this temple brick by brick, so much so that you may see numbers written on the block of stone.( You can see the numbers on the wall behind the main shivling photo posted above and I am posting Sacred bull Nandi picture below there also you can check on back wall) I think they must have set the whole thing with the help of drawings etc.
Coming our from the temple on our left we see another ruined temple structure, I presume this to must have been reconstructed and made made up to the plinth level( I think they may have not found all the pieces of jigsaw puzzle सायद इसीलिए आधे में गेम छोड़कर भाग गए होंगे
and just before that there are two stone statue one is of  an elephant , other one I could not comprehend. If you guys can recognise which animal structure is that please do comment in comment section.
The whole complex is protected by a proper boundary wall  but what actually caught my eyes here was the series of Herostones placed along the wall.
Now wont you like to know what are these Hero-stones or Veerghals as they say ! So stay tuned for my next blog…
Thank you for reading the blog and please do like, comment and join our site if you like my blog.
Total Page Visits: 3457 - Today Page Visits: 4